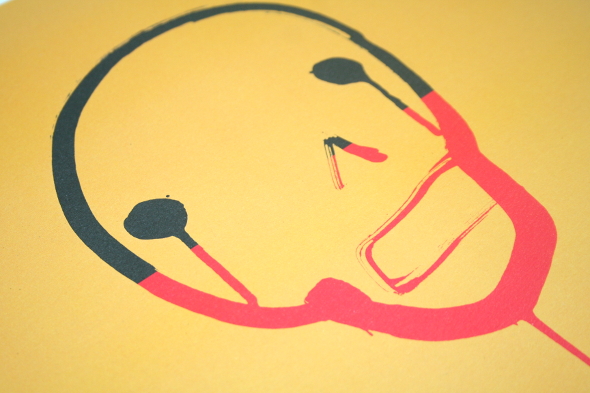 BAH026 is Thomas Smorek's full second release as Dunkeltier, and both follow the German producer's appearance on the first Rat Life record. Smorek also works as Sneaker, but on the evidence of its first two releases, it's the Dunkeltier project that is proving to be his most impressive project. What stands out and endears this writer so much to this record and his debut for Macadam Mambo is Smorek's ability to recycle source material in an inventive and highly entertaining way as well as his understanding of how to weave such influences into contemporary dance floor tracks.
Both Dunkeltier releases also achieve the difficult feat of either reworking source material or making catchy interpretations of '80s styles – in the case of the Macadam Mambo 12", it was '80s industrial, EBM and Goth doyennes Xymox, Absolute Body Control and Kozmonaut. Smorek's debut on the vaguely-anonymous Bahnsteig 23 label doesn't go so far as to credit the artists involved, and his focus is divided evenly between the functional and the downright catchy.
"Cruisin" is a pulsing electronic disco groove infused with soft rock guitar squalls, dramatic synth stabs, crashing cymbals and a higher camp level than a scout's jamboree. "Tear It Down" is more pacy and linear; a murky industrial rhythm is entwined with shrieking rave stabs and an urgent, breathy vocal, not entirely dissimilar to Nittier Ebb man Douglas McCarthy's delivery.
Representing the catchy, pop-influenced end of Dunkeltier's range is "Spiegel TV". A prowling bass and crisp electro 808s provide the basis for a synth pop roller coaster ride, the key changes as spine tinglingly infectious as anything from the '80s acts whom Smorek has reworked. The release finishes with "TV Show". It's another pop oddity and has a more rudimentary production sound than the other tracks. Based on a slower electronic disco groove, it features a German vocal nattering about a TV show 'on video'. Is it Dunkeltier himself? It's impossible to say, but what we do know for certain is that alongside Mick Wills' 'mystery' edits for Vielspass, Bah026 and the Dunkeltier project generally make for some of the most imaginative, inventive and entertaining releases of recent times.
Richard Brophy
Tracklisting:
A1. Spiegel TV
A2. Cruisin
B1. Tear It Down
B2. TV-Show