Squarp's Pyramid sequencer hits the streets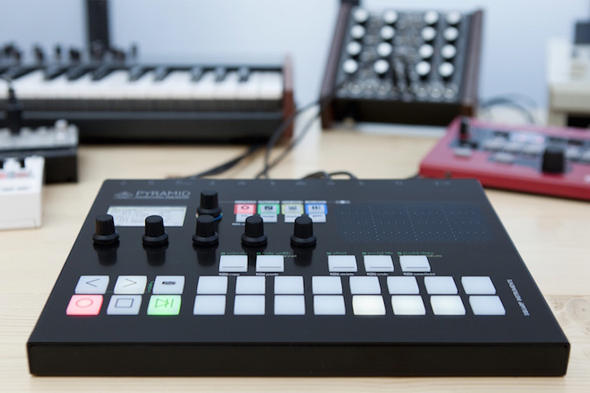 The new device from the French company promises computer-free composition and arranging.
As the external hardware market continues to boom and legions more modular obsessives sign their lives away to the 'Eurocrack' phenomenon, so the demand for quality sequencer solutions has shot up as well. Since the Atari ST came on the scene in the '90s computers have looked like the most comprehensive solution for MIDI sequencing, but the glare of the screen holds much less appeal than it once did and not least since many producers are now looking for CV and gate sequencing solutions. Last year Arturia poured hot lava into this gap in the market with the Beatstep Pro, building on the promise of their initial design and implementing greater connectivity with analogue synthesisers and drum machines, while still catering to the needs of the MIDI masses as well. The fundament here was being able to interact with the exciting, creative part of the production process without getting distracted by the workings of the DAW.
While they may have only formed in 2013, Squarp have boldly jumped into this field with the Pyramid, a sequencer the French manufacturer has been touting for nearly a year that is finally hitting the streets. In terms of connectivity, there are two MIDI outs (plus a MIDI in should you wish to control the Pyramid externally), DIN Sync out, CV + gate ins and outs and envelope out and a pedal input. While there may be nothing revolutionary there, the Pyramid's unique hook is its focus on polyrhythmic sequencing. For starters you can assign one algorithmic Euclidean sequencer engine per track, which provides the opportunity to generate unusual rhythmic patterns more commonly found in traditional music around the world, with a graphic display to help you understand the effect the sequencer has. In addition you can set separate time signatures on each individual track to generate constantly shifting sequences.
When you consider the on-board MIDI effects such as quantize, arpeggiator, swing and harmonizer, the intuitive interface with X-Y controller grid and the ability to import and export MIDI files on an SD card, it's safe to say that Squarp have come up with a product that holds its own on the increasingly crowded sequencer market. You can read more about the features of the Pyramid over at the Squarp website, while the machine itself is available for order here.
Pyramid by Squarp is available now.