Oliver Ho is Burning Heretics
The Broken English Club man returns to the Blueprint fold for the label's latest anniversary release.
The fact Oliver Ho remains such a creative force within music some two decades after he first emerged is quite remarkable and his recent endeavours suggest he's as inspired as ever. Last week's news of the new Death & Leisure label from Ho arrived in the aftermath of his debut album as Broken English Club for Cititrax and the unveiling of M U L T I, a conceptual project themed around the exploration of gender and growth. Despite these more esoteric endeavours, Ho has not forgone his techno roots as he's been announced as the next artist involved in Blueprint's 20th Anniversary celebrations.
As we previously revealed, it was Surgeon that Blueprint founder James Ruskin turned to in order to commence these celebrations with the Search Deep Inside Yourself 12″ from the Midlands techno pioneer arriving late into February. Having contributed the second ever Blueprint release in 1996, it seems right for Ho to step up next and his dramatically-titled Burning Heretics 12″ is the first record released under his given name in some ten years after an extended period exploring Raudive, The Eyes Have Heat, Broken English Club and other projects.
Blueprint will release Burning Heretics by Oliver Ho on April 4.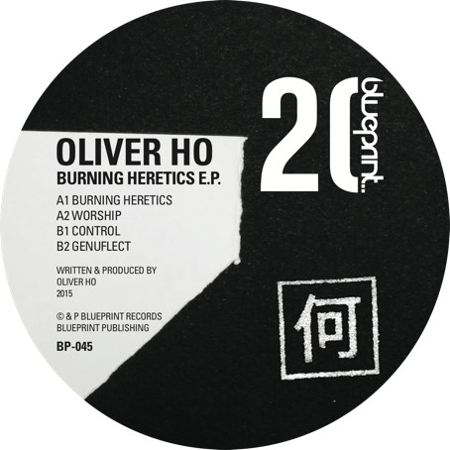 Tracklisting:
A1. Burning Heretics
A2. Worship
B1. Control
B2. Genuflect
Blueprint on Juno