Phuong-Dan – No Boundaries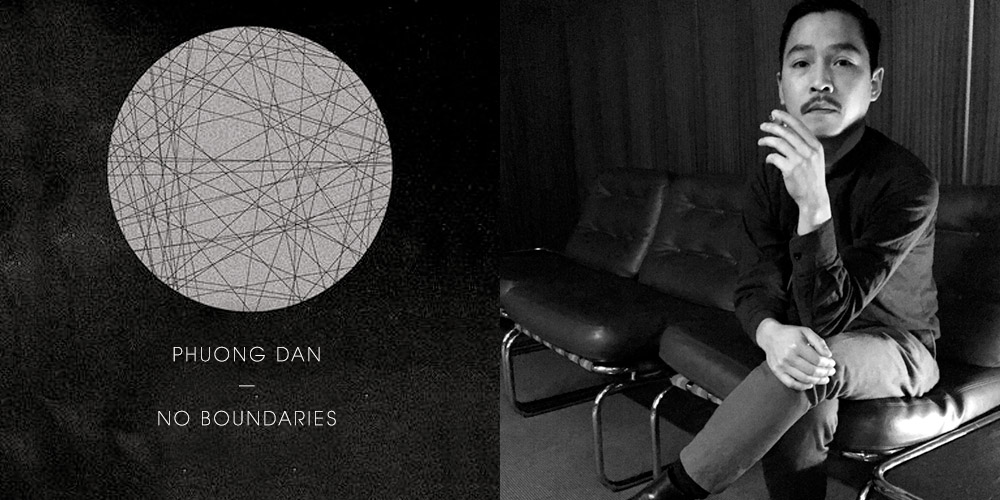 One of the Golden Pudel's longest serving selectors discusses his musical upbringing, why he loves Hamburg so much and what makes his Gatto Musculoso residency so special.
Around 2am on another busy Friday night at the Golden Pudel, Phuong-Dan is DJing with good friend and fellow regular Good News, they're going back-to-back. There is the usual clientele of loveable eccentrics and hedonists on show tonight. The music is crusty and fierce lo-fi techno. For instance, Slugbug's "Statues", Maoupa Mazzocchetti's "Another Sinistra Century" and Frak's "Lance Stroboscopes" are some of the night's killer selections. But it's an epic transition from Charles Manier's creepy classic "Uncompromised Awareness" into Drvg Culture's mental aggro-acid anthem "Crack Spirit Guide" which sends the crowd into a right frenzy.
Out of nowhere, the dancefloor is joined by the track's very namesake – known to regulars simply as 'Albert the Wizard'. An elderly man donned in vintage robe and big furry crown, and brandishing a makeshift sceptre created from a broomstick, makes a grand entrance onto the dancefloor which is met with rapturous applause, receiving high-fives, big hugs and offers of cigarettes. It's one of those moments that can only happen at a place like the Pudel.
The club's seven-days-a-week rotation of underground music has been a driving force in Hamburg's scene over the past 25 years and has birthed many great nights, launching the careers of DJs such as Helena Hauff and Nina, not to mention now having a global reputation as a venue. But it's the aforementioned Phuong-Dan, one of the club's longest serving resident of 13 years that I'm in Hamburg to meet.
Our agreed meeting spot is the rather plush Central Congress, run by the same crew behind another famous Hamburg institution, Saal II, in the Schanzenviertel neighbourhood,. We take a corner at the square conference table, accompanied by some great musical selections playing on the bar's pristine sound system chosen by a seated DJ Hendrik Severiens who suavely picks records from underneath a desk lamp in his mounted office.
As it turns out, Phuong-Dan was born in Hanover, but moved close to Bonn where he grew up. It was through B-boy culture that he got into collecting records, falling deeper into music by seeking out other genres from researching where those samples came from. "I was listening to a lot of rap music," he states after lighting a cigarette. "Breakdancing too, of course," he adds, "funk, soul, Blaxploitation soundtracks, boogie and electro. Then our crew split up and I started searching for the all the originals they sampled on those hip-hop tracks".
"There was were so many things to discover, for example in jazz, rare grooves, Brazil or leftfield, krautrock, modern soul, avant garde as well as in European disco," Dan continues, adding he'd initially totally skipped house music. "I went straight into the old acid music and house. It was much later when I also came to acid, new beat or techno," he explains, emphasising a love of vintage genres in electronic music which resonated most with him. Dan found a thrill in second hand records that were not often played by others.
Hamburg became his home in 2002, moving at the age of 19 after finishing high school, and he went on to attend a local university. During his first year of studying Cultural Anthropology, Dan started going to the Golden Pudel regularly, finally one day proposing them with the idea of him playing records at the club. They agreed, allowing him to play selected weekdays at first and then finally on the weekends. From 2006 onwards, the Pudel has played host to his monthly residency Gatto Musculoso. The very name was admittedly a bit of a joke which I'm told came up at a bar during a words game: it is an Italian translation of a German nickname for a sports related cramp.
It was discovering local legend Lawrence playing regularly at Pudel that first piqued his interest in the club. "So I was listening to old black music and really enjoyed that, I was attending Dial label nights a lot too." He also fondly remembers the now defunct local institution Click, which was a formative experience; seeing Nation boss Traxx play there for the first time resounded with him in particular. But as he explains it was all just left to chance; a series of brilliant accidents which informed his tastes. "There wasn't really a scene for me because I wasn't looking to discover anything, I was just doing my own thing and then you figure out from there what kind of scenes there are."
Dan claims defiantly that his residency at the Pudel is a platform to share his music and this was the best place to do it. Maybe it's a coincidence that it's an extension of him and his taste or the other way around, but in the end it turned out that it was just the most conducive environment for his musical approach and concept, as he elaborates.
"I had to learn and to try. For me it's still the place where after all those years I'm still trying new things and to figure it out and challenge myself," he says. "To talk to the audience I put different music pieces together that maybe wouldn't usually suite, but make it work to create a particular energy or vibe." This style of selecting really pushed him and he admits that he wouldn't be where he is now as a DJ without having such an open template.
Dan has achieved his current success based on his residency at the Pudel alone. He hasn't produced a record yet, claiming that the drive and inspiration aren't fully realised but it is an aspiration. "There are plans though," Dan assures me, "I'm looking to complete some field recordings soon so… let's see."
He's quick to point out before all of this there was Andrew Hogge's Lovefingers blog. "So I started listening to the Lovefingers mixes a lot around 2005 and this influenced me," he says emphatically. "The way to deal with every kind of peculiar music, putting it in moods, without moving within musical boundaries," he says in reference to mixes by Hogge, Redlight Radio's Tako Reyenga, as well Frenchmen Vidal Benjamin and Alexis Le-Tan, whom he confesses a huge amount of respect for.
"We became friends over the years, but we didn't know each other personally in the beginning because I was more of the second generation. They were older and had been involved longer with collecting records." Eventually they all stumbled across each other's mixes and finally met in real life. "It's beautiful what the internet can bring," he says and laughs. "People who are kind of alone with their ideas then get together through blogs and then meet….then like most cases, we clicked," Dan explains of his then new found musical friendships. "So this is how influential these guys were, and of course meeting the guys from Salon and then new people became involved," he adds.
Dusseldorf institution Salon des Amateurs has become Phuong-Dan's second home, he plays there regularly. "Salon Des Amateurs came along because I recognised that they have quite a similar, open minded approach," he feels. "We're not denying clearly defined genres," he continues, "but we bring everything together, whether it's more of a vibe, not just house and techno or whatever but strange records; overlooked things are what we're seeking."
Dan, naturally, found a kindred spirit in the Salons' notorious resident DJ Tolouse Low Trax and the two go way back as friends. Tolouse Low Trax was one of Dan's first guests at Gatto Musculoso around 2007. He also cites the Salon's long serving resident, Vladimir Ivkovic, as one of his biggest influences, adding the venue's newest rising stars like Lena Willikens and Jan 'Wolf Muller' Schulte are the kind of DJs he relates to, musically.
Like any other experienced DJ on the circuit, he acknowledges that every gig is different. As that old cliché goes: you've just got to read the crowd. "In the end I'm putting in 100 per cent effort, and you just need to follow," he says. "It is on my terms within this frame of reference, but there's space to see and to define what the night deserves as well."
The time Dan spent studying cultural anthropology and photography have helped define his approach to music and the research he applies to it. He identifies himself as a multidisciplinary artist, having just completed a documentary film with friend Phillip Widmann which will be released later this year, in addition to writing two books. One, with friend Stefan Canham, was on the subject of return migration; coming from Vietnamese heritage, Dan went there to complete the project, in turn going back to his cultural roots.
He's also involved in a project named 100 People Say Umbrella with Anna Sabrina Schmid from local art space Kunstverein Harburger Bahnhof. "The basis was a temporary collection of auditive publications within a visual arts context, accompanied by lectures and discussions. So we set up a temporary archive for record stores."
Dan's multidisciplinary ways extend to his role as programmer and curator in the local project Music From High Wires, with the roster including artists like French avant garde musician Ghédalia Tarzartès and Sky Walking, and his favourite local act at the moment which features Lawrence, Richard von der Schulenburg and Christian Naujoks. "This is contextualised as visual art or music. As important as it is to have your disciplines, people shouldn't forget that there is so much more interesting stuff happening in between," Dan explains of Music From High Wires.
For those who haven't attended Gatto Musculoso, a typical night starts around 10pm and goes on until at least 6am the next morning. Sometimes it goes on for much longer. He lights another cigarette and tells me Gatto Musculoso is a place where he can express himself. "It wasn't like I wanted to do a night like this or that, or play this kind of music; it just sort of turned out the way it did." There was never a conscious decision to play one particular style, the main thing for him is that it must have a certain energy no matter what it is and there must be a kind of a narrative over the night.
Phuong-Dan's knack for curation has been key to Gatto Musculoso and his residency has brought in a who's who of brilliant guests over the years, so I was curious to find out if any of them were the perfect Pudel partner? "There isn't an ideal guest," he responds, "last time it was either really American or industrial techno. But it can be anybody, it can be sleazy Balearic, it can be dark."
So what is the musical manifesto of Gatto Musculoso? "Electronic music that is slow and a bit mental or psychedelic, but anything goes," Dan says. The aforementioned Alexis le Tan and Benjamin Vidal are both perfect examples. "While Alexis is putting the audience in a more trancey state of mind, you could say Vidal is differently impulsive and pushes you with some ironic French synth-pop and weird disco within his sets," he says of the French diggers.
"Then I could have Ron Morelli or Parrish Smith come play here," he adds, proving Gatto Musculoso is all about the energy, a good crowd and navigating all the variables through fate. He always finds this to be a learning experience; about himself; the style of his guests and of course gaining more musical knowledge. It's always exciting for Dan, as he explains: "a night could end up as an Afro party. If this transports the same energy, that's all that matters."
There are no real timeslots for the DJs at Gatto Musculoso. "You just come and we see where we go. Normally we just start together and then we offer you as long as you want. They can play until the end, I don't need to play, I'm just like the host," Dan says. But the usual format is either Dan or his guest playing whatever they like for the first two hours, until ideally they play back-to-back for the rest of the night. "So we follow the vibe of the night. Maybe playing together can work super good because you share the same spirit."
He concedes guests may prefer to play on their own, especially their first time at the Pudel. "You need to be comfortable and confident to tell your story first," Dan feels, adding with a hearty laugh: "Then get loose with me!"
The infamous Pudel crowd has been a mixed bag of sorts every time I've been there over the years, so I was interested in Dan's perception on the place. "Yeah they're crazy, funny and open-minded. Students, straight-laced folk, punks, tourists, artists, musicians, old, young, everybody and that has a lot to do with it," he says proudly of Pudel.
"Most people go their because of the venue more than the nights, no matter who is playing. They're adventurous, they expect something not so predictable. They're great company, every night." And what about the recent rise to fame for his fellow Pudel residents, who have been playing there for considerably less time than he has? "I love what Helena is doing, we are good friends. I've known Nina for a while too, she has an even more different musical taste so it's good that her style has received so much attention."
He goes on to explain the Pudel isn't packed every weekend. "It's not steady, no. There's just these magical random moments," he says, echoing the sentiments of something mentioned by Lawrence in a Hamburg feature by electronic beats a couple of years ago. "It doesn't even depend on what kind of line up or concert you have. It just ends up like it does by chance," he says. "Whether it's Monday or Saturday; it can be one for the books. And then for another two months: nothing."
I felt like I had to ask Dan about the records in his bag at the moment, namely ones from fellow German artists and labels. "Well in Frankfurt there's Philip Berg, also Charlotte from MMODEMM; they're good people. In terms of labels, Dan continues, "Marvin and Valentino from Public Possession in Munich are doing good stuff, Music from Memory; even if what they release isn't exactly 'new', Knekelhuis are promising, as well as Helena's new label Return To Disorder."
There's a certain beauty in Hamburg's darkness, yes harbour city sorrow and all that, but there really is a lot to love about the Hanseatic city that's not just limited to its unique and legendary music scene. So, Harbour City Sorrow: does he in fact believe all that stuff? Dan shakes his head with a smile. "It could happen with me anywhere. I could be in Asia, on an island and I'd still listen to this stuff," he says. Of course environment can be an influence he says, and after 14 years of living here, sure, you'd  get used to it being dark and rainy but the city's moody or melancholic clichés are not something that occur to him.
"When you do things here, everybody knows each other, that's why I like it as a base," Dan explains. "Things aren't overhyped as much as bigger cities, so you have to work hard." He's quick to inform of lacklustre events being a regular thing, but they are the perils of parties in smaller cities like this, but he says, "I like to be close to my friends, to know the bartender, the people who run the restaurant. It's a family here, a lot of nice characters here that I like."
Interview by Nic Tuohey
Photography courtesy of Francesca Vantaggiato