Searching For A Feeling: Area & Kimochi Sound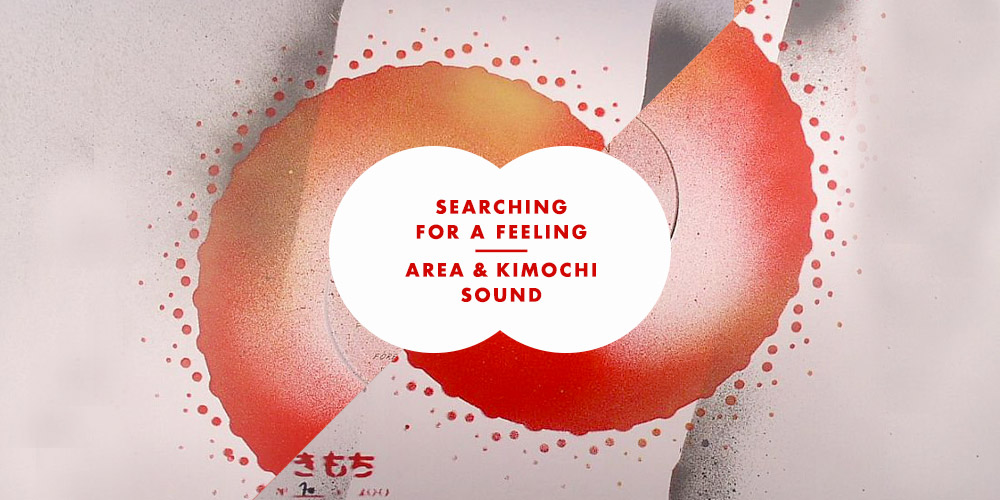 The man behind Kimochi Sound goes under the spotlight. 
For every high-flying booking agent, wide-reaching PR company and slick event promoter there is a legion of practitioners that slip between the cracks of the well-oiled electronic music business. You could claim that this is where the most exciting, unpredictable, heartfelt and honest of sounds can be found, not least because the money is generally lower on the priority list. Area is a shining exponent of making this ethos work; shirking the preconceived notion that you need an agent to do an international tour or a marketing campaign to sell a record.
"I have done all of my bookings in general," the Chicago-based artist explains, adding that the preference for booking agents shown by most established clubs leads to him "playing a lot of super underground parties put on by labels or just heads, because they'll actually be interested in music. It lands me in a more interesting seam I think."
That 'interesting seam' is a natural fit for the sound of Area, or indeed any of the other work carried out by the artist known by day as Max. He's also familiar to many, especially on the airwaves of Chicago, as m50, a DJ responsible for a long-running stint on local station WNUR championing leftfield electronic music on top of a dedicated gig schedule at home and abroad. As well as those distinct endeavours Max also runs Kimochi Sound, a label which has blossomed into a trusted outpost for strange yet romantic house music from lesser known artists, some noted remixers and Area productions as well.
It's fair to say that m50, Area and Kimochi Sound are three distinct projects that stand up on their own, even if there is some natural crossover, but the roots of Max's engagement with music certainly lie within DJing. After growing up in various parts of Canada he moved to Chicago, having fostered a love of hip hop production which gradually led on to the electronica abstractions of Autechre, Andrea Parker and Funkstorung amongst others. It was these kinds of sounds that Max started representing when the opportunity arose to start hosting a late night radio show in 1999.
"It never occurred to me to do radio," Max explains. "I was just interested in the music and I got pulled into it. I met some people and they were like, 'oh let's go hang out at the radio station', and finally I was thinking, 'if I'm really interested in this music that's a good way to participate in it'."
As the late Friday night slots on WNUR's Streetbeat format took hold, the opportunities for playing out in clubs presented itself as well. Max's tastes placed him a little to the side of the cut and thrust of Chicago's club scene, "I'd play stuff like Plaid, and house DJs here would say, 'that's not really DJ music'". Yet over time his gigs became more regular. He nods to the reputation of Midwest DJs being "technical" as an imposing stereotype to live up to as well as an opportunity to learn, but in truth Max's connection with his location in the Windy City has never drawn greatly on the more notorious dance music exports such as Trax and Dance Mania.
"I'm OK with being associated with the whole Chicago thing," he considers,  "although it is funny. People interviewing me from Europe are like, 'why don't you sound like Chicago?' and Chicago has a lot of different musical sounds. I still listen to what's coming out on Kranky right now, and that's very Chicago to me."
Over the years Max has certainly put in his time as a DJ. His experiences touch on a range of situations, from warming up for Paul Kalkbrenner at local club Metro through to an all-night slot at an intimate cocktail bar called John Muir in Berlin. You can find m50 on a flyer for an "abscure" night called Urban Camouflage, or headlining an evening in support of science documentary company 137 Films. In some ways he evokes an image of a heads-down, hard-working DJ who never aims for the premier league but succeeds through putting thought and care into where he aims and how he approaches each gig.
"I tell you what threw me off one time," he reveals. "I went to play in Tokyo, and the DJ before me played basically the set that I was going to play, so I said, 'how did you know exactly what records to pull for this?' It was uncanny. He said, 'you have all your tracklists on your website so I just went through it and figured out what the best stuff to play would be.' It wasn't like he played tracks that I already played on the show, he even read between the lines! If I'm opening up for somebody famous I might have checked their new Studio !K7 mix so I know what vibe they're on, but it's weird when somebody does that to you."
Considering that m50 isn't a household name, Max has managed to take his selecting far and wide over the years. Without the surge of a powerful wave of hype behind him and as previously mentioned without the 'assistance' of a keyed-in booking agent, he has landed himself some enviable gigging accolades. Considering the likes of Finland and Tokyo are a long way from Chicago, you can't help but wonder how he goes about securing such bookings.
"There's no grand scheme," Max says. "I'm just looking around to see who's doing interesting stuff and say, 'hey, I play records, would I be a fit for your party?' That's it. I just cold call people. I don't think it takes that much to know what parties are worth reaching out to. I'm not trying to get in where I don't fit." He admits a semblance of annoyance at the fact it takes more time than effort, "because I don't feel like any amount of brute force prying will reveal a place to you."
At this point I make a comment about the culture of desperate, non-specific promotion that pervades websites such as SoundCloud, but Max is quick to point out the benefits the platform has given him in his considered approach to networking.
"SoundCloud for random messages has been a total godsend," he says. "I got an album signed to Wave Music through SoundCloud, and that's how I find out about other places too. If somebody favourites my track and they're from a place I never heard of I think, 'what's going on over there that would make you interested in this kind of music?' and then you discover there's an audience for that there."
Considering he was already established as m50, it's interesting that when it came to releasing his own music Max chose to adopt the moniker of Area. Although he loathes to go down the route of multiple aliases for every fraction of the sound he produces, he felt some separation from his DJ work was necessary. These days, you're just as likely to see 'm50 / Area' on one of his gig posters, although it's not something that particularly troubles him.
"I'd been making music for a super long time," Max reveals of the emergence of Area. "The thing was I got into electronic music during a time where all genres were breaking up really fast and there was a big emphasis on advancing things technically." This put him off producing for a while, because he felt he needed to do advanced music. "After a couple of years I realised it was stupid that I wasn't making any music because of that, and it really forced me into the way I look at things now. It's not that important to me how music is made; it's more just intent."
The digital versus analogue debate is not one that Max entertains these days, and he happily holds up Kimochi Sound as a label whose output often hides its means of production. In many ways his own experiences of learning about production shaped this attitude, even if he took some time to become comfortable with it. While at university he was able to access some of the music technology programme (despite not being enrolled on the course), getting the chance to experiment with tape splicing and older equipment.
"I took a couple of courses and then they were a bit precious about keeping the courses for actual majors and not dabblers," Max explains, "so I ended up working for the department for a bit. They would justify teaching something like tape looping by saying, 'that's what you're doing in Pro Tools anyway', so you can see what's going on in a non-abstracted way."
Some of the first Area tracks were released digitally back in the heyday of netlabels, but one of Max's most notable appearances in this period was on Jamal Moss' Mathematics label. Area's 'Lost Meaning Version' of Steve Poindexter's "Maniac" came out in 2006, yet still some four years later you could find Alex Smoke including the track in a mix for FACT. There have been plenty of remixes since for Anton Zap, Brendon Moeller and DJ Spider amongst others, but it wasn't until 2010's Innate Obscurity on Zap's Ethereal Sound that the first standalone Area 12" came out.
From there releases have followed for Steadfast, Fullbarr, Mindshift and UntilMyHeartStops, shaping out a style that prefers dusky, distant melodics and understated drum tones. While the tempo and groove can fluctuate, from an outside perspective it feels as though a cohesive, dubby atmosphere binds Max's released work as Area.
"I don't know," he starts when I ask him about whether there was a point he reached where he felt like there was a vaguely defined Area sound. "I'm not sure how well everything hangs together. I'm still figuring that out. What do you think?"
He cites the Area 12" on Sequencias as an example. "It's interesting to me because it has a techno track on one side and a spoken word thing and then a noise track and I feel that it fits together, but it's not stylistically in the same genre necessarily." The common quality defining all Area output? "I have an aesthetic that I'm interested in that manifests itself in a lot of different ways. I found a way that I feel comfortable working. I don't know that I've found a sound that I'm happy with."
Over the years, Max has complemented his recorded output as Area with a variety of forays into the live arena. While these appearances have been somewhat erratic, they have touched upon both carefully planned performances of existing material and pure improvisation. At one point he travelled to L.A. to record a live session with leftfield hip hop outfit Shadow Huntaz (sadly lost in the ether due to a recording malfunction), but it has been some time since Max felt motivated to pursue the live set approach over his DJing endeavours.
"I liked the live performance thing but its super frustrating for me where clubs or promoters are indifferent to it," he explains. "I DJ a lot of different things, so I can roll with it and play a party, whereas I feel like if it's a performance then maybe I'm in the wrong music scene to do that. The classic example is of a friend that uses an Electribe and something else on stage, and people will come up and request songs."
While the conflict between modern electronic live sets and their nightclub connections are not going away any time soon, Max's label Kimochi Sound has bloomed in alignment with a healthy (if vaguely defined) pocket of imprints that subvert many of the well-worn demands of dance music whilst remaining loyal to the instinctive appeal of house and techno structures. In an era where labels such as Workshop, SUED and Acido can draw such favourable attention while remaining resolutely weird, Kimochi has become another trusted source of lesser-known artists producing lesser-known sounds.
"Chicago has a lot of different musical sounds. I still listen to what's coming out on Kranky right now, and that's very Chicago to me"
The label started life in 2011 as a vessel for Area tracks that weren't being snapped up elsewhere, and having already pressed up the first release before being denied a distribution deal, Max was flung into the deep end of label management by distributing his records himself.
"It put me in a better position later where I knew, even though it's a pain in the ass, it is possible," he remembers. "I really appreciate that doing it that way you're not beholden to anybody, and that's why I started putting out my own records. If the record tanks the only person who is disappointed and out of money is me." He readily admits this is the most nerve-wracking thing about releasing other people's music. "If the record didn't do well, I feel like I didn't do well enough as a label for it."
Such concerns aside, it didn't take long for Max to widen the scope of Kimochi and sign up other artists, from Anton Zap providing a remix for the second record to Lassi Nikko delivering two tracks as Airliner Series for the third. Since then the signings have swayed from unknown locals such as Dreamlogicc and Lubin through to the more established likes of Move D, Benjamin Brunn and Brendon Moeller. But regardless of the contributor Max is motivated to elicit something different from those who intersect with the label.
"If I approach people to work with then I'm most interested in it being a collaboration," he explains. "That's a conscious strategy for me, so I have an active role and likewise hopefully they do. If they want it to be anonymous or under a different name, then I want to be respectful of that." Kimochi Sound, it seems, is not about developing a brand, it's a platform for the artists to express themselves musically. "A lot of these are really personal things that somebody's doing as an expression, and so I want it to be presented in a way where they can be really comfortable and it can have some permanence."
The presentation of Kimochi stretches to the look of the 12"s, spray painted by hand with a stencil designed by a long-time friend Shinn and all tied into an unspoken narrative. Max is keen to keep the deeper meaning behind the unique artwork on his label a mystery revealed only to those with the records in front of them, and likewise he hints to further "Easter eggs" being tucked away in amongst the various aspects of his work.
Even Max's newest venture, a new sub-label named Tesuji, comes into being on a loosely defined premise. The first release comes from Max himself, backed with a remix by Donato Dozzy, and initial impressions would suggest a tougher style with more gritty textures taking precedence over the elegant delicacies of Kimochi, but that could all change.
"I'm not really sure what to say about it," Max ponders when quizzed on Tesuji. "It has its own distinct visual and sonic aesthetic, just like Kimochi Sound does, but I think that this sort of thing ends up figuring itself out in the relationship between how people hear it and what we come up with. If you need a good pull quote, how about, 'superb tech house fueled cuts that will surely get the floors pumping'?"
Max is certainly not alone in his field of instinctual operations. There are many other DJs, artists and labels that operate free from lofty notions of how their art fits in and what the next move is. Perhaps it's the liberty afforded by not adhering to the machinations of the industry, or just a work ethic based around honest creative decisions. Whatever the case, Max is no more certain than when he acknowledges the fringe appeal of his craft.
"It's been cool to not be caught up in the hype," he posits. "It's super fun when you can work with somebody like DJ Sprinkles (on the Bourbon Skies 12" for Arma) and it's a sleeper hit. I just posted the other day that being underestimated is kind of like a guilty pleasure for me."
Interview by Oli Warwick
Photography courtesy of John Sturdy
Kimochi Sound on Juno