DJ Stingray teams up with Galaxian to create a NU-1000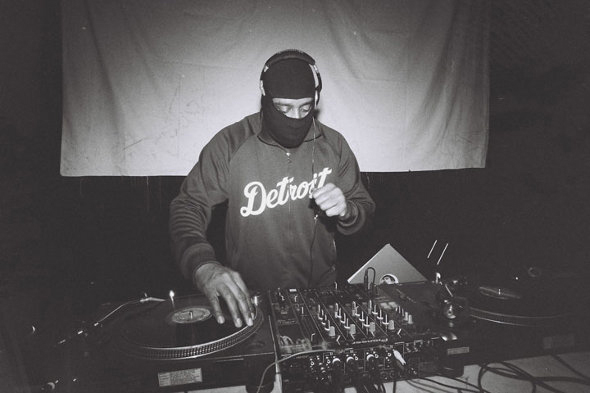 The trans-Atlantic electro link-up will be transmitted on Shipwrec next month.
It seems increasingly difficult to ignore the stature of Shipwrec in the modern day electro scene. The Dutch label has been on irrepressible form of late, from the recent signing of Bintus to the new album from The Exaltics, and so on to the Deep Sound Channel sublabel that recently hosted a second album from Boris Bunnik's Silent Harbour alias. As well as more established big hitters, Shipwrec has been a dab hand at reaching out to lesser known folk such as Telkhin and cult Dutch veterans Random XS, and it would be fair to say that Galaxian is more of a fringe operator previously found on the likes of Transient Force and Last Known Trajectory.
The Glasgow-based electro operator certainly seems less familiar opposite the looming stature of Stingray313, a pillar of Detroit electro with a heritage that includes Drexciya and Urban Tribe to name but two legendary outfits he has been involved in. Sherard Ingram has been plenty busy recently, not least in dropping the Communication Systems single on Barba and remixing Russell Haswell for Diagonal. Quite how the collaboration has come about is not clear, but it would seem that Shipwrec have in some way orchestrated a crossover between the two militant electro practitioners by way of remote communication, resulting in a mixture of solo tracks and joint efforts.
NU-1000 doesn't pull any punches, keeping the tempo high and the synth tones rabid across six tracks, but there's also space for the more contemplative side of the genre (even at 150 bpm). Ever championing the scientific approach in their beats, Shipwrec proudly proclaim that, "tones are measured, friction accelerated as molecules are bombarded and fired," during "CaCuSi4010". You can get a feel for the sound of this fresh pairing by way of the SoundCloud preview below.
Shipwrec will release NU-1000 by Galaxian & Stingray313 on March 21.
Tracklisting:
A1. Galaxian – Storm Coming
A2. Galaxian vs Stingray313 – NU-1000
A3. Galaxian vs Stingray313 – Graphene
B1. Stingray313 – Dopant
B2. Galaxian vs Stingray313 – CaCuSi4010
B3. Galaxian vs Stingray313 – Totally Controlled
Shipwrec on Juno