Mule Musiq announce new Lawrence album
Yoyogi Park is due in April and completes the Dial co-founder's trilogy of albums for Mule. 
Dial figurehead Peter Kersten first graced Toshiya Kawasaki's Mule empire with his delicate trademark Lawrence sound back in 2005 with a remix of Dublee, and the German's work has become a familiar facet of the Japanese label ever since. Along with the numerous 12″s and compilation contributions, Kersten has released two of his six Lawrence albums through Mule with the last being 2014's A Day In The Life. It has now been revealed the Hamburg-based art curator, DJ and producer will conclude his trilogy of albums for Mule collaboration with artist Stefan Marx with the release of Yoyogi Park in April.
Named after the world-famous patch of public greenery in Tokyo, Yoyogi Park is said to "explore unknowingly relations between his very own ambient productions, acoustic sound experiments and the driving force of the dancefloor." Some 10 tracks long, the album features music recorded by Kersten in his Hamburg studio as well as Berlin, Buenos Aires, New York City and naturally the Japanese capital. Marx's cover art depicts a panoramic view of Yoyogi Park in trademark fashion which originally featured in the 2015 edition of the NYC book fair's fanzine.
Mule Musiq will release Yoyogi Park by Lawrence on April 22.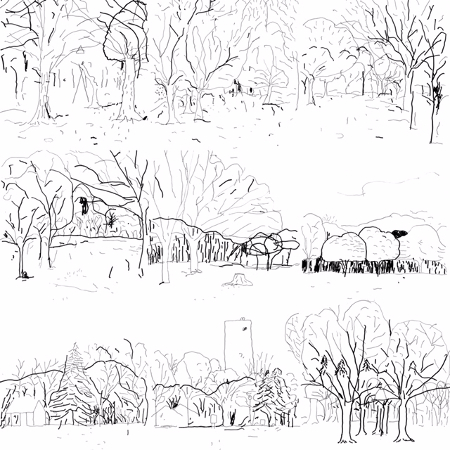 Tracklisting:
1. Marble Star
2. Nowhere Is A Place
3. Tensui
4. Ava
5. Nightlife
6. Blue Mountain
7. Simmer
8. Clouds And Arrows
9. Joy Ride
10. Illuminated
Mule Musiq on Juno