High Wolf and The Durian Brothers square up on Diskant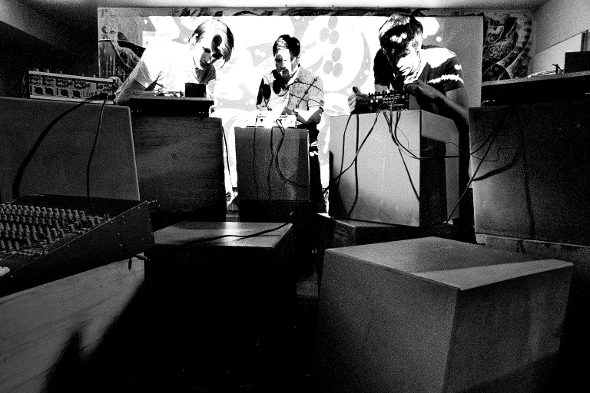 A new 12″ from the cult Düsseldorf label will arrive in March.
Launched back in 2009, the Diskant label was set up by Stefan 'Harmonious Thelonius' Schwander, Mark Matter and Florian 'Don't DJ' Meyer to house their various solo projects as well as the joint endeavour The Durian Brothers. Releases on the label have been pressed in limited quantities and have helped shape the whole Düsseldorf sound permeating in, around and out of the Salon des Amateurs. Fun fact: a young Lena Willikens designed the Diskant logo. Of course their music has dessiminated outwards in recent times with Kontra-Musik snapping up a superb mini-LP from The Durian Brothers in 2014 and Meyer contributing his slippery Don't DJ productions to Berceuse Heroique last year.
This month saw Emotional Response finally issue their long-mooted double LP retrospective of material from the trio, snappily titled Diskanted, and to complement it news now arrives of a fresh new record from Diskant. Due out next month, Split sees Diskant welcome an outsider in the shape of High Wolf, the roving French artist who also produces under the name Black Zone Myth Chant. Two productions from High Wolf shares sides on the new 12″ with an equal amount from The Durian Brothers.
Brussels-based Korean artist Yonghi Yim was commissioned to do the artwork for this record, and speaking to us over email, Florian Meyer jokingly described the lithographic process as the "highest ratio of work put into it compared to how elaborate it looks." You can watch a video below showing Yim at work on the cover art, and her describing her motivations for the process to Meyer.
Diskant will release Split by The Durian Brothers and High Wolf in early March.
Tracklisting:
A1. High Wolf – Ara13
A2. High Wolf – Theorem86
B1. The Durian Brothers – Mathemanique
B2. The Durian Brothers – Flustertute
Diskant on Juno