Raw M.T. – Richard's Revenge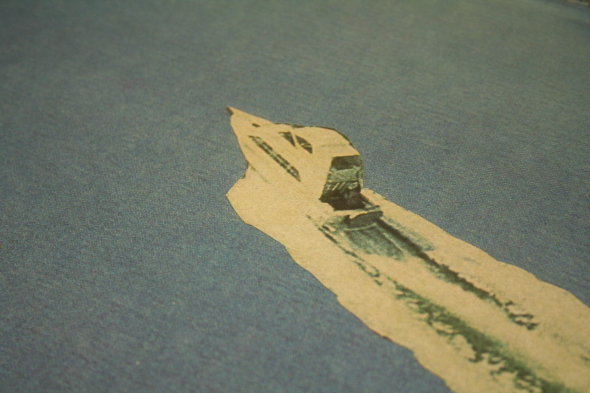 Lobster Theremin is one of house and techno's hardest working labels. Not held back by insecurities that appear to stifle the productivity of other outlets, Lobster boss Jimmy Asquith is a man who trusts his ears and wastes no time in bringing quality music to the fore. The label released 16 records last year, with a further seven coming out across newly founded sub-labels Distant Hawaii and Mörk. It was on the latter that young Italian artist Raw M.T. made his Lobster-affiliated bow last March with the La Duna EP of late-night house and driving techno.
It came as little surprise to see him make the step up to the main Lobster Theremin label for its Record Store Day release soon after with the functionally titled, but creatively stylised, ∆ÇÎ∂ H∆MM€R, from his Richard Harrow alias. Receiving heavy rotation from Nina Kraviz on the festival circuit last summer, it's a single-sided battering ram of 303s and percussion. A track of such potency that the label inaugurated the special "LTFIRE01" catalogue number and bundled with stickers depicting a flamethrower-wielding man – a visual backup to the aural confirmation that this one's a blazing weapon for the dancefloor.
Now for Lobster Theremin's first release of 2016, Raw M.T. has returned to his main project with a full EP titled Richard's Revenge. Opening track "One Last Shot" sets a warm tone with atmospheric pads while percussion repeatedly builds and fades away, creating a disorientating feeling similar to standing beneath a railway bridge as carriages overhead thunder into earshot then gradually fade into the distance. The introduction of a quivering acid line then adds a guttural edge to the final stages, providing a texturally absorbing counterpoint to the lighter outer production.
"Sky (Rough Mix)" bursts into life from the first beat with kinetic arpeggios that serve as a central theme of which hazy, analogue sounds are constructed. A persistent hiss sits at its base, glassy chimes twinkle in the background, syncopated hi-hats pulsate rhythmically, and there's even a short-lived jungle break thrown in for good measure. Raw M.T.'s controlled production manages to interlace these ideas without the track chaotically losing its way. And there's even a tinge of melancholy at points; if this is the "Rough Mix" then the original must be downright dreamy.
Closing out the EP on the B-side is the title-track, a clear nod to his Richard Harrow work that opens with drums disarmingly reminiscent of Oni Ayhun's "OAR003-B", but rather than building on this platform to soar to blissful heights, the track trudges into murky depths with a flickering 303 sequence that soon builds to a fall, backed by heavy-hitting kicks, snares and hi-hats. A touch of euphoria does arrive in the second half with the introduction of strings that float enchantingly above the raw foundation, eventually taking hold and closing the EP on an uplifting note. Cues taken from Aphex Twin across the three tracks on Richard's Revenge are pronounced, but it's well executed, and an exciting marker of a youthful producer progressing towards greatness.
Patrick Hinton
Tracklisting:
A1. One Last Shot
A2. Sky (Rough Mix)
B1. Richard's Revenge