Voices From The Lake launch Spazio Disponibile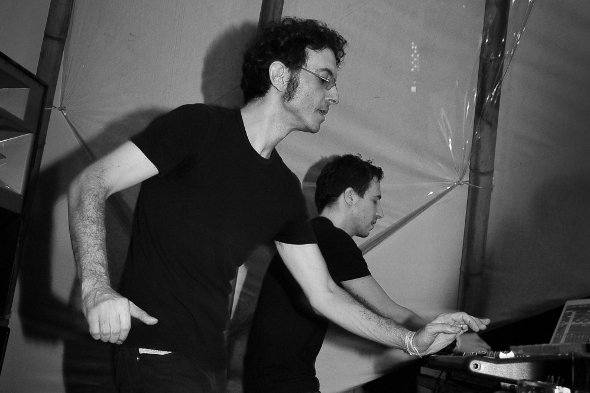 Donato Dozzy and Neel are starting their own label with an EP due out in March.
Since starting in 2011 Voices From The Lake have steadily built in notoriety as one of the most immersive techno propositions on the circuit, whether live or on record. Donato Dozzy was already highly regarded as an explorer of submersible minimal and tougher sounds, but the combination with Neel has yielded a slight but strong canon of recordings and a whole host of long, transcendental performances across the world. It's not uncommon to find the duo turning out three hours or more of unrepentantly deep techno, while last year's Live at Maxxi release on Editions Mego demonstrated their ability to adapt to a museum-based scenario just as easily.
Starting with the three-track 12" Secondo Tempo, Dozzy and Neel are launching Spazio Disponibile both as a vehicle for their collaborative and solo productions, but also as an impetus for a quarterly event at Goa in Rome. Occasionally joined by friends either on record or at the club, Dozzy and Neel intend to use studio time leading up to these parties to generate new material to be performed on the night on a hybrid live and DJ set up, which will then feed back into the label.
There are no rigid plans and no line-ups to be announced, but the spirit seems very much geared towards encouraging unpredictable, jam-based developments for both the organisers and their close circle of friends. The first of these events will take place on March 18, with Dozzy and Neel joined by an unnamed musical ally. Preview clips for the first release on the label can be heard via the SoundCloud player below.
Spazio Disponibile will release Secondo Tempo by Voices From The Lake on March 16.
Tracklisting:
A1. Ibrida
A2. 258
B1. Secondo Tempo
Voices From The Lake on Juno