Robert Henke and Christopher Bauder to play CTM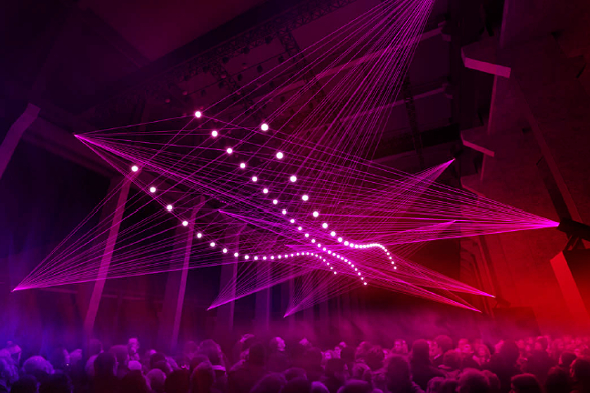 The respected sound and lighting engineers will play Berlin's giant Kraftwerk venue as part of the roving festival.
As the January 29 launch date of this year's CTM festival edges closer it's with some excitement that the hype surrounding this year's Rabih Beani guest curated event grows. While many will be making their way around Berlin's clubs to see the likes of Peder Mannerfelt, Kassem Mosse, Aïsha Devi and Lena Willikens perform, CTM has also lined up several commissions like Laural Halo's collaboration with Japanese humanoid persona Hatsune Miku, Pole's AV spectacle with MFO plus special guests performances from Senyawa's Rully Shabara & Wukir Suryadi. The festival has now revealed Robert Henke, aka Monolake, has teamed up with light artist Christopher Bauder to bring their Deep Web project to Berlin's massive Kraftwerk space.
Presented daily in addition to an "enhanced live performance" on Sunday, February 7, the collaboration is said to plunge the audience into a "ballet of iridescent kinetic light and surround sound." While Robert Henke is well known for his work as Monolake and association with DAW company Ableton Live, Christopher Bauder's work is worth mentioning too. His previous projects have shown at Paris' Centre Pompidou and MUTEK Festival in Montreal, with his work focusing "on the translation of bits and bytes into objects and environments and vice versa."
Bauder's choreographed lighting arrangements for Deep Web – taking in 175 motorized spheres and 12 high power laser systems – will move in synchronicity to Henke's music where the caverns of Kraftwerk Berlin will be "illuminated by blasts of colourful laser beams resulting in three-dimensional sculptural light drawings and arrangements." For more information on Deep Web head over to the CTM website.
Deep Web by Robert Henke and Christopher Bauder will take place in Kraftwerk Berlin on February 2 – 7.