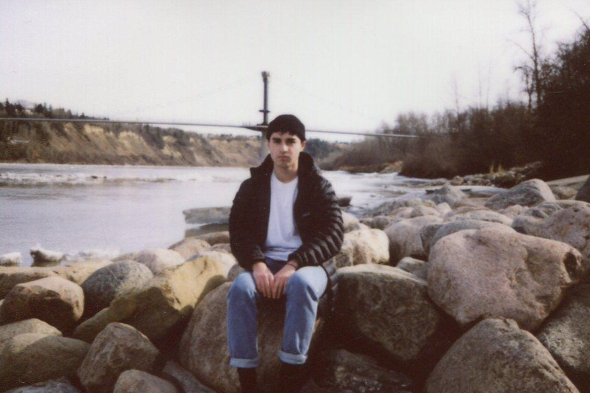 The Normals Welcome man will release the Baikal Acid 12″ on the Vancouver label next month.
Despite looking glum in the above shot, Dylan Khotin-Foote has plenty to smile about when looking back over the year. A move from Edmonton to Vancouver has seen the producer and DJ nestle snugly in the city's vibrant music community, manning the till at Pacific Rhythm's bricks and mortar store, and he's also had his name credited to a fair few records. In addition to a Normals Welcome split with Australian producer Dan White, Khotin cuts have appeared on Clan Destine Trax and Common Edit whilst last month saw a full 12″ issued through the Heart To Heart label.
Further reason to cheer for Khotin-Foote arrives in the shape of a return to Rich McFarlane's 1080p for the label's first 12″ of 2016, following in the footsteps of Via App, Project Pablo, and Mall Grab. Due to land in early January, the four-track Baikal Acid is said to continue the contemplative vibe explored by Khotin on his 2014 1080p debut Hello World with an introspective mood apparent throughout. As RA point out, the below Khotin mix for Vancouver radio show Inner Space from earlier this year ends on the title track and also features some stellar cuts from Wada and PLO Man.
1080p will release Baikal Acid by Khotin on January 12.
Tracklisting:
A1. Recycle (5am Reflection Mix)
A2. Recycle (Drift Mix)
B1. Human Voice
B2. Baikal Acid
1080p on Juno