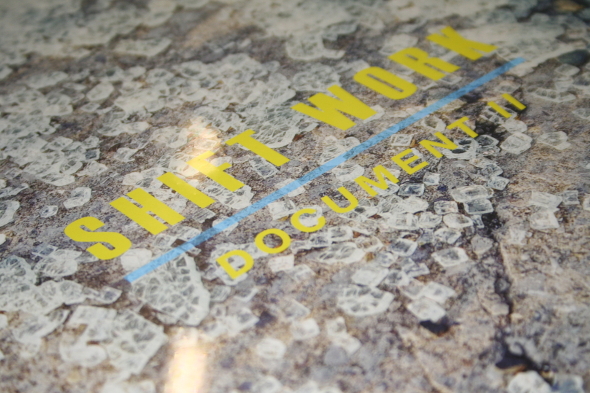 Document II follows on from last year's acclaimed Scaled to Fit release on Optimo and sees Shift Work pairing Mark Harris and Johnny Rivo push ever closer to the industrial disco perfection that they are striving for. The release starts somewhat inauspiciously with "Abandoned Hands". While the track is more understated than 'SFBM', also on this release, many of the same key musical elements are there, including a grinding bass, dissected vocals, crashing cymbals and hyperactive percussion – all playing out over a robust, robotic rhythm.
The pair take an upfront approach on "SFBM". Faster and more visceral than "Abandoned Hands", it centres on a nasty acidic riff that gradually gets louder and noisier, demanding the listener's attention. Like "Abandoned Hands", it also has growling vocals deep in the mix, while the pair make some attempt to offset the ear-shattering acidic riff with clouds of grey synths. It's like an acid-heavy companion to "Fall Back" from Factory Floor's second album.
And so to the remixes; Factory Floor's version of "SFBM" sees the UK act slow the tempo, bring down the acid intensity levels and put the focus on the vocal sample, which morphs into a cacophony of chants. It doesn't have the same gut-wrenching impact as the original version, but it does succeed in creating a track that defines the Factory Floor approach to frazzled, grizzly techno.
Meanwhile, Los Angeles-based duo DVA Damas take on "Abandoned Hands". Again, the Downwards act's take is slower than the original, but just as reduced. Guitar riffs sear like they have been injected with molten lava heat and vocal snippets are scattered throughout, but the groove is much slower and more offbeat than the original. While the inclusion of two such high-profile remixers will surely gain the release more attention, the real highlights come from Shift Work themselves.
Richard Brophy
Tracklisting:
A1. Abandoned Hands
A2. Abandoned Hands (DVS Damas Remix)
B1. SBFM
B2. SBFM (Factory Floor Remix)