Damien Dubrovnik arrives on Jealous God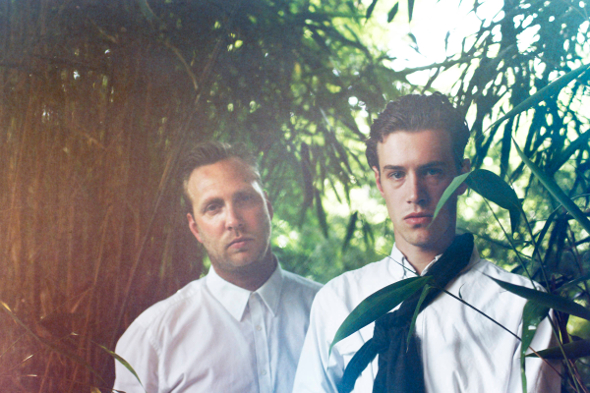 As scheduled Loke Rahbek and Christian Stadsgaard's collaboration make their debut on Jealous God.
Unlike most labels out there, Jealous God are by no means concerned about disclosing their annual release schedule, and with pressing plant troubles affecting the output of many labels it comes somewhat as a bold move – however would you expect any less from label bosses Juan Mendez, Karl O'Connor and James Ruskin. As was reported back in February, Jealous God unveiled they were to release music from artists like Terence Fixmer, Alexey Volkov, Lili Schulder's 51717 project (see her Juno Plus Podcast) and Hayden Payne under the name Phase Fatale. Furthermore, added to that list was Danish noise duo Damien Dubrovnik (the best name for a duo since Yuji Kondo and Katsunori Sawa's Steven Porter collaboration) and as planned Loke Rahbek and Christian Stadsgaard's partnership will provide Jealous God with its ninth release called The Light of God Shines Eternal.
With releases on smaller platforms like Posh Isolation and Helm's Alter, Damien Dubrovnik's arrival on Jealous God marks their highest profile release to date, taking into account the duo's ties to Varg and Northern Electronics. The record in mention can be previewed below, and as with all Jealous God releases, The Light of God Shines Eternal is fitted with a mix CD. This time it comes from Californian metal bastion Greh Holger who's long running cassette label Chondritic Sound has put out music by Prurient, Emeralds, Marshstepper and Pharmakon among a massive discography of others including some of Holger's own projects like Hive Mind.
Jealous God will release The Light of God Shines Eternal by Damien Dubrovnik in December
Tracklisting:
A1. All God Takes (Teeth Lit Up By Headlights)
B1. Same Initials
B2. B2 Post Script
Header image courtesy of Stalker Magazine
Jealous God on Juno