On-U Sound outline African Head Charge reissues
A quartet of the psychedelic dub ensemble '80s albums are due fresh editions on Adrian Sherwood's label in January.
Despite being as old as the editor of this site, On-U Sound has shown no signs of wanting to slow down in 2015 with a rampantly enjoyable succession of records arriving as the year progressed. In addition to the album founder Adrian Sherwood recorded with Pinch, On-U Sound has delved into its sizeable archives on a number of occassions with both the Trevor Jackson-compiled Science Fiction Dancehall Classics and the Missing Brazilians reissue finding particular favour in this office. Flora Pitrolo summed up the latter as "containing the nucleus of Sherwood's brilliantly odd, madly generative and influential way of thinking" in her most recent reissue column.
This archival focus is set to continue into the new year with news On-Sound will unleash reissues of the first four African Head Charge albums at the end of January. Lead by percussionist Bonjo Iyabinghi Noah (pictured above with Sherwood), African Head Charge began life as a riposte of sorts to the Byrne and Eno LP My Life In The Bush Of Ghosts, with the On-U Sound boss taking umbrage with a quote from the latter regarding "a psychedelic Africa". This resulted in the debut African Head Charge album My Life In A Hole In The Ground which is now due for a 2016 edition along with the three other albums the group released in the 1980s. Dubplates & Mastering have been employed to re-cut all four LPs whilst On The Wire presenter Steve Barker contributes fresh liner notes.
On-U Sound will release My Life In A Hole In The Ground, Environmental Studies, Drastic Season and Off The Beaten Track by African Head Charge on January 22nd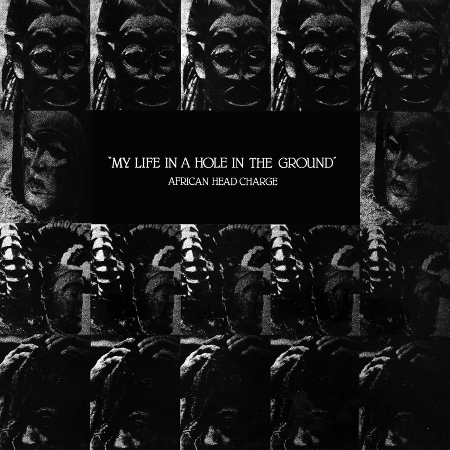 My Life In A Hole In The Ground Tracklisting:
A1. Elastic Dance
A2. Family Doctoring
A3. Stebeni's Theme
A4. The Race (Part 1)
B1. Stone Chant
B2. Far Away Chant
B3. Primal One Drop
B4. Hole In The Roof
Environmental Studies Tracklisting:
A1. Crocodile Hand Luggage
A2. Dinosaur's Lament
A3. Beriberi
A4. Snakeskin Tracksuit
B1. High Protein Snack
B2. In A Trap
B3. Breeding Space
B4. Primitive
B5. Latin Temperament
Drastic Season Tracklisting:
A1. Timbuktu Express
A2. I Want Water
A3. Bazaar
A4. African Hedge Hog
B1. Depth Charge
B2. Fruit Market
B3. Snake In The Hole
B4. Many Generations
Off The Beaten Track Tracklisting:
A1. Off The Beaten Track
A2. Some Bizarre
A3. Belinda
A4. Language & Mentality
B1. Throw It Away
B2. Conspiring
B3. Release The Doctor
B4. Down Under Again
B5. Over The Sky
On-U Sound on Juno 
Header image courtesy of Kishi Yamamoto