The Brixton newcomer makes some noise for the latest release on Beneath's label.
Productions from Beneath may have slowed down this year, with just the Shlocky double-pack on Berceuse Heroique brandishing his name, but the DJ and producer is clearly revelling in his role as label boss. After a fine breakout 2014 that featured records from Alex Coulton and Chevel, Beneath's Mistry label has really established its place among the low-end loving community this year. The introduction of the unheralded Laksa with the three-track Draw For The 12″ made for one of the rowdiest records released over the summer months, with Mistry also issuing an equally satisfying slab of Batu goodness in September.
As FACT reveal, a final Mistry release of the year sees Beneath usher in another newcomer in the shape of South London artist Gaunt. Due out next month, the four-track Crowd Noise 12″ attests to Beneath's impressive A&R skills with the title-track getting Pearson Sound all excited on a recent Hessle Audio Rinse FM airing. You can hear previews of the 12″ below with the coruscating A-side track "JP" a particular highlight for us.
Mistry will release Crowd Noise by Gaunt on December 4.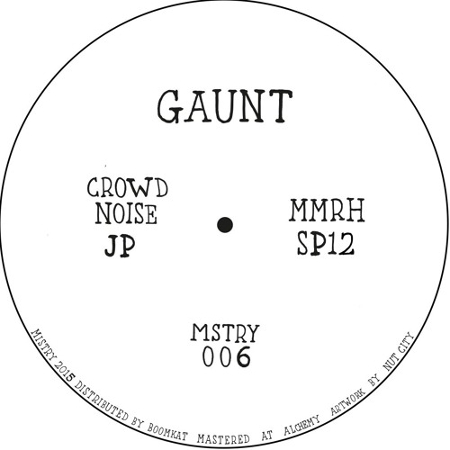 Tracklisting:
A1. Crowd Noise
A2. JP
B1. MMRH
B2. SP12
Mistry on Juno