Juno Plus Podcast 124: Mr Beatnick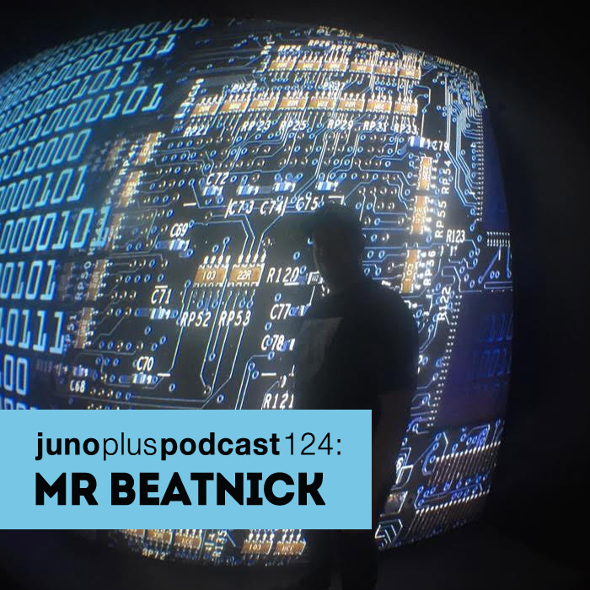 The DJ and producer heralds his arrival as a label owner with a fresh two hour selection of music old and new. 
If you read Juno Plus regularly you will know we are big fans of Mr. Beatnick, especially his Synthetes Trilogy for Don't Be Afraid, and the notion of a podcast from the affable Londoner has been regularly mooted. The stars have aligned for us finally as the producer, real name Nick Wilson, delivers a two hour selection to celebrate the imminent debut release on his new label Mythstery Records. Given his current CV as a DJ, producer, record digger, and occasional journalist, adding owning a record label seems like a logical step.
As he details below himself, Mr Beatnick announced himself as a producer back in 2005 with a 12″ under the Thieves Of Time alias alongside Swiss artist Breakplus. Some ten years on the pair are back together, with Breakplus responsible for the debut Mythstery release Instant Bull which is set to land early next month. Speaking about his decision to start a label, Wilson told us earlier this month, "the goal is to create really fun little projects in limited runs which appeal to a broader taste than purely house & techno". That certainly sounds like the case with Instant Bull, which highlights the MPC talents of Breakplus and features a real range of tempos and sounds.
The talents of Mr. Beatnick as a selector are displayed well on his two hour mix for us, dipping into house music from the present and past with a smattering of unreleased material slipped in for good measure. Wilson was also kind enough to answer the obligatory round of questions, covering his recent time at ADE, thoughts on sampling, digging spots, his involvement in Pride of Gombe, and more.
Hi Nick, how are things?
Hello Juno Plus, thanks for having me. Very well. Preparing to hibernate – *ominous voice* winter is coming. Shout out to the Metal Gear Solid 5 online crew.
We gave you a pretty blank canvas for this mix, so what should the listeners expect?
It's always a bit tricky with mixes – I didn't want it to be too banging for home listening, but at the same time I felt like it needed to be an honest reflection of what I play in clubs and on the radio. In the end I opted for a vinyl set at the beginning, to share some of the older house and boogie stuff I've been digging for – and then switched over to digital at the end so I could play some newer bits. There's signature tracks in there that people who have come to see me DJ recently will recognise, some tracks that have been faves on my nts radio show – and I've tried to get plenty of upfront stuff in there too. A balance basically.
Set the scene for how and where it was laid down?
At my studio in North London on a nice autumnal afternoon – it's quite seasonally appropriate in that way.
You were at ADE earlier this month, presenting a panel? What did you get up to?
Yep, I did an "art of sampling" lecture live on NTS radio, sponsored by Converse, with Machinedrum & Midland as guests. I guess you could call it "clash of the tache", ha! It was a fun session, they're both charismatic people and both very different in the way they work, so that contrast made it very interesting for the audience. I also found time to check The Trilogy Tapes ADE showcase, which was a really cool vibe, and go digging for some nice records with the talented duo of Sassy J & Beatrice Dillon.
On the subject of sampling and digging, is it still an integral part of your production process?
Definitely – I always need some texture from vinyl, some grain from the sp1200 or MPC In there. Increasingly I feel more confident in my own playing so there are tracks, like "stutter", where I've played all the sounds myself, or sampled myself for that matter – I'm improving my sound design as the years go by. It can be a real pain when you get big licensing requests for tracks with samples in them, so I'll be sampling a bit less in future and playing more. Good recent example – I just did a remix for the new Jamie Woon record on PMR, and that project was for obvious reasons, 100 percent sample free – it worked fine without that element.
You've obviously slowed down on the release front to focus on your new label Mythstery; how long has this been in the planning for?
Since January for this particular incarnation – but it follows on from an old label I co-ran 10 years ago, "other worlds", and since this label picks up where that one left off in terms of outlook, I suppose you could say it's been 10 years in the making.
Is there a particular reason behind the name?
I think the explanation for the name is pretty obvious if you know me and what I'm into – like the Optigram artwork on the record it's all to do with encoding hidden meaning and reference points in an overt way – hiding in plain sight – like how you flip a sample in a beat so that the experts will know what you've used, but a bystander might just take it on face value. Now I'm explaining it too much, maybe we should preserve the mythstery! Ha!
What are your plans with the label?
So far I've got the first three laid out on paper, I think they'll drop every few months for the next year or so, and then we'll see who's reached out to me and where it's going. They're all limited to 300 copies apiece. I don't really want to spell it all out – it's designed to be a really fun little project, with a small audience, that evolves in its own way and at its own pace – and I don't want to oversell it either, this isn't for the Beatport top 100. If you fancy something a bit different, something more rooted in b-boy digging culture with a twist for 2015, please come and find us here.

Will there be some Mr Beatnick on it?
Definitely. It's intended to be the new home for a whole bunch of things I'm making – it's a blank canvas in that way. If I want to put out a 20 track compilation of beatless library music tomorrow, I can just decide to and press the button – it makes things easier like that, and maybe a bit more experimental. I'm using it to open up the boundaries of what I'm making. People constantly complain that I don't release things as frequently as I probably could do – and that's because I've been so focussed on nailing a very specific sound for DBA – so this is partly for them. Opening things up again.
Can you expand on your relationship with Breakplus? It seems like you have known each other for some time?
Phew, long story – I'll try to keep it brief – I actually met him via Quarion from Retreat records many moons ago, like 15 years ago or more? He was a 17 year old kid with just an MPC and a bedroom full of records at the time – never had a TV, ever. He's still one of the best MPC programmers I've ever met, he only started using a computer about 5 years ago – and he's also got this encyclopaedic knowledge of break beats, hence the name "Breakplus" – his obsession with finding open drums borders on the dysfunctional – his record collection is bonkers, he's a proper old school bboy in that way.
It felt like a nice gesture to start the label with one of his records, since we co-wrote our first record together 10 years ago this week – he played me the demo of "Instant Bull" and I snapped it up on the spot. I actually spent a lot of time pre-mastering and mixing down the tracks with him, because he'd sampled so many dollar bin Turkish psych records from a trip to Istanbul we made together a few years back – the whole record was covered in this thick layer of audible dust and grime in the highs, it felt like it needed a clean-up. It was refreshing to approach the project from the point of view of engineer, rather than producer.
What is happening with the roving Pride Of Gombe collective you are involved in?
That's another project that's all about fun – the team is me, Lukid, BNJMN, Samoyed, Adam Oko, Kelpe and Death Is Not The End. We did a couple of parties this year – Ohm in Berlin at the height of a scorching summer there, and then an all-dayer at The Paperworks and Corsica studios, noon to night, with special guests The Whole Truth, Braiden and Shanti Celeste. David Schwimmer turned up to that last one, which quite frankly is the highlight of my club promotions career up to this point.
It's a good time for everyone at the moment – Samoyed is about to release his second album, Saturday, on Flask records, which is a masterpiece. Bnjmn has his own label now, Brack – everyone is doing really well running their own imprints and doing side projects, and I'm sure we'll do some more parties in due course. Always open to offers on that front – we had a few shouts from promoters but it's hard to make it work out without a decent budget – lots of flights and luggage! I'd love us to take over a big room somewhere someday. I'm sure we'll get there eventually.
Again, it's quite a strange name so what is the story there?
I don't think I should comment on that, it wasn't my invention – something to do with football? They're all much better with names for things than I am, and there's a zany sense of humour that unites us, a love of absurdity.
As a noted record digger, what are your favourite spots to spend a few hours in?
The best thing about DJing really is being able to dig in other countries – it's really widened up my collection. Great spots I've been to on tour include La Dame Blanche in Paris, Snikars records in Stockholm, Side One records in Warsaw, Record Loft in Berlin, this mad shop in Bucharest in this girls house that I don't know the name of, and more recently Red Light Records in Amsterdam. London-wise, shout out to Vinyl Pimp – I've been finding some great stuff there of late. Also, Alan's records in Finchley is a top 3 of all time.
Finally, the swift drum roll on "Reasons" by Minnie Ripperton is our favourite intro to a track; what is yours?
I love the backwards guitar off the intro from Kenny Rogers "just dropped in (to see what condition my condition was in)". Better still, and different Kenny – check the first few seconds of the film Caddyshack. Best musical intro of all time.
Tracklisting:
1. Jose Padilla – Day One (Telephones Dub Mix) (International Feel)
2. Hidden Agenda – Don't Fight It (Ambient Mix) (Nu Groove)
3. The Outer Limit – Dance In A Daze (Our Version) (Underworld Records)
4. Chocolate – It's That East Street Beat (Dub) (Supertronics)
5. Unknown – Unknown (White)
6. Virgo Four – Coco Beach Cafe (Chiwax)
7. BME Project – Another Lover (Bottom Line Records)
8. Gerald Mitchell – You Have To Stay (430 West)
9. Nick Holder – Summer Daze (NRK)
10. Cajmere – Coffee Pot (Clubhouse Records)
11. Title Unknown – "Underground" (White)
12. Init – Blackbird (Willie Burns Mix) (Hivern Discs)
13. Fizzy Veins – Landscape Gardener (Worldwide Echo)
14. Linkwood – Love Lost (Nummer Mix) (Firecracker)
15. Seven Davis Jr – Get Serious (No Label)
16. Randomer – Kids Play (LIES)
17. Drevsn – First Voyage (DJ Sotofetts Extended Mix) (Honest Jons)
18. Mickey Pearce – Wam Barzzz (Swamp 81)
19. Shanti Celeste – Being (Ambient Mix) Future Times)
20. Henry Wu – Neezy (Wok) (Rhythm Section)
21. Maribou State – The Clown (Axel Boman Remix)
22. 2AM FM – Dynasty Warriors (Bop Side)
23. Generation Next – Dream States (7 Days Entertainment)
24. Brandon Mitchell – Waiting For A Minute (Bop Side)
25. Damon Bell – Teph-Two (Deep Blak)
26. Perseus Traxx – Euterpe The Muse Of Flutes And Lyrical Poetry (Flight Recorder)