Shanti Celeste is in Good Spirits
The Bristol producer and DJ will make her full Future Times debut next month.
Chilean-born Shanti Celeste first made her debut back in 2013 with the Thelma Houston-sampling delights of Need Your Loving (Baby), issued through the BRSTL label she co-runs out of Idle Hands with shop founder Chris Farrell. Since then, Celeste has cultivated a reputation as one of the city's finest house selectors as well as expand her discography with 12″s for Julio Bashmore's Broadwalk, Idle Hands, and Secretsundaze's record label. Celeste was a welcome presence on Vibe 3, the latest label compilation from Future Times which is due to drop anytime soon, contributing the gleaning electro cut "Strung Up" which is laced with some Bristol atttitude.
As widely hinted, Celeste will now make her full debut on the DC label next month with the three-track 12″ Being. You will probably have heard "Being (Ambient mix)" if you keep abreast of current online mixes (Kowton opened his FACT mix with the track) whilst the A-side's lead version can be streamed here via Boiler Room. It marks the latest release in a fine year for Future Times, with Jack J's headline 12″ complemented by records from Mosey and Japa Habilidoso, a nice new range of label apparel, and a new album from Max D in the offing too.
Future Times will release Being by Shanti Celeste in late-November.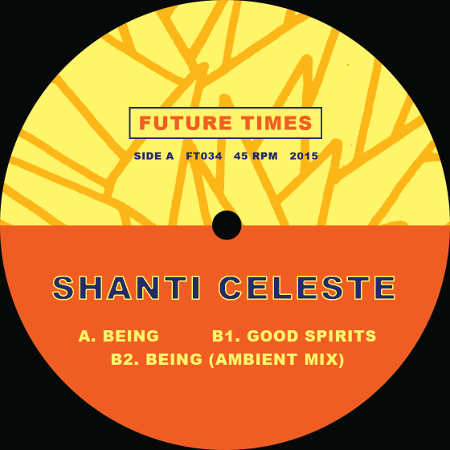 Tracklisting:
A1. Being
B1. Good Spirits
B2. Being (Ambient Mix)
Future Times on Juno