Xosar asks you to Show Yourself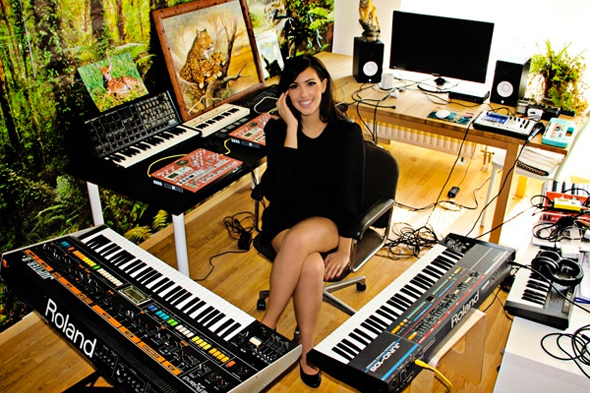 Sheela Rahman is launching a new label Gyrocyre with four tracks of monolithic techno.
It's been quite the treat to observe Xosar's turn to the dark side. From the twinkling, sweet-natured charm of her first recorded output on Rush Hour through to the none-grittier sludge of the Let Go mini-album released on Black Opal at the start of this year, Sheela Rahman has proven herself to be far from a one-trick pony. Since then it's been hard to gauge where she might progress next, with the only other Xosar output in 2015 appearing by way of the World Of Illusion 12" on Pinkman, and that release landed squarely in between the noisy techno and sugar-dusted house music extremes of her sonic footprint to date.
On the Xamiga Bohemian Grove single she crafted alongside Legowelt in the summer, the tone was decidedly soft and spooky, whilst a recent Body Tools record with Luke Wyatt channeled a strange industrial kosmische sound. Fear ye not of savage taste, as news arrives of a new venture from Rahman that seems to favour the tougher stuff. Gyrocyre is a new label bolstered with a lofty opening gambit that suggests, "when people on our planet hold built up psychic tensions under the skin, the energy gestates in a womb-like growth until it's ready to burst through the flesh and manifest as a creature called a Gyrocyre." The press release for the first Xosar release on the label (appropriately titled Show Yourself) continues, "we invite you to embrace the change… Let your Gyrocyre out."
Judging by the malevolent tones that come raging out of the four tracks Rahman presents to us here, her own Gyrocyre is not to be trifled with. Replete with artwork that wouldn't look out of place on a black metal album, this is clearly the Jekyll in Xosar's split identity being celebrated to the full. You can stream closer "Manmeat PCP" below ahead of the vinyl being available at the end of November.
Gyrocyre will release Show Yourself by Xosar on November 30.
Tracklisting:
A1. Psychoplasmic Spawn
A2. Skin Hammer
B1. Show Yourself
B2. Manmeat PCP
Xosar on Juno