Best reissues and archival releases: September
Flora Pitrolo picks out post-funk adventures from EM Records, unreleased tape experiments via Entr'acte, synth goth masterpieces, Dutch italo-disco and more.
What better way to welcome the autumn than with a masterpiece of synth-goth, crafted when the concept wasn't even necessarily a contemplated genre? Spanish record shop turned label Wah Wah, specialists in rediscovering hidden echelons of long-sighted prog, treated us in September to a number of Popol Vuh reissues, and if you haven't dipped your toes into the frosty waters of this particular brand of Kraut, then Aguirre is the one to visit first.
Containing recordings made for Werner Herzog's chillingly hallucinatory 1972 film Aguirre: the Wrath of God and other sessions recorded by the band in the early '70s, the record curiously and rather brilliantly manages to perform a dual role. It epitomises German prog, but remains an inspired and pioneering oddity in its own right. While faux-medieval melodies, lunar gothic landscapes, and complicated, masculine guitar virtuosisms are de rigeur here, there is also much fun to be had with delicate, understated drum patterns, the strangeness of sampled gregorian chant coming on and off like the flick of a switch, and the mastery of juxtaposition like rainforest sounds with icy synths.
Consistently unnerving and gorgeous like the sequence of the film where a boat is stuck in the upper branches of a tree, the record feels like it presages half the canon of gothic ambient and neo-classical / ethereal of the 1980s and '90s. You can feel elements that may have inspired the Vangelis score for Bladerunner throughout Aguirre. Worth listening to again and again, guaranteed to make autumn mythologically worth it.
Listen/buy vinyl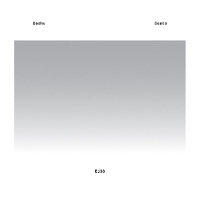 The ever-exciting Entr'acte's 188th record is a lovingly recompiled anthology of Boche's electronic experiments recorded by the man between the mid-1980s and 1991. Boche was Hans Ludwig Jacoby, the author of one tape laconically entitled Tape, which came out back in 1981 on the Animal Art label overseen by German cultural agitator Marc Behrens. Whoever he was, whatever he did, it's criminal how underheard Hans Ludwig Jacoby has been until now; this record contains material remastered and sequenced by Behrens that has never been released before, and it's whisker-lickingly beautiful.
Always teetering on the line between cunning and cutting electroacoustic and lusciously intelligent techno, Beats is a thing of dreams, a glorious succession of expert progressions of deeply thought-out rhythms, sonorities, manoeuvres. The true joy to be found here is in the feedback, all sorts of sexy, knowing, interesting manipulations of delay, whilst texture is undoubtedly the most satisfying and most succulent aspect of Boche's music. Wet, jagged squelches – dirty but never vulgar – sit alongside echoed screeches reminiscent of searching through VHF radio at night, endless walls of insectoid pattering feedback, and empty space boominess. Moments of surprise flash up like fireworks: distant sharp whistles, woodiness, rustiness, whole screams, voices, conversations wrapped in destabilising filters, zooming in and out of earshot, going pure brilliant white and then hovering in the dark damp grain again.
Boche's Beats is the kind of thing that makes you glad music's recorded and stored on physical format so it can be found again. Sincerely and solemnly fantastic.
Listen/buy vinyl
There are records which need to get reissued every now and again to check how they go down in the world, how things change. Whitehouse's Halogen is seen by lovers of the genre as a milestone of extreme and 'horrible' British electronics, for its form and for its content, and it should of course be enjoyed unbearably loud. The album came out fifteen years into the band's career in 1994, and I believe now is a good time to hear it again because it actually sounds a lot more careful, a lot more precisely crafted than it might have in the past. It also sounds – dare I say – rather mellow, or in fact rather melancholy, devoted to fuzzy, awful (in the best of senses), brutal affairs which nevermind how extreme and terrible they are, are also clearly expressions of a thoughtful rage.
This record now sounds committed to a cause; there's something of a proto-political raison d'être (yes, even behind "Lighting Struck My Dick"), a willingness to hurt, shock, harm, set on fire which sounds rather calculated, rather pregnant, and above all very serious. Halogen now sounds uncompromising for a reason; not for some kind of boyish fun, but the fuzz, the screams, the highest of high frequencies, the swearing, the horror, the lot. If you can get over the ring in your ear, Halogen in 2015 provides you with an insightful kick from the past. It reminds you of the punk ideology that hurts, that matters, that will exhaust you and make you think about the present. Then you'll either smash something up or cry. And that'll teach you a lesson.
Listen/buy vinyl
Laserdance – The Best of Laserdance (ZYX)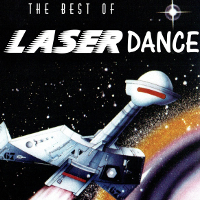 So, absolutely zero punk ideological thrust here – the kind of outfit Whitehouse would have tortured – but damn it, it's gorgeous. ZYX seems happy to entertain itself with horrible sexy-woman, tacky house and best of Schalger compilations these days, which is perversely quite comforting. Let's not fool ourselves people, this it what Italo is, not the dreamy sophistication and playfulness we hear with our contemporary ears! However in the midst of all this, Bernhard Mikulski's legendary ZYX label, which coined the term Italo in the first place, decided to hit September with a raft of reissues from the golden chapters of their back catalogue, including Ken Laszlo, Scotch and this. Made of 100 per cent plastic: Laserdance is the cream.
Laserdance isn't actually Italian but a Dutch project, started by owner of Rotterdam-based dance label Hotsound Records at the dawn of the 1980s, in typically Italo money-making fashion. The 'best of' compiled here chronicles all of the duo's output that's really worth hearing: televisual, video-gamey, tropical, cosmic you name the consumer-hunger of the time, Laserdance pander to that appetite. But as ten-a-penny as they might have been, they did what they did really well: every melody is a killer, satisfying but also at times interesting. The remix of "Fear" presented here for example, is rhythmically dense and packed with neurosis and echoed screams, and the edit of "Future Generation", which has a foreboding childishness to it, is masterful. And if you want really good yet banal Italo, this is it. The LP closes with the band's masterpiece, the dark and hammering but still gelato-tasting "Cosmo Tron", which is right up there with Kano's "Ikeya Seki" or Time's "Shaker Shake". Perfetto.
Listen/buy vinyl
Wicked Witch – Chaos 1978-86 (EM)
This totally erratic, very strange and very varied, haunted, acid set of recordings made by Wicked Witch, aka lone Washington funker Richard Simms, in the wild days of post-punk (and post-funk, turns out) has been reissued a number of times. This latest edition courtesy of Japan's tireless EM Records is worth including in this month's column for anyone that hasnt had the pleasure of frequenting this oddity in the past. Post-funk is probably the right term to describe Chaos 1978-86. The anthology seems to chronicle a series of pathways out of funk, attempts to take the genre into new directions; be it post-punk, electro-funk typical of New York during this time, as well as some experimental electronic ones. It sounds like a series of renewals, all of which are valuable, and some of which are very inspired.
Both "Erratic Behaviour" and "Under Your Spell" are worth giving some serious listening to. The former is a dense weave of overly echoed voices and electronic textures under which a slap-bass huffs away repeatedly, obsessively, whilst the latter mutates a funk squelchiness into what sounds like a ripping super-effected boogie-woogie organ, pierced here and there by distant fluttering bleeps and crime TV series-like melodies. For those who love electro funk, this record is a treat; it messes with the genre quite deliciously, and is full of ideas. But there's something in there for the rest of us too: it might be a good excuse to rethink funk, think about its darknesses – the closing "Vera's Back" for example is an ode to a jazz-synth city in shift, and it's seductive no matter what you listen to.
Listen/buy vinyl
Flora Pitrolo