DJ Bone: Dare to be Differ-ent
Richard Brophy speaks with DJ Bone about his life under the radar, hipster techno, EDM as a necessary evil and DJ culture to his Detroit roots and life in Kentucky.
Detroit's DJ Bone has never done things according to plan. He established himself during the '90s as an international name based primarily on his DJ skills. Bone, real name Eric Dulan, shuns self-promotion – especially the social media variety – and for a few years actually turned down all DJ bookings.
The best place to catch Bone is in the middle of one of his three or four-deck sets, but he did succeed in capturing his energetic, high-octane DJ style on the timeless Subject Detroit Volume 2 mix. Released in 2000, at a time when progressive house seamlessness or one-dimensional loop techno were popular, the mix remains a testament to Bone's relentless DJing and his Detroit musical spirit.
In the intervening 15 years, much has changed in Dulan's life. He has translated the power of his DJing into vinyl releases, mainly for his own Subject Detroit label, and used the imprint as a platform for like minds, with Stephen Brown, Juan Atkins and Orlando Voorn releasing on it. He put out a third Subject Detroit mix and consolidated his reputation as one of the world's most talented techno DJs. In his personal life, there were also changes.
"I decided to be a family oriented person. I have a daughter who is in college right now and I didn't want to miss out. I'm also happily married – we had been together for a long while before that. For the wedding, we did a big gathering and took everyone to Hawaii in June, but my mom passed away two months before the wedding," Eric explains, with a hint of sadness in his voice as he tells about his mother's passing. The other main change in Dulan's private life was the purchase of a house in Kentucky. "When we came to Louisville, it was so peaceful. We came here and we didn't even look at the house before we bought it," he says when we speak over Skype.
The purchase came as his home town continues to undergo change. In the face of media reports about essential services being cut from some areas of Detroit, Eric says that there are other changes taking place in the city. "It's hard to say how Detroit is because there are so many Detroits. You hear people praise it and you hear people complain," he says and then makes the point that the city's authorities are "not developing Detroit in the areas that need it most".
"Now we have a lot of homegrown tourists. By that I mean people who would have come into the city for a ball game, people who would have spent some money and then left again. "Now those people are trying to live in the city, in the areas that have been gentrified. But at the same time, a lot of people wanted to stick it for the long haul. These people are still Detroiters and there is a lot of hope among the people who stuck it out. These are real people. They don't want to move to the gentrified areas." But Eric also makes the point that Detroit has long been a racially segregated city.
"After the riots, 90 per cent of white people moved out and the Muslim people live in an area called Dearborn. It's the biggest Muslim population outside of the Middle East." Does the city still feel like home? "Detroit is a place that I can't not call home, but because a lot of people don't see me out any more at clubs, they think I live in Europe," he answers. Due to his focus on his family, Eric says that he deliberately withdrew from techno and ended up declining a lot of lucrative offers.
This decision coincided, he says, with some of his peers ramping up their efforts to boost their profiles. "I decided a few years ago to hold back when everyone was trying to make a push to get more gigs. It seemed everyone was doing mix CDs for Fabric, using PR firms," he explains.
Deciding to fly beneath the radar for an unspecified time is clearly at odds with the general tendency in electronic music towards relentless social media-based self-promotion, but Bone wasn't worried that he would fade into obscurity because he had taken some time off.
"I wasn't concerned because I have a skill set that no one else has," he says confidently. "I don't see that I have a limited shelf life. As long as people are interested, they will seek me out," he believes. This self-enforced absence would be difficult for most DJs to take, but Bone believes it only made party organisers more interested in booking him.
"Even while I took a break, we were getting emails with offers all the time. One of the organisations to seek me out was the Awakenings festival. They asked me to play one of their stages with Jeff Mills and Robert Hood –  what I didn't realise is that they wanted me to close out the night as the headliner," Eric recalls. "Now I am travelling more and I have a long list of gigs. This lets me know that I was on the right track."
Such statements could easily be mistaken for arrogance, but in fairness to Bone he has a point. It's hard if not impossible to think of a techno artist who has been releasing great music non-stop for the past 20 years. "All of my favourite artists have longevity and a loyal following. I think that you can stay in your own lane and be super happy or you can go down the fast route and have your trendy friends, but that's a short journey," he believes adding, "I want to be super well-known and super-recognised, but unless you have loyal followers, you will get torn down."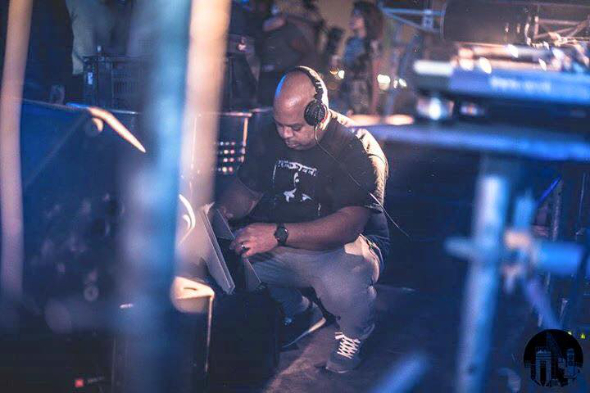 Given that Bone's skills surpass pretty much any other techno DJ, with the possible exception of Jeff Mills, surely it was easy enough for him to re-connect with his fan base? "It gives me the edge, but in a way it's been a hindrance with my following. They still expect me to push things forward. If I went and played nothing but a beat-matched set, I would get cheers from the audience, but my real followers would be like 'why aren't you messing with the fader?' It would kill off my longevity if I didn't push it," he believes.
Bone belongs to the school of DJs who made it on the strength of their skills behind the decks and who started to produce later. He feels that the notoriously hard to please crowds in Detroit clubs helped him to hone these skills. It also had the opposite effect on some DJs and he cites a few examples where the latest bright young things fell flat on their faces.
"Detroit was a testing ground for DJs, and man you'd have to be able to rock it there in front of all of these people with their arms folded. I have seen some people come in and rock it and then there we others who didn't. There was one case, where a hyped DJ had to stop their set and walk out because it didn't work out," he recalls, diplomatically omitting the offender's name.
Unlike many of his peers, Bone continues to play vinyl. He has incorporated digital files to road test the tracks he gets sent, but he says that "I would feel guilty rocking up to a party with just some USBs to plug in and play. As far as my history goes, I come from a background of lugging a big record bag around, the drama of maybe not being able to bring it on a plane. It's like a chef being told to use a microwave", he states emphatically.
The main reason why Bone is playing digital files is due to the increasing amount of high-quality techno being sent his way. He mentions Head Front Panel, Skudge and the Hessle Audio and Don't Be Afraid labels as well as Ø [Phase]. "His music is strange but beautiful," he says as some of the reference points in his digital playlist. Moreover, he views these artists and labels as a welcome alternative to the prevalent narrative in techno.
"I'm happy now because for the longest time there was so much techno coming out that wasn't so good. There was this whole wave of hipster techno that I couldn't get into – but then a lot of people started to come directly to me and I would either release it or play the shit out of it," he explains. Apart from producers and labels, the Detroit DJ also has good things to say about one of the new wave of selectors.
"As far as DJs go, I love Ben UFO. He has a genuine personality and a thirst to go backwards and discover music," Bone says, "He doesn't just rock up and expect huge fees. He recently came to see me when we were both playing in the same city, which very few other DJs would do, he's very respectful."
The Hessle Audio owner, however, is an exception, a shining beacon in an ocean of mediocrity and cheap thrills. It is no surprise that Bone feels the art and craft of DJing isn't held in high regard any more. "DJing has been watered down, the bar has been lowered so much," he feels, before adding unexpectedly: "I am working on a DVD at the moment. I had the idea for it 12-13 years ago but it got stolen. It's a documentary about me and my DJing. It's the main reason why you don't see me do documentaries on Resident Advisor or Electronic Beats  – the way I see it, no one can tell my story better than me," he says rather cryptically.
Bone also believes that much of the devaluing of DJing in recent years is linked to the explosion in the popularity of commercial electronic dance music. "EDM has been really bad for techno, but I am not so upset because it's a trend and trends die. At the same time, every hero needs a villain because what's he gonna do all day if he doesn't have one? It's almost like we needed it to weed out the bad parts of techno. It's a necessary evil, I hate it, but it doesn't annoy me," he states.
"The one thing that really bugged me recently was this SFX guy who bought Beatport and tried to take it public. I was pleased to see him fail," he adds. "It surprises me that not a lot of people know that Richie Hawtin owned Beatport. We (Subject Detroit) dealt directly with Beatport, but when they sold it off, they didn't tell us."
Bone's ire isn't just reserved for the commercial aspects of electronic music, and he feels that the underground has become too complacent and conservative. In part, he blames this on the need for DJs to get return bookings, but he also says that a lot of techno music sounds staid.
"My next few albums are going to tell true techno fans that they have to go outside the box. It's like being thrown into a river full of crocodiles, I'm ready to start fighting as an artist. Some of this will be me pointing out how easy it is to make techno. I could make 10 tracks in one night like the ones that get released every week," he claims.
Bone also bemoans he rarely hears much imaginative DJing, with most selectors stuck on one BPM all night long. "It's because it's a small pool. Look at every festival – they all have the same 30 names. They won't do anything crazy because they want to play the 12 festivals again next year. No one wants to take a step forward, everyone has become complacent," he feels.
While the next Bone album isn't due until next year, he recently launched a new project, Differ-ent. Its the debut, eponymous release came out at the start of the year and was described by this writer on Juno Plus as recalling "Suburban Knight at his most hostile, belching out ominous intentions with an almost hallucinatory sense of malevolence." Bone says that he doesn't go into the studio unless he has something to express, and in the case of Differ-ent, he needed a platform to articulate some dark thoughts.
"There was a lot of dark stuff in my life at the time. I don't get depressed or take it out on other people. Instead, I deal with it through music. I leave my music there and then I decide later," he explains. "I thought I needed something that was aggressive. Differ-ent is a darker type of techno. It's like soundtrack techno, but you can dance to it. It's like the bogeyman actually coming through the wall after you – that's what I wanted it to sound like. It was too dark for Subject," he believes.
Differ-ent, he adds, has become an alter-ego, and was also a reaction against a lot of the monochrome drum tracks he was hearing. "A lot of this hard techno was just hard drums and one sound. You can be soulful and hard at the same time. A lot of the time with Differ-ent, I refuse to use a 909, and I used my dog in that last track," he exclaims.
Differ-ent marks not just a musical change, but also one of the first times he has released on a label other than Subject Detroit. He explains that "Subject Detroit's next chapter is coming soon", and in the meantime, received an approach from both Don't Be Afraid and Leftroom.
"They weren't disrespectful, they knew their history and they wouldn't take no for an answer. They were also up for anything outside of the box," Eric explains. "I checked them out, we went back and forth for months before we said, let's do it. I'm not one for doing heavy PR, but the DBA label has some next-level shit on it and I like being part of something new that isn't jumping on a bandwagon.
With a Differ-ent album due on Don't Be Afraid, Bone intends to turn it into a live project. However, he stresses that this will only happen when the time is right and if he can develop it properly. "It's a DJ thing right now. When I eventually do a live thing it'll be quite different to other live acts. It'll be like a three-hour set and it'll have to work well and be enjoyable," he explains.
For the time being, Bone's performances will consist of the high-octane, multi-deck DJ sets that he first made his name with over two decades ago. This was best captured on Subject Detroit: Volume 2. In the same way that I-f's Mixed Up In The Hague from around the same time was the definitive guide to emerging Dutch electro and jack, and long-forgotten Italo classics, Bone's mix acted as a benchmark for Detroit and Detroit-inspired techno from the late '90s and early 2000s. It was like a breath of fresh air in a world of stifling loop techno.
"It was a special project – everyone who I asked for tracks said yes. I had Octave One's "Blackwater" before it was named properly. I was so happy with that mix," he says, but bemoans what happened to the follow-up. "Subject 3, we didn't promote it so much. We just put stuff out without a release date, it just appears. I loved Subject 3 but it didn't do so well," he admits.
Mix CDs have been superseded by podcasts, but Bone feels they don't have the same kudos. He also questions the intentions of some online mix series, which promote the 'brand' rather than the individual DJ. "There are one million and one podcasts, so it's not really the same thing," he believes, adding, "I was in Glasgow recently and someone asked me why they used Slam's picture for the Slam radio podcast I did. These podcasts are all about Fabric or FACT, it's not about the DJs or the artists."
It's not the only aspect of modern electronic music that Bone doesn't buy into, and he marvels at the manner in which some of his peers place such a high value on social media likes and followers. "Someone asked recently, why is Bone getting so many bookings because he doesn't have many Facebook followers," he states, laughing. "I'm not mad at anyone who wants to be a star, but I know it won't last. I'll be here in 20 years time."
Maybe it's because he dares to be different.
Richard Brophy
All images courtesy of DJ Bone
DJ Bone will play at this year's edition of Unsound – more details here
DJ Bone on Juno