Best Record Sleeves: September
Vinyl releases from Call Super, Laurel Halo, Shackleton, Public Possession and more make the grade. 
Apologies for this column landing deeper into October than it should have; the majority of September was spent on a much-needed holiday in the US Pacific Northwest. Upon my return it became apparent that a trend for monochrome artwork dominated throughout the weeks of September, or at least they were the sleeves and designs that truly stood out, which is reflected in the majority of the selections here.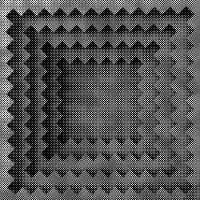 A case in point was Migrant, the new Call Super record for Houndstooth. Joseph Seaton's music under the name has featured prominently in this column since he aligned with Houndstooth and his latest 12″ for the label merited inclusion once again. Migrant saw Seaton working with plusyes, aka fabric's in-house designer Roberto Rosolin, and captures the eye immediately thanks to a distinctive black and white patterned print on the cover complemented by some bold and unique looking font. The 12″ also feels like one of the most satisfying records of recent times to hold in your hands.
Three releases into the Deliverance series and it is clear Shackleton has found himself a new visual muse in the form of Jürgen 'Strawalde' Böttcher. The pair have actually been working together infrequently in various forms for the past five years, even performing together as part of Berlin Atonal last year, but it is nice to see their artistic relationship develop via Shackleton's label. By their very nature, Böttcher's improvised experiments with paint for the Deliverance series retain a loose sense of visual consistency, but each offers a welcome new chance for the imagination to run wild.
Bedouin Records were always likely to feature in this edition thanks to the fact they elected to release three 12″s at once last month, with each of the records more than a worthy candidate for inclusion. After weighing them all up, the Keep Your Mind Open 12″ by Hieroglyphic Being & The Truth Theory Trio stood out the most thanks to the label's decision to commission LA artist Cleon Peterson. Continuing the striking themes explored on the LA-based artists series Practice Of Masters, Peterson's artwork is no less powerful when displayed on a format smaller than the prints or gallery walls it normally adorns,
As promised, some colourful selections with the welcome return of Laurel Halo leading the way. The Ann Arbor native pitched up on Honest Jon's last month with a double EP of new material and In Situ looks every bit as impressive as the eight tracks sound. Will Bankhead took a simple, understated approach to the layout and design of the record, leaving the gaze to bask in the oil-soaked alien terrain courtesy of Phillip Aumann.
The work of Rochester, New York-based illustrator and designer Andy Gilmore is among the most immediately recognisable in the field of sleeve design. His richly detailed geometric compositions have brought an extra element of 'pure wow' to records by Gold Panda, Africa Hi-Tech, and Helios, in recent times. A commission to work with Seattle's Further Records for their recent Jonas Reinhardt album Palace Savant saw Gilmore scaling back his kaleidoscopic impulses somewhat for a design of glowing concentric circles that pulsed with warmth.
We shall finish the selections with Munich's Public Possession, a collective with a very distinct, humour-laden approach to design that seeps through everything they put their hands to. When it comes to their records, Public Possession don't always go down the full artwork route but when they do the results are quite luxurious. The design for the label's second release from Obalski tapped into the artist's undoubted eccentricities (this is a man with a penchant for sampling Chevy Chase) with impressive results.
All selections by Tony Poland
[nggallery id=58]