Jon K – Selection, Vision, Conviction
Juno Plus editor in chief Tony Poland caught a train to Manchester for tea, parmigiana and a heap of music talk with Hoya:Hoya resident and DJ Jon K.
"Was that at The Roadhouse? Do you remember if he had a sheet?" Jon Kraus, better known as Hoya:Hoya resident Jon K, is asking me about my last visit to Manchester almost a decade ago. I went to see Moodymann play the Eyes Down night he resided over with Kelvin Brown. We are sat in his record room/studio in south-west Manchester, described quite accurately to me by a mutual acquaintance as "Aladdin's Cave, it's like a shrine to music. You pull out records you've previously only seen for three figures on Discogs." Looking around the room we are standing in, it's no surprise Kraus comes across as something of a walking cultural encyclopedia. Wherever your gaze lands, there seems to be a pile of records willing you to dig through them. Sit down and you'll spy a wedge of seven inches shoved into a crevice in a desk. Framed pictures of bands, DJs and films adorn the walls.
We spend some six hours talking that late-July afternoon, the conversation punctuated by Kraus digging out a new record to play and discuss, or offering to "make a new brew." After the interview is done, he cooks us both a fine parmigiana, validating his earlier claim that food is every bit as much a personal passion as music.
For the uninitiated, Eyes Down was a cult night in Manchester that ran for around eight years from 2000 onwards, a place where Kraus and Brown channeled their musical inspirations into a night of programming where tempo and genre were never constant. My memory of that night with Moodymann is cloudy at best, the start of a long weekend of excess before leaving the UK to spend some time in New York. I do recall Moodymann performing behind a sheet which was later ripped down, and Kraus amusingly reveals a local Manchester journalist reviewing the night was convinced it was part farcical bit of planned theatre.
In contrast to my somewhat cloudy recollection of that night, Kraus appears to have a remarkably clear memory of many more nights he's been involved with over the years. This is impressive given his role in shaping the dancefloors of Manchester and beyond as part of Eyes Down, Hoya:Hoya, and Friends & Family, the club night affiliated with the Fat City Records shop he worked. There are numerous times throughout our conversation where I am quite taken aback by his capacity to detail a particular moment of a night a decade ago, right down to the track being played and which of his friends were dancing nearby. Of course all these memories means it's hard to immediately pick out one or two nights when I ask Kraus what some of his favourite nights at Eyes Down were.
A brief moment to gather his thoughts passes, before he tells me about nights with Recloose, Domu, and Mark Pritchard; a strong, immediate connection with each appears to be the overriding theme as he recounts the finer details. Another request for some of his favourite DJs gets a similarly 'mind has gone blank' response, though he later emails me with a list of selectors that starts with Robert Hood and Stacey Pullen DJing at Bugged Out soon after he'd arrived in Manchester in 1995, and ends with a roll-call of local talent. Wedged in between are detailed reasons for including Abdul Forsyth (a resident at Plastic People night Balance), Cherrystones, Paul 'Moxie Edits' Bennett, FunkinEven, Tadd Mullinix and more.
I'd be lying if I claimed to be overly familiar with Jon K when I saw Moodymann that night at The Roadhouse in February 2006, but mixes for Reel Torque and FACT now mark him out as one of my current favourites. Listen to them and it's easy to see why he's regarded as a 'DJ's DJ'. Kraus seems to possess a talent rare among modern DJs, flipping between styles and genres with an effortless guile that constantly catches you off guard. Splice the key and melody of a disco selector and tight beat matching of a techno head with the DNA of a scratch DJ and you'd get someone close to Kraus.
Kraus has just returned from London himself; the previous weekend he'd played all night at the highly regarded Brilliant Corners in Haggerston with Patrick Little, a friend he once shared a residency with in a small Manchester venue. Records from that gig line the walls in the corridor outside of his studio; waiting for the time Kraus is able to slot them back in the room somewhere.
"Organisation isn't the strongest link of the chain really," Kraus admits with a grin when asked about the level of order he tries to maintain over his record collection. Despite the aforementioned "Aladdin's Cave" description, Kraus tells me he's no fastidious hoarder of rare records. "The one thing that is most likely to get a big fucking yawn out of me is when people start talking about money and records," he proclaims in a mild Leicester accent that's been hardened with some north-west grit by his time in Manchester.
A wedge of records has been gathered prior to my arrival, featuring tracks that have popped up in his mixes over the years or have particular resonance to Kraus. Boyd Rice and Daniel Miller's hard edged and ironic self-help number "Cleanliness & Order" was among the records Kraus had picked out to talk about specifically; to these ears an uncredited highlight of his Loukanikos' Dance mix for the local Reel Torque cassette label.
Though his first passion was electro and hip hop, Kraus was drawn to punk, new wave and industrial music as he matured. "I guess when I was 16 or 17 I got exposed to Throbbing Gristle, NON Records, and all that world of stuff," he explains. Leicester record shop Ultima Thule was what cultivated this interest, Kraus adds. "It was run by these two brothers called the Freemans, who set up the shop in the early '80s and they just specialised in kraut, prog, industrial, avant-garde, ambient, world and pretty much anything that was outsider."
After cueing up the track, the conversation leads to his revelation of seeing the divisive Rice perform at the Hacienda back in 1995 alongside Sahko icons Pan Sonic (then still working as Panasonic). "Panasonic were as you'd imagine; bludgeoningly loud, and just brilliant," Kraus tells, whilst explaining Rice's set was subject to protests from members of the Anti-Nazi League in attendance.
"At the time I'd had a fair bit of experience of anti-fascist action," Kraus tells me, proceeding to discuss his formative years growing up in Leicester, his memories of watching the news when the BNP had won a seat in London, and active involvement in protesting against the right wing factions of early '90s UK.
Kraus became involved with Youth Against Racism, one of several groups that had sprung up to fight the rise of the BNP, spending several years involved and attending demos before becoming disillusioned with petty politics and lack of real organisation that seemed to stifle their effectiveness. "The point when I was sitting in a meeting where people were (with a straight face) discussing how the YRE was the most democratic of all the anti-fascist organisations was a particular low point and a good example of this." By the time he saw Boyd Rice at the Hacienda, his prior experience with these left-wing groups had given him some insight into the way these first waves of industrial acts were misinterpreted. The subject of Rice remains a strange curiosity for Kraus.
Another surprising revelation is Kraus's brief dalliances with the world of music syncing. A question regarding how much opportunity he has to play the weirder ends of his music collection to people dovetails into his experience of doing music sync for the BBC with Sean Canty of Demdike Stare.
"Anyone who has collected records over the years will probably have had that thought (when watching TV) about who gets the job to pick the music for this stuff?" That was the motivation for Canty and Kraus to seek out contacts at the BBC, who have regional headquarters in Manchester. Kraus recounts helping out a BBC producer find a song to use for the titles of a four-part show, which led him getting asked to select music for the stations foremost current affairs programme, Panorama. Alongside the surreal aspect of synching the likes of Throbbing Gristle, Zoviet France and RZA onto Panorama, it was a fun process which led to the birth of his own agency SnipSnap Music.
"In parallel to doing this work for the BBC I was thinking that I knew a lot of people that make and produce music and if I put my mind to it I could create a roster of people that could make any kind of music you want," Kraus tells me, adding there was more than a touch of naivety to the idea.
"In reality it did my head in, and made me realise that a lot of the music you hear on TV doesn't have to be that different or avant-garde." Though he enjoyed some aspects of the work, there were others that left a bad taste in his mouth. "I did three jobs in a row where, although it was expressed in a different way, what they were essentially asking for was a tune that sounded like Justice."
Hearing him speak of the experience, he views it all with a 'nothing ventured, nothing gained' outlook, happily exploring these creative avenues and chalking them down to experience if they don't work out. His talents as a DJ ensure he's never been short of gigs and around this time he began to get more. This, along with his continual design work (his arrival in Manchester was to study Design at City College) and his regular shifts behind the counter at Fat City Records, meant he was happy to leave the world of music sync behind.
It was at Fat City where Kraus crossed paths with Ryan Hunn, better known as Illum Sphere, and Jonny Dub, both fellow residents at Hoya:Hoya. Eyes Down was still running when Hunn joined Kraus behind the counter at Fat City and it's a night that has played an influential role on how Hoya has developed musically, which Kraus seems very content with right now. "On the right night it works really well; there is loads of crossover with all the residents, but we all come from different angles so everyone does their thing but in the context of the overall party being the focus rather than just getting on and doing your set….it's a family thing."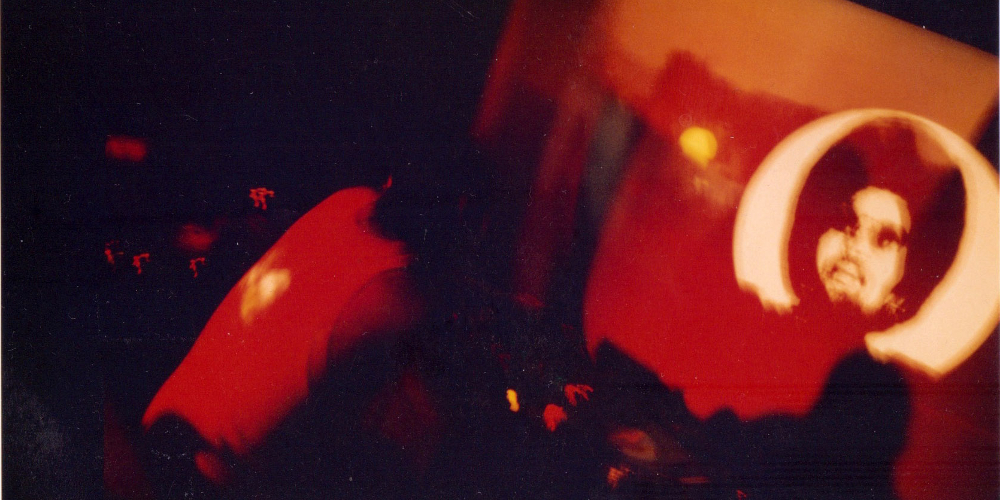 The closure of Hoya's regular home, The Roadhouse, in May remains a sad side note for Kraus because it was an integral venue of Manchester's nightlife and one with countless personal memories. "If there is any venue I personally associate with me becoming a DJ it's that sweaty little basement," Kraus tells me, having DJed there for Eyes Down, Friends & Family and then Hoya:Hoya. The honour of hosting the final night of The Roadhouse fell on the Hoya crew, and I can tell Kraus still feels sad at the fact it's no longer there.
"It was fucking crushing," he states solemnly, though he adds that final night at The Roadhouse turned out to be one of the most memorable Hoya sets. "As the night progressed, it was one of those nights where everyone was on their shit, it was killer." The Roadhouse may no longer be running, but Hoya:Hoya lives on, with plans for a new party in a new undisclosed space well underway; Kraus tells me he'd been on the phone to a theatre props designer prior to my arrival to organise certain aspects of the night.
Throughout the time I am in his apartment, I can't help but notice the various bits of gear set up and dotted around his desk, so I'm happy when the moment arrives to discuss his potential plans for making music. Kraus has picked up this gear sporadically over the past few years after he began tinkering with a copy of Ableton that came with a soundcard he bought to do mixes with. "I just started pissing around with it and made a few personal edits," he tells me, adding the more he did this, the more the idea of toying with sample-based music appealed.
There is one particular moment in Kraus's recent past that feels important to this story. Back in June 2011, he hosted a one-off Minimal Wave party at the Soup Kitchen featuring Das Ding, Veronica Vasicka and the aforementioned Paul Bennett of Modernista/Moxie Edits fame. A Manc living in Athens, Bennett had returned home for several months that summer and was introduced to Kraus through a mutual friend. An opportunity arose to put on a night with Vasicka and Das Ding through Rush Hour's Mark Kremins and this gave Kraus the chance to indulge his talents for design. He rummages through some boxes nearby and shows me a poster he designed for the night along with a flyer that doubled as a zine.
That night marked the onset of a burgeoning friendship between Kraus and Bennett. The two played back-to-back that night and after various other listening sessions they came to a agreement to make some music together, with Bennett showing Kraus the ropes in the studio. This process has been ongoing with a trip to Athens for that purpose only a few weeks away. "I've never got to the point where I've finished anything, but I have loads of sketches and we have a plan for two weeks to work on a track. If it comes out how I imagined it, it could be pretty different. Watch this space," Kraus tells me.
This ties in nicely with Kraus' mooted plan for a label, featuring music from two relatively unknown artists whose unreleased music has been a secret weapon in Jon K sets for some time. First up is Complexxion, who the more cultured ears will recognise from remixes of Dez Dickerson and Futurisk on Citinite and Cititrax respectively. To tell this story we need to return to that night in The Soup Kitchen with Das Ding and Veronica Vasicka.
"Obviously if you see Veronica Vasicka DJ there is going to be a few instances of 'what the fuck was that she just played?' but the one that put me on my arse the most was this," Kraus informs me as the Complexxion version of "Modernaire" by Dickerson booms out of his speakers. It turns out Complexxion was a friend of Vasicka's called Amjad and was present at The Soup Kitchen that night. The pair were introduced and hit it off, "he was just a really good character, and straight away I just felt he had a good way about him," Kraus tells me, adding they remained in sporadic contact via email.
Having been commissioned to compile the Reel Torque mix, Kraus wanted to include a few exclusive tracks so he sought out Amjad to enquire if he had any new Complexxion tracks. "To be honest I really wasn't expecting anything, but he wrote back informing me he hadn't done any new music for a while but he'd literally just got his set up back together." A few sketches were sent back and forth, with two ending up on the submitted mix for Reel Torque. A sense of personal gratification flushes over me when Kraus identifies one of those Complexxion productions was the jet-fuelled, neck-snapping track that hones into view after the Miller and Rice cut on Loukanikos' Dance. It seems I'm not the only one impressed with it.
"I remember when I first submitted the mix to Conor Thomas, this was one of the tracks he asked about," Kraus says, "it doesn't really sound like anything, it doesn't sound like a normal new wave track, it doesn't sound like an industrial track, it doesn't sound like a techno track."
The other artist Kraus has plans to work with is XVARR, who turns out to be a close childhood friend of his called Zab. "He was the guy I went to Ultima Thule with back then," Kraus says, "his stuff is all over my mixes too; there are two of his on the Reel Torque mix." Fans of the Jon K FACT mix will probably recognise the name, with an untitled track binding the disparate sounds of Count Bass D and Downwards act V West. This track will finally see the light of day on a new label called Thulluth later this year.
Kraus has accrued a number of XVARR productions over the years and plays several to me whilst we talk; the range in sound and overall accomplishment means it's easy to see why he wants to put them out. "Between him and Complexxion, they are two people that I really like and I really believe in, and I cane their music… I'm really busy with various things at the moment, but it's definitely in the plan to do a label."
With the post-interview parmigiana settling in my stomach, I head off to Manchester Piccadilly station as the early evening drizzle settles in. "It always rains in Manchester," my cab driver cheerily informs me on the way. Whilst zooming through England on a high speed train, I reflect on our conversation and one thing Kraus told me sums him up quite nicely.
"What do I look for in music? Well, I look for all sorts but I tend to avoid stereotypes and buzz off tunes that are made up of all different kinds of influences and combinations. Having something to say helps too."
Tony Poland
Header and footer images courtesy of Zeyd Ayoob
All other images courtesy of Tony Poland and Jon Kraus.