Reon Roland – Driftbox R Monophonic Analog Semi Modular Synthesizer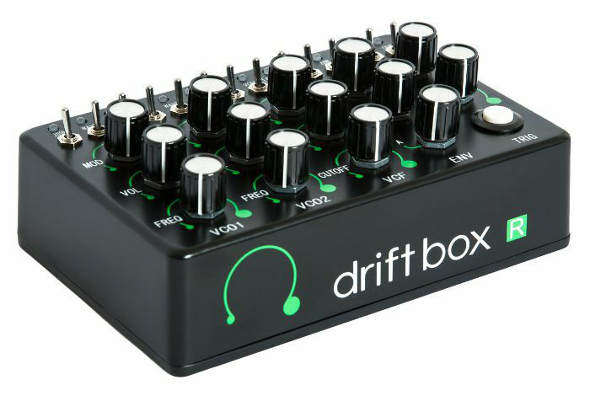 Marco Rodrigues switches on the Driftbox R and feels his way through the parameters.
Without any of the heavy marketing we've seen for other Aira-related products, this new offering by Roland is fresh but not entirely brand-spanking-new. Rather than just being a new synth, the Driftbox-R Limited is a conservative revamp of another Driftbox synth released in 2013 by a much smaller manufacturer called REON. Revitalising older machines for new markets isn't of course new for Roland – the Aira series consisted mostly of updating iconic gear such as the TB303, TR808 and 909 for a new generation of producers – and this product, too, was originally commissioned to be used in demonstrations of Aira's SBX-1 sync box.
Whereas the original REON Driftbox was a modular synth designed with the eurorack in mind, this version is a portable standalone box. Apart from the green on black look, the Roland's Driftbox-R bears almost no resemblance to other more official of Aira products, and the Driftbox-R keeps things as simple as possible. You could, however, argue that it's too simple as it doesn't have MIDI connections, let alone a USB interface – not that could deter the true hardware fiends amongst us. It does, however, come with a cv/gate port, so syncing and MIDI sequencing can be done through other machines that support both these connections, or through a MIDI-supporting soundcard plugged into a MIDI/cv converter.
Once again, the great thing about these simpler synths is they turn the process of recording into something so much more intuitive and, to a great degree, unpredictable. It's all about switching it on and feeling your way through the parameters of the two oscillators, messing with the filter and changing the modulation until you find something that feels right. Each of the oscillators come with two octaves and three main controls: frequency (pitch), volume, and modulation control. Their joint signal then goes into the filter and, finally, an envelope, as with a lot of the classic synths.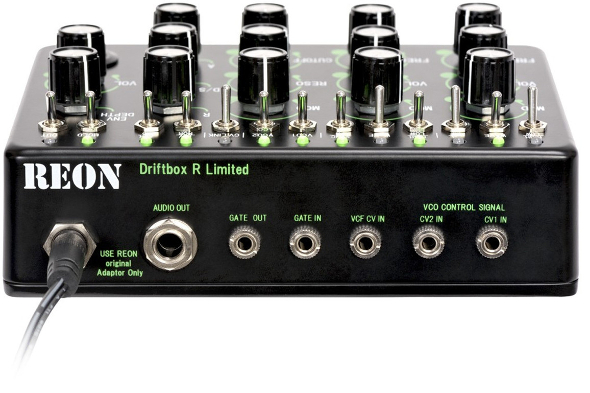 The frequency range is pretty huge, so you can easily create chaotic rhythmic patterns by going to the lower end of the frequency spectrum, or alternatively create a dog-whistle hiss when in higher territories. Through the sync/FM and EG/FM functions sitting at the top of each oscillators you can choose whether modulation is affected by cv/gate sync, envelope, or the frequency control of the other oscillator. This means you could, for example, affect the modulation on oscillator 1 with the frequency control of oscillator 2, further entangling both signals.
The overall sound is great, with an almost Moog-like character. It feels quite crystalline, dry and very present most times. The filter is powerful and resonating, and has the ability to closely resemble the TB303 at times, showing a vitreous and squelchy edge when pushed to its limits. If you're not hooked up to a MIDI clock or sending a sequence through the Driftbox, you can set the box to hold and produce a continuous sound, or trigger it manually by clicking the white circular button on the bottom right, to play your own free sequences.
Interesting results came from combining two different sub-sonic pulses, and they would throb together in a disjointed syncopation that I could affect further by adding modulation or opening up the filter. Furthermore, by adding both signals and trying to find a sweet spot somewhere I often found myself riding an addictive electricity that I didn't want to interrupt. Especially when using it in hold mode, creating these sort of electric but meditative drones that shift slowly in delicious analogue instability.
More info/buy
Marco Rodrigues