Palto Flats reissues '80s Japanese project Mariah
The in-demand Utakata No Hibi will see a full scale repress from the intermittent NYC label next month.
Three cheers for all those benevolent DJs who impart their most treasured secret weapons via mix tracklists, for they throw their trick cards out to the slathering jaws of the online record buying community and thus create hotly tipped cult records that soon enough fetch silly second hand prices and practically force a repress. There are certain DJs that, through their years of incessant digging, cultivate reputations that ensure their playlists will be pored over by those looking for another exotic thrill from an unexpected corner, and it's safe to say that the likes of Lexx, Lena Willikens and Chee Shimizu all fall into that category of spinner. So it goes that 1983 album Utakata No Hibi by Mariah has attained a feverish desirability amongst eager heads, with the want:have ratio on Discogs currently at 14:1.
As RA report, this sublime slice of Japanese synth pop from fabled producer Yasuaki Shimizu is now set to reappear on Palto Flats, the label that previously reissued the wonderful Roland Young album Hearsay I-Land in late 2013. The prime impetus for the release seems to be the track "Shinzo No Tobira", which featured in notable mixes from the aforementioned Lexx and Lena Willikens as well popping up in enthusiastic blog posts from the likes of JD Twitch, although the whole album possesses a bewitching blend of traditional Japanese music and emergent electronics.
The remastered edition of the record reportedly comes with additional artwork from the original sleeve designer Ir Okudaira, as well as including English translations of the lyrics. To see what all the fuss is about, you can preview clips of the album via the SoundCloud player.
Palto Flats will release Utakata No Hibi by Mariah on September 18.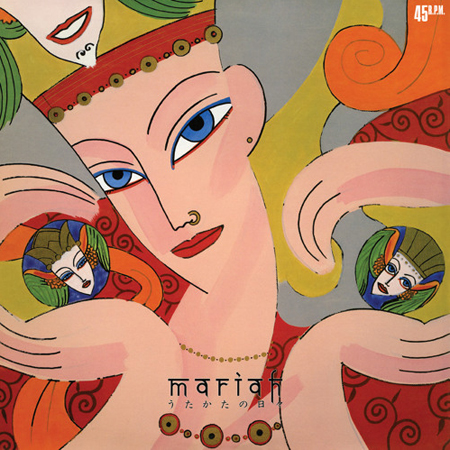 Tracklisting:
A1. Sokokara
A2. Shisen
B1. Hana Ga Saltara
C1. Fujiyu No Nezumi
C2. Sora Ni Mau Maboroshi
D1. Shinzo No Tobira
D2. Shonen
Palto Flats on Juno