Juno Plus Podcast 119: Antenes
The Brooklyn resident presents a two-hour techno masterclass. 
Antenes is the name multidisciplinarian Lori Napolean currently works under, making her debut as a producer earlier this year with a firing triplet of modular techno workouts on the L.I.E.S. White Label series after first serving note of her talents on a prior label compilation. Her production chops go back further however, with Napolean operating a laboratory of self-made analogue sequencers and synth modules for several years that incorporate telephone switchboards, built and manipulated in the name of rhythmic, sonic, and spatial exploration. If you've watched the modular synth documentary I Dream Of Wires, you are probably aware of Napolean's endeavours, but those that haven't can watch her part here.
If we were to trace the lineage of this podcast, then it all began with the conversation between Aurora Halal and former Juno Plus man Scott Wilson leading up to the feature we ran on the Mutual Dreaming founder in early 2014. It was then that Halal mentioned in passing one of the regular selectors at Mutual Dreaming, Lori Napolean, whom she referred to as 'The Brookyln Hauff'. Intrigued by this comparison we made contact with Napolean soon after, laying the groundwork for the two hour techno session now published. Does the comparison stand up? In truth, Napolean's talents as a selector would compare favourably with any high profile DJ out there on the basis of this mix.
A quick glance at the supplied tracklisting should elicit an excitable reaction in any self-respecting fan of techno, drawing through several generations of the genre's exponents, bookened by some local field recordings. We've been waiting some time for this mix from Antenes and it's been worth it! She was also kind enough to answer some questions we sent over regarding her various disciplines which offer some illuminating insight.
Hi Lori, how is everything in Brooklyn?
Things are well and busy, thanks! I've been DJing, preparing for some live sets and workshops in the fall, and working on productions.
This mix has been a long time coming, shall we say, what did you have in mind when you sat down to record it?
I like mixes to mark a specific time and be a journal told through records. This mix is a reflection of influences and inspirations from the perspective of having completed my first vinyl record. Lately I've been integrating the first records I'd ever bought – for a few years I took a break while focusing on electronic circuitry, so to return was like going back inside the same door I'd left but with a new appreciation, leaving home and returning. The mix also indicates where my mind is at regarding my own sensibilities in approaching production.
You've utilised some field recordings too, where do these originate from?
Sparingly but yes! By including many favourite records, I'm travelling back to other apartments I've lived in, performances and shops throughout the world. Adding recordings of wind and rain tapping at my window was a calming, grounding sound to denote the now – this specific time and lens through which I am reflecting on their stories. Also, a photographer friend who lived down the street has left us in the midst of recording this, on the one rainy day amidst non-stop sun. The ambient sounds of our street are also a special send-off for him.
You told me that you previously spent some time living in France, when was that and whereabouts in the country?
I lived in Paris on an exchange program for painting in 2001.
Some of the records in this mix were picked up at that time correct? Were you Djing whilst you were out there? 
I lived in a small dorm room in the 14th arrondissementand can recognize the ruffled potato chip look of the sleeves of records I had following a minor flood in my room. Among these include the Dopplereffekt and the Punisher record, both found at flea markets. I wasn't DJing out yet but rather spinning records with people I'd met and attending shows at places like Batofar (Autechre, DMX Krew) and remote "free parties."
You originally hail from Chicago right? What was the city like when you were growing up there?
Growing up, I was immersed in the environment created by my grandparents. My maternal grandfather was a zoologist at the Field Museum of Natural History so when I think of Chicago, and youth, most weekends were spent wandering around drawing, say, a ring-necked pheasant, going upstairs to the collections and presenting the drawings to him. My other grandfather built and fixed pianos – all self taught. He and my grandma used to go dancing to big bands at Chicago's old ballrooms such as the Aragon and Trianon (now closed). I fondly think of them now that it's my turn to go dancing, and I'm still very much at peace when surrounded by elements of nature or by tools.
How did you first get into DJing? Who was your inspiration?
While studying painting at University of Illinois at Champaign-Urbana, I met people from the Midwest rave scene who introduced me to it all, from mixes to the word "trainwreck!" The tapes passed around were very inspiring, I still have them – possibly the most played were from DJ Shiva (Indianapolis) and a friend who now produces under the name Tunnel in Chicago. These were and still are incredible DJs with very tight but human and energetic mixing styles. The standards for a techno mix were very high and the attention given to finding and riding just the right liaisons between tracks as an art and craft that is developed over time had me completely sold on it.
A lot of the parties and tapes were experimental as well. There were rural barn parties in Wisconsin where one could hear Jean Michel Jarre, Art of Noise and Chain Reaction mixed with Nasenbluten and Doormouse. Even beyond the events and mixes was the context of searching and travelling for them. I must acknowledge the hours of driving through the cornfields with their mysterious blinking antenna/beacons – expansive empty space out the window, the interior saturated only with the tunes you choose to accompany your drive!  This type of headspace really informs my work today.
These last two questions bring to mind a quote from Esteban Adame in this immensely inspiring Ennio Styles Underground Resistance interview from 2011: "Electrify your roots. Take what you are and what makes you, and electrify it."
What were some of the spots you first started to play at?
My first DJ set in public was a goth night called Alias at a UV lit bowling alley, and my second was a more industrial/noise leaning night called Sedition – I DJed with Beau Wanzer who is now my label-mate on L.I.E.S.! Other places that come to mind were Tini Martini, Smartbar, Rodan, Betty's Blue Star, Lava Lounge, and Sonotheque.
Aurora Halal first put us on to your DJing talents; how did the two of you meet?
I met her through mutual friends at a Ryuichi Sakamoto show. She first heard me DJing at an intimate gathering in the hills of Pennsylvania, and shortly after she began her parties and booking me. I was behind the curtain of an electronics zone at the time so these events helped me share this side of me with my adopted city.
What is it you feel that makes Aurora's Mutual Dreaming events work?
I think it is because you are walking into a blueprint of someone's personal vision. Like myself, she is a multi-disciplinary artist, so the lighting and general ambiance feels like an extension of that – to take the canvas of a raw space and paint it with music and light for an evening – well it's a lot more work than that! My favourite was playing with Anthony Shake Shakir from Detroit.
What thoughts did you have coming away from playing at Sustain_Release last year?
I played from five till about 6:30am and chose some of my favourite tunes for closing sets (some are included in this mix). Upon return, I felt inspired and it hit like a wild fire to get in the studio and make tracks! I completed one of the three tracks on the EP that week.
I don't think I have quite wrapped my head around your interest in repurposing telephone switchboards with modular synths. Could you explain the process and your reasons for doing this?
If you have a look at an old telephone switchboard, it bears a striking resemblance to a modular synth with its banks of switches and jacks/plugs and in fact is a precursor if you look at the interface and its purpose. It lends itself to being given a new life of patching synthesizer "voices" after a previous life connecting human voices and conversations. It's also an intersection of many interests: obsolete or vintage electronics, the "extinct" sounds and shape of analogue telecommunications, synthesis and music (of course!), and sculpture. When I was a painter, I found making the canvas to be a relaxing palette cleanser – and now I find staining wood, etc. to be a similarly relaxing gestation zone for ideas.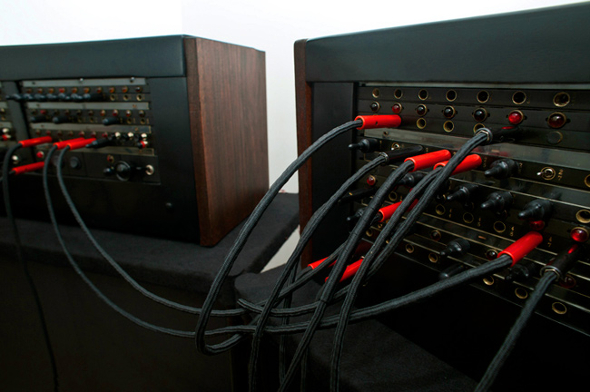 (Synth image courtesy of Seze Devres)
Regarding process: I choose a sound or control module – recently I have been soldering up kits and PCBs from Elby Designs in Australia – and choose an enclosure for it.  They are usually very dusty and downtrodden at the surface but they were specifically built to endure patching and to last. I'll take them apart, clear out any wasps nests, re-stain the wood, re-paint the surface, and use the existing switches and patch bays after a thorough cleaning, adapting and drilling new holes for knobs and such as needed. Every track I make heavily utilizes these synths and sequencers. I have a dedicated website to the switchboard synths with documentation by Seze Devres (photo) and Robert Fantinatto (video).
And you build your own synths too? When did your interests in this begin?
The interest occurred in a flash of lightning. I'd met a Buchla synthesizer at NYU, my first encounter with a hand-patchable synth, and was just bitten. Meanwhile, I'd taken a road trip to the Upper Peninsula of Michigan to celebrate an engagement. At the nearest town, I meandered in a historical museum and inside was the old switchboard. It resembled a synth – I was so drawn to its presence, and that was it. A very irresistible idea came about. You can't question these moments when they come!
Building my own was also a necessity. Let's be honest, I was a grad student and this city is expensive. What can you do when you are in love with playing certain instruments and wish to re-create the experience at home? For me, the solution was to augment the setup I already have at home by building my own.
What sort of gear is involved for a live Antenes performance? 
It is currently in development but I'm working with the MPC (JJOS2XL), MC-202, a microcassette recorder, my own DIY synths, some effects, and an Urzwerg Pro analog sequencer. I modded the 202 using tips found on www.dinsync.info so the oscillators, LFOs and envelope are individual outs that can further interact with my synths. For the nerds: did you know that there is a hidden triangle waveform in there that you can tap into? It's just not used or visible on the surface, but you can catch its individual out [trivia]!
L.I.E.S. put out your debut 12" earlier this year, were the tracks featured new cuts?
Yes I'm very happy to have Ron's support on my tracks! "St Antoine" was made in 2012 and marked the time when my sensibility of automation/sequencing with live sound shifting was just starting to gel; I had just returned from Detroit and a lot of inspiring conversations. "Fire Rises" was written in a fiery fury, with an emphasis on using synths as percussion – the "snares," "hi hats" etc. The A side, "The Track of a Storm", was also fairly recent and inspired by the expansive space of a night drive I mentioned earlier, a drive accompanied by AM radio and staticky, sparking sounds.
What else can we expect in terms of Antenes records over the coming months?
I'm working with some tracks and concepts – one switchboard came from a small resort in new Hampshire that fell into disrepair and I'd like to do some pieces inspired by that, imagined stories, maybe try to visit. I have some more percussive tracks in the vein of the L.I.E.S. EP, and also some dare I say slightly melodic tracks! I went on a spree of trying to create imaginary dulcimer players, imaginary percussionists striking (pitched) metal and rocks, but all synthesized. I'll keep it hush for now regarding what labels and such because at this point I'm still in the studio.
Can we expect some European tour dates for you at some point?
Sure, hope so! Under a previous alias as a DJ, the time to travel presented itself naturally and it was/ is great to finesse one's musical voice and then to share it! For now my head is still grounded in the studio wanderings. I'd love to play in Scandinavia again and then head north under the midnight sun, and eat some fresh cloudberries.
It's been great to start playing shows in other cities recently; Montreal was great, I did a live set at a pop up shop renovated mechanic's garage with records, books and plants called 820 Plaza and I'll be bringing the records back home to Chicago in a few weeks for their awesome Industry Brunch party. Looking forward to also playing a live set with Function, Raica (Chloe Harris) and Headless Horseman in Denver soon too!
Tracklisting:
1. strange frequencies
2. Gunnar Haslam – Incidental Magnetics (L.I.E.S.)
3. James Place – Sense of an Ending (Umor Rex)
4. Stephanie Sykes – Creep (Vent)
5. Certain Creatures – Bosch (Styles Upon Styles)
6 .SHXCXCHCXSH – PCTSTSS [vntrss rcnstrctn] (Avian)
7. Orphx – What Will Burn (Sonic Groove)
8. K. Hand – Starz (!K7 Records)
9. Løt.te – A Mutable Constant (The Bunker New York)
10. Surgeon – Right Road To Dubland (Planet Mu)
11. Punisher – Mechanism (Cronical Re-form Remix) (Re-load Records)
12. Exos – Half (Force Inc.)
13. S.R.I. – Untitled (Force Inc.)
14. Dopplereffekt – Rocket Scientist (International Deejay Gigolo)
15. Randomer – Fun In The Sun (Russian Torrent Versions)
16. Frankie Bones – Untitled (Ghetto Technics)
17. Christian Morgenstern – Miscellaneous 14 (Kanzleramt)
18. The Dark Man – Untitled (212 Productions)
19. Jeff Mills – Time After Space (Axis)
20. Stanislav Tolkachev – I Can't Wait Any Longer (Plector)
21. Terrence Dixon – Untitled (Background)
22. Tones on Tail – Rain (PVC Records)
23. Petar Dundov & Gregor Tresher – Hex (Music Man)
24. A Sacred Geometry – Atiya (A Sacred Geometry)
25. Earthen Sea – Beat 13 (Lovers Rock)
26. DMO – Movement (Ctrl.)
27. Planetoid – Stratosphere (Apollo)
28. Florence – The Vineyard (feat. Rodine) (Eevo Lute)
29. The Black Dog – Clan (Warp)
30. Ø – Näkinkenkä (Shell) (Sähkö Recordings)
31. rain and wind, Greenpoint Brooklyn
32. Carl Craig – A Wonderful Life (Blanco Y Negro)
Header photo provided by Serena Stucke