Monofonus Press announce Ixtab compilation series
The curatorial skills of Led Er Est's Sam De La Rosa will be displayed on a forthcoming 12″ featuring Willie Burns, Alessandro Adriani, Empfänger and more.
Austin label and multimedia platform Monofonus Press have been operating as an outlet for "metaphysical and digital music, literature, and visual art" since 2007, with music from Sun Araw, Shit And Shine and Led Er Est in their undeniably sizeable discography. The latter band, a fixture of the NY scene that sprung up around Wierd Records, issued one of their last records through Monofonus Press and clearly established a relationship which has now resulted in Led Er Est's Sam De La Rosa coming on board to curate a series of releases for the label. De La Rosa's curatorial endeavours for Monofonus Press will get underway next month with Ixtab Compilation Series Volume 1, the first in an ongoing series of split 12″ releases to "compliment both the DJ's record bag and the home listener's collection".
An intriguing cast of underground talent feature on this 12″, chief among them the new Interbrain collaboration by WT Records founder William Burnett (pictured above) and Alessandro Adriani of Mannequin Records. Their 14-minute track "Molecular Psychology", described by the label as an "electro-kraut caliche stomper", can be heard in full below, with music from Stockholm pairing Empfänger (Käften's TowLie and Daniel Isling of Sling and Samo), Berlin-based Valley Sounds Records affiliate Samoln and Idea Fire Company & BRRR rounding out the 12″. Further details on the record can be found at the pre-order page on the Monofonous Press website.
Having reached out to De La Rosa for some further info on this collaboration with Monofonus Press, the New Yorker told us "IXTAB will all be odd one-off collaborations, like Will and Alessandro's track or The Idea Fire Co. and BRRR song, or tracks by new and/or underground artists in this realm of 'other' electronics". Excitingly, De La Rosa revealed a debut album from Mannequin founder Adriani is also due on Monofonus Press in the coming months.
Monofonous Press will release Ixtab Compilation Series Volume 1 on September 11.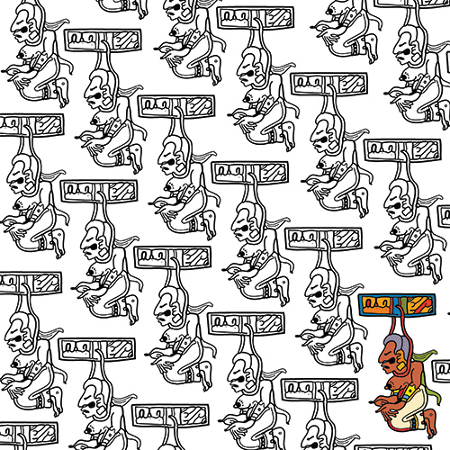 Tracklisting:
A1. Interbrain – Molecular Psychology
A2. Empfänger –  Charles
B1. Samoln – Tsch
B2. Idea Fire Company & BRRR – The Terrible Comet Salt
Monofonus Press on Juno