Modularz finds Concrete Environments
Developer's label will release a four-track EP of Terrence Dixon and Population One material. 
Since the announcement of Terrence Dixon's retirement last year, you would be surprised for thinking the Detroit artist is still making music as his release rate is yet to really slow, and who's complaining? Following last year's albums for Surface and Rush Hour, both Dixon and his Population One alias have appeared on his own Reduction label, Nina Kraviz' трип imprint and 30drop. The enigmatic artist's music has now made its way to Developer's Modularz, a bastion of booming warehouse techno since 2010 that regularly releases music by artists like Oscar Mulero and Truncate to Stanislav Tolkachev and Silent Servant.
Billed as Terrence Dixon vs Population One Concrete Environments, the four-track split EP features two tracks by the former on the A-side and two of the latter on the B, and long time fans of Dixon's music will find the off kilter melodies laced throughout the record somewhat reminiscent to his previously released music. Dixon's arrival provides Modularz with a 20th release in its five year history, following recent records by Reeko and the continuation of the Dead Architect Series. Preview all four tracks from Concrete Environments below.
Modularz will release Concrete Environments by Terrence Dixon and Population One September.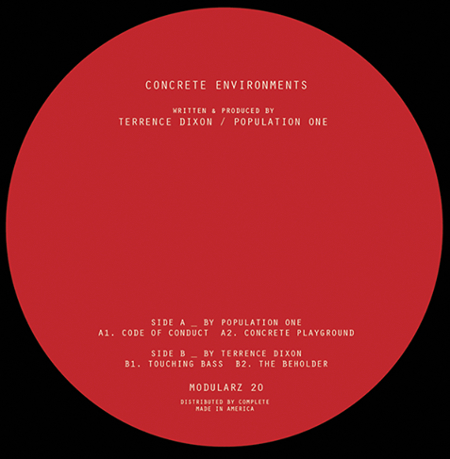 Tracklisting:
A1. Code Of Conduct
A2. Concrete Playground
B1. Touching Bass
B2. The Beholder
Modularz on Juno