Clay Wilson returns to The Bunker
The local Brookyln artist will release his second record on the New York label in September.
Wind your mental gears to late-February last year and Clay Wilson was one of the first names to feature on The Bunker New York, Bryan Kasenic's label borne out of the long-running NYC club night of the same name. The local Brooklyn artist and classically trained musician had previously contributed to the conceptual BASH series from Styles Upon Styles, but his three-track 12″ for The Bunker was early proof the label was fully committed to offering a platform for the less heralded of artists to shine. As The Bunker New York's profile has grown, this has been proved time and time again with music from Zemi17 and Løt.te.
Wilson's own status has risen since his release on Kasenic's label, returning to Styles Upon Styles for the Spectrum 12″ alongside Oliver 'Certain Creatures' Chapoy and dub techno vet Brendan Moeller as well as performing at the inaugural Sustain-Release. Now news surfaces of a second 12″ from Wilson called Skandha is due on The Bunker New York in September. The four-track record can be previewed below, with a most fanciful press release (which can be read in full here) quotes Wilson as stating "getting into techno, and more specifically techno production, was kind of a way for me to get away from formal, classical musical training."
The Bunker New York will release the Skandha EP by Clay Wilson on September 1.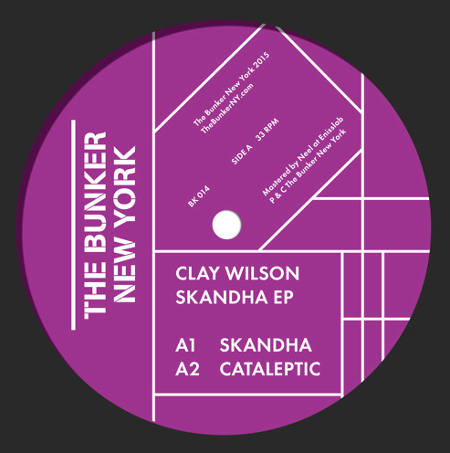 Tracklisting:
A1. Skandha
A2. Cataleptic
B1. Feres
B2. Pict
The Bunker New York on Juno