Blackest Ever Black announce Ossia and F ingers releases
The Young Echo man's 12″ is available imminently with an LP from the Australian trio due next month.
Whilst the recent confirmation of a compilation of Regis material on Blackest Ever Black got many people hot under the collar, we've been quietly waiting for the label to firm up details of another release first hinted at in the that Letter from the Administration posted earlier this year. Of all the Young Echo members, Ossia (pictured above) is the one individual with the least amount of tangible musical output to his name with just the excellent Sleng Again 12″ as DJ Oa$is alongside DJ Ape (Vessel) on their fledgling FuckPunk label to his name. He is however quite an integral behind the scenes operator in Bristol with a hand in the Peng Sound, Hotline Recordings, and No Corner labels as well as the aforementioned FuckPunk as well as a founder of the Rwd Fwd site.
A debut proper from Ossia is due to arrive imminently on the Blackest Ever Black label in the shape of Red X, a three-track 12″ which features "10 unyielding minutes of noise-strafed, rootical techno backed with two more abstract, uncanny studies in reverb and delay". The label go on to reveal the title track was inspired by the personal taped diaries of reggae artist Peter Tosh, recorded in the run-up to his murder in 1987, with Ossia incorporating some of this sliced source material into his final production.
Subsequent to the release of this, Blackest Ever Black will switch their attentions to Australia once more with an album from F ingers, a project from Carla dal Forno and Tarquin Manek of Tarcar fame and Samuel Karmel. Due to arrive next month with some startling cover art, the seven track Hide Before Dinner is described by BEB as "deeply drugged, synth-daubed death-folk and DIY electronics of the highest order" and is the second release from the trio following Broken Fingers, a 2013 cassette issued through the Night People label. Whilst their name will probably unnerve OCD grammar obsessives, F ingers should appeal to fans of Pod Blotz on the basis of "Tantrum Time" which can be heard below.
Blackest Ever Black will release Red X by Ossia soon with Hide Before Dinner by F ingers to follow in August.
Red X Tracklisting:
A1. Red X
B1. Ice & Blood
B2. Blood & Ice (Version)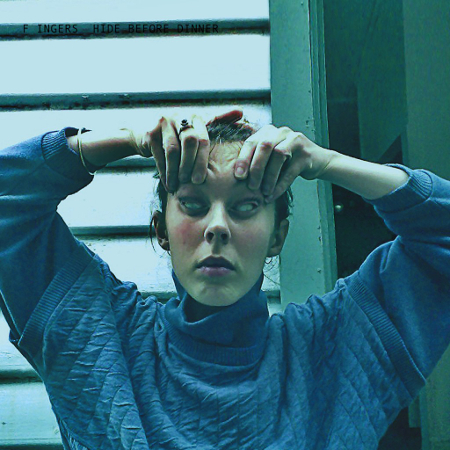 Hide Before Dinner Tracklisting:
A1. Escape Into Bushes
A2. Mum's Caress After Trip
A3. Tantrum Time
A4. Blissfull Cubby House
B1. Useless Treasure
B2. Under The House Hard To Breathe
B3. Hide Before Dinner
Blackest Ever Black on Juno