Peng Sound release Dubkasm vs Gorgon Sound live tapes
The monolithic session of soundsystem pressure was recorded in January in Bristol.
Anyone with a passing interest in Bristol music culture will be aware of the powerful influence soundsystem culture has on the sounds emanating from the West Country city. Dubkasm have long stood proud as flag bearers for the scene, committed to an authentic, roots-focused approach while ready to embrace the newer strains of bass-heavy producers in the city. Since Kahn and Neek became more active with their Gorgon Sound project, a friendly camaraderie and rivalry has sprung up between the crews, resulting in plenty of shared sessions and tours in many parts of the world. In January of 2015, the artists came together for a session at the Trinity Centre, one of the spiritual homes of dub music in the city, where the dubplate exclusives flew thick and fast with impassioned toasting from Rudey Lee and Mark Iration amongst others, cementing a memorable night for the artists involved and the loyal followers of contemporary dub, roots and steppers sounds.
Peng Sound being the dedicated chaps they are within the close-knit bunch of system-motivated labels and artists in Bristol, they captured the night with an ambient microphone and a line out recording. Every single one-off drop, pull-up request and improvised flow from Dubkasm and Gorgon Sound's two-hour set has been documented on a lovingly presented double tape release, available to purchase from their own RwdFwd site this week and spreading out to other stores as of next week. In the mean time you can check a ten minute video of the action as it happened via the player below, and you can read more about the session at Tape Echo.
Peng Sound will release Live At Trinity Centre 30/01/15 by Dubkasm vs Gorgon Sound on July 16.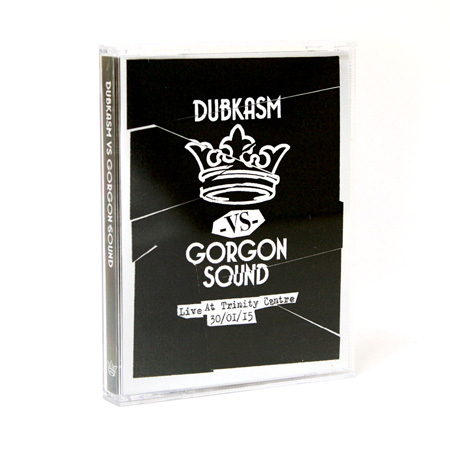 Peng Sound on Juno