Matt Karmil debuts on Idle Hands

The UK artist is responsible for the Bristol label's 30th release with Play It and has an album due on Idle Hands later this year. 
A strong 2015 for Idle Hands so far has featured that fine Strategy album and label debuts for a resurgent I.A. Bericochea and Until My Heart Stops man Leif, whose Life Through Analogies 12″ is due imminently. News now arrives of the Bristol label's 30th release which sees the arrival of a new face on Idle Hands in the shape of Matt Karmil, a Salisbury-born DJ, producer, and studio engineer with a penchant for angled hat wearing. In 2012, Karmil settled in German city Cologne and the "tight-knit, yet open-minded, community" there encouraged him to actively pursue production resulting in a breakout 2014. Karmil debuted on Beats In Space – remixed John Talabot and Axel Boman's Talaboman project – and he's featured prominently on Jens Uwe Beyer's PNN label, not least the fiendishly titled debut album —-.
Next month sees Karmil add Idle Hands to his small but respectable discography with the three-track 12″ Play It, whose titles play out like a riff of Daft Punk classic "Harder, Better, Faster, Stronger". Described as a trio of "hooky leftfield house constructions" by Idle Hands, we have the first public stream on scratchy opening track "Play It" which you can listen to below. This record looks to be the start of something special between artist and label with Idle Hands confirming they plan to issue Karmil's second album later this year.
Idle Hands will release Play It by Matt Karmil in mid-June.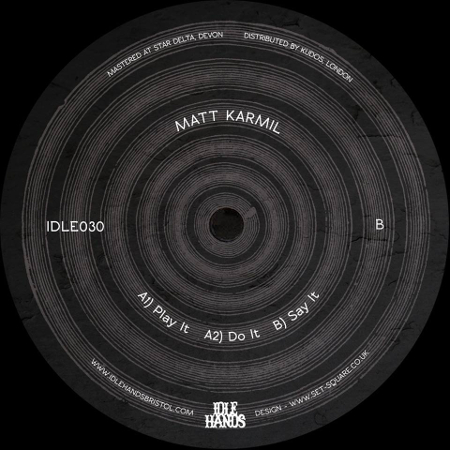 Tracklisting:
A1. Play It
A2. Do It
B1. Say It