Juno Plus Podcast 111: Daniele Cosmo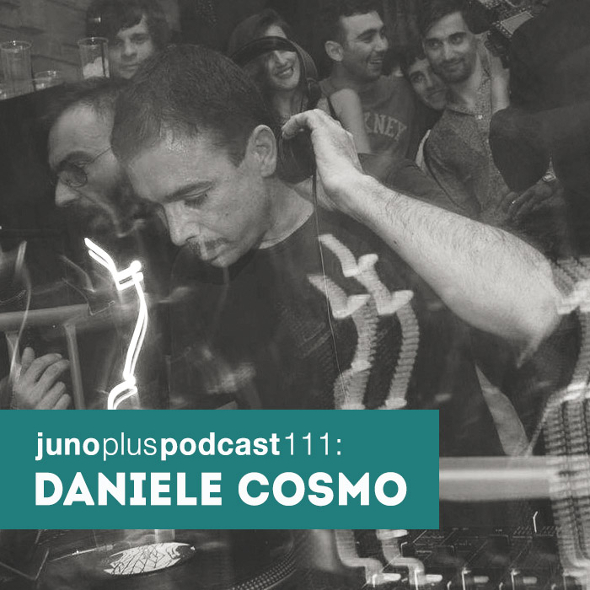 The man from Lux Rec sets his focus on the dancefloor with a 60-minute mix featuring An-i, In Aeternam Vale, Benedikt Frey and more.
As the digits align and we reach our 111th podcast, it gives us great pleasure to welcome Daniele Cosmo into the fold. We've become increasingly impressed by Cosmo in his ventures at the helm of Lux Rec, providing the perfect distillation of the decade spanning crossover between vintage technology and new ideas within a rough framework of grubby house and techno. With all the industrial, coldwave and synth-addled influences that feed into the signings to Lux, we felt sure that a mix from the man himself would come up with just as many time-travelling surprises.
As well as curating all things Lux and recently launching the MRT sub-label, Cosmo also turns his hands to production from his Zürich stomping ground. He makes up one half of Savage Grounds with Florin Büchel (also known as CCO), the pair having dropped the Over Fences EP last year. On Lux's label defining The Dying Lights compilation, he teamed up with Italian producer Luciano Lamanna to whip up "The Darkest Hour", prompting Oli Warwick to hail the track, "a wonderfully bloated and extravagant celebration of gutter-wave sludge techno."
The hour-long mix Cosmo submitted is, by his own admission, representative of what you might experience him playing in the club; expect to hear An-i rubbing up against L.I.E.S. artist Slugbug and MRT discovery Tuning Circuits. He was also kind enough to answer in details some questions we had on Zürich, MRT, and some of the lessons he's learned running Lux Rec over the past five years.
Hi Daniele, how are things in Zürich?
Hey, things go up, down and up again. Life as we know it.
Thanks a lot for putting together this mix, was there a particular theme behind the selections?
Yes and no. There were tracks I wanted to play in the mix. I then completed it by finding out how to bridge the gap between them. Lately mixes I have done were on the fringes of non-club music. I always thought that a podcast or something similar will be listened at home, work, with headphones probably. It's a good excuse to play those records that hardly see the light in public. This time instead I thought a mix with proper dancefloor material, tracks I play out when I DJ as well, could be something interesting, hence the selection. It's vinyl only, and you can hear all the records imperfections.
We read that Helena Hauff doesn't rate your italo selections, what's the story there?
It was a joke. Once we were playing together and I teased her by putting some Italo in the mix right out of the blue, see how she would go on, she was then playing even harder. The comment was in relation to that. I can say that Helena likes Italo and she actually buys it.
Can you give outsiders some idea of what the electronic music scene in Zürich is like? Lux Rec events seem to take place in an interesting spread of venues (Zukunft, Dampfzentrale, and Kraftfeld). 
Zürich is small, but has quite a powerful nightlife scene; the flexibility with closing times, the amount of clubs, the afterhour parties. It all makes a great playground if one is into it. Unfortunately there is a lack of variety, once one type of music take the lead it is difficult to get away with something else. There was a nice alternative scene, which was the natural counterpart of normal clubs, but it faded away with a lot of squats been closed by the city.
Anyway, we have been lucky enough to cut in and find places for our own parties with musicians we wanted to have, with no restrictions. Zukunft and Kauz are the nicest places to be in Zürich, there's a fantastic basement which is not exactly legal and still has that electric feeling to it. Dampfzentrale is in Bern and Kraftfeld is in Winterthur.
Are there other interesting labels and club nights bubbling away?
Well, it depends what you're looking for. Isi does the Deconstruction Club parties which are great, Jack Pattern, three local guys, has just started a new label called Lust Poderosa, we like them, they play around here a lot. Alex Dallas started a new label too called Izu. There are two groups of young guys called Arche and Miteinander Musik that makes great and very long parties, really devoted to what they do. Different kind of music than us, but it's always great time with them.
2015 seems quite important for Lux Rec? You've celebrated five years with that compilation The Dying Lights and also inaugurated a new sister label MRT. Was there a specific event or moment that lead to the decision to form MRT?
Yes, it was right after number 20. In a way the process, the label duty, timing and all the other chores somehow took over the pleasure of doing it. Like in a relationship we had our hard times to decide how to go on and what to do. So to swipe away all this dullness we thought about bringing in something new. Hence MRT. We absolutely like the idea that one record label releases more than one type of sound, this is how we think it has to be, and we'll keep it this way. With two labels the meaning of difference doubles the possibilities of releasing anything we actually want to.
Does MRT actually stand for something?
Yes, it stands for death. Morte, mort, muerte and smrt, which is death in the Latin group of languages and they have those three letters in common. On a side note, after choosing the name I checked around and found out that MRT also stands for magnetic resonance tomography, and the definition is, medical imaging technique used to investigate the anatomy and physiology of the body; how cool to investigate the body with music.
What made you choose to work with Benedikt Frey for the debut MRT release?
I first heard of Benedikt via the compilation Connect Four, and soon after I heard his Boiler Room mix which included one track from Lunar Lodge. Funnily enough, as I was thinking of him for a release, or doing something together, I received an email where he asked if we were interested in listening some of his work. I of course said yes. Two tracks came about just as perfect. And a third came in later on. I think it is the perfect introduction record for the label, and for him with us. It has all the facets we needed to have for our first MRT.
What else can we expect over the coming months?
Frak on Lux Rec, finally, they are my personal heroes. Dream Weapons on MRT after summer, right now Luciano Lamanna is mixing the tracks down. More Savage Grounds.
You've been responsible for the artistic direction for Lux Rec from the off, and it's definitely part of the label's appeal, do you have any particular influences for how the aesthetic has developed over this time?
I think it naturally developed with us. It was never a plan, to follow certain rules, I believe those rules are inside us and they are a constant in our lives, like how we choose records to play. It is simply who we are.
How does the distribution of duties between yourself and Faber work out when it comes to the day to day running of the label?
Dominik Faber is my shadow panel. He takes care of how the label is run and puts me at ease when my Italian boastings surface. I explore and choose the artists and how the things look like and submit them to him. Then together we make the final decision.
Digging back through your discography, The Definition Of Jak The Definition Of Hope stands out as a release that may have an interesting story behind it. How did you come to work with Tadd, Melvin and D'Marc for that?
I wanted to have a release with those guys because I believe they have something to say musically. I knew already Melvin, but not Tadd and D'Marc. Back then it was still before the notoriety they enjoy now. They were obviously known, but not to the wider public. I thought those three together, because they collaborate a lot under various aliases, could make a great release, and a little statement on what we stand for in music. Three different takes from three friends on one record.
What lessons have you learned from the past five years that you can apply to the growth and development of Lux Rec and MRT over the next five years?
Did I learn anything? I don't know, frustration can be great engine to move forward, but it can kill as well. Stand your ground, not as proud factor. There's no need for a copycat label. Don't be afraid. Don't overestimate yourself. Enjoy failures. I think.
Tracklisting:
1. Benedikt Frey – Portal
2. Parrish Smith – Revolution will always be televised
3. Drvg Cvltvre – Running in front of cars
4. Luciano Lamanna & Daniele Cosmo – The Darkest Hour
5. Slugbug – Statues
6. An-i – Rut
7. Tuning Circuits – No Compassion
8. Echo 106 – Wretched Souls
9. Benedikt Frey – Stereobate
10. Gavin Russom – Telemetry
11. In Aeternam Vale – Valium Water
12. CCO – Pale Distant Lights