Faderfox – PC4 Pot Controller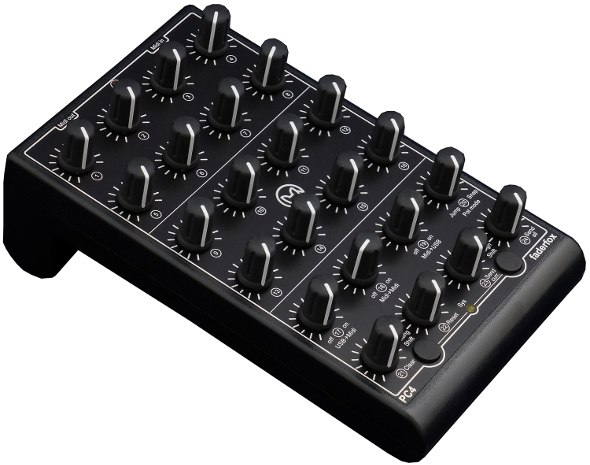 Robin Lee twiddles with Faderfox's MIDI device the PC4 Pot Controller.
The fourth generation of micro MIDI controllers from Faderfox have arrived. This time around the focus is less on buttons and more on pots with the PC4 Pot Controller. Faderfox are one of several bespoke instrument and equipment companies that have emerged across Europe over the last decade, with others including Eowave, Jomox and Analogue Solutions. These brands are mainly involved in bringing analogue synths to life. By contrast, Faderfox have concentrated on the area of compact and convenient MIDI controllers and has benefitted from a recent technical collaboration with famed producer and DJ Magda
This new generation of controllers from Faderfox continue in the tradition of their predecessors by marrying a tough exterior with a compact control surface. Both the PC4 and the SC4 (that features a sequencer as well as a controller) are small enough to fit in your hand luggage and are designed to work with any software that can be MIDI mapped and hardware that can receive MIDI messages.
The PC4 pot controller, like its younger siblings, is powered via your computer's USB bus, or if you are using it exclusively with MIDI hardware then you can attach a power adapter to your USB cable and plug it straight into the wall. The main control surface bristles with 24 knobs in a four-by-six configuration with two shift buttons to access utilities, and a red and yellow light for visual feedback.
To save space on the rear panel, the MIDI I/O looks like a pair of minjack ports. To connect to your hardware devices, Faderfox make sure each PC4 unit has both a USB cable and a MIDI cable that has a regular MIDI plug on one end and a 3.5mm jack on the other.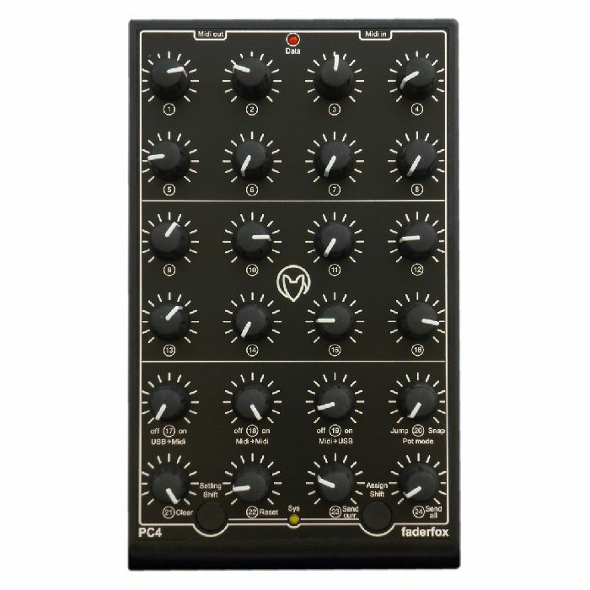 Once hooked up to your software, it's easy to map the PC4 to your liking. The knobs are very smooth and have a solid feel that inspires confidence and with a smart sloping faceplate, the PC4 is comfortable to use despite its diminutive stature.
With space for 16 different mapping set ups and a manageable number of MIDI routing options, the PC4 could be a great companion for laptop DJs wishing to get extensive control over their DJ software by night, while allowing them to get tactile control over their productions by day.
The PC4 is a convenient, micro MIDI controller that has the feel of a boutique unit. If there is a downside to the compact size, it comes from the need to utilize a pair of shift buttons to access some of the system preferences and routing options, and it can get a little confusing knowing which of the shift buttons to press to navigate the required options. There's only a red data indication light and a yellow utility light to give any visual feedback, so there's a chance things could quickly unravel when you are under pressure.
After spending the best part of a day with the unit, it is still unclear how I assign pots to control hardware parameters via MIDI. But despite the unit's shortcomings, there are very few boutique controller manufacturers that are making such compact units. The only other one that comes to mind is US based Livid Instruments and all of their controllers are much larger than those from Faderfox, who have also included jump and snap modes designed to minimize unwanted or sudden parameter jumps.
More info/buy
Robin Lee