Move D and Benjamin Brunn Wake Up!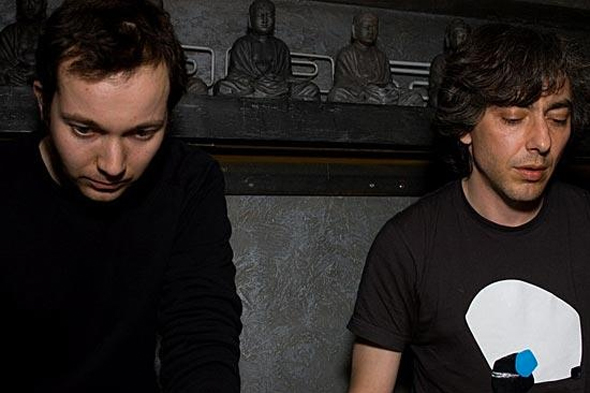 The split EP on the Berlin-based label mixes old and new material from the German producers.
As collaborators, David Moufang and Benjamin Brunn have spent plenty of time in each other's company. The former, best known as Move D, may operate out of Heidelberg while the latter is in Hamburg, but between 2006 and 2009 the pair managed to get their heads together to create two albums and three EPs on BineMusic and Smallville. The venture peaked with the magnificent album Songs From The Beehive, which ranks amongst the best work of either artist's accomplished careers.
Moufang is in ever-increasing demand as a DJ these days as last year's Fabric mix attests, and he remains ever-active on the release circuit with reissued KM20 Tapes singles on Off Minor and the Brothers EP with Jus Ed on Underground Quality. Brunn meanwhile recently released his Live At Golden Pudel Club set as a 12" on Smallville, while also starting up the Wake Up! label alongside Mark Rhein. Previous releases on the label have come from Lerosa and Rising Sun, as well as Brunn himself.
The next offering on Wake Up! puts Moufang and Brunn back on the same slab of wax, although this time they're operating separately. The EP opens with a track that captures Moufang working with Vladimir Daronkin and Dmitry Cherednichenko in St Petersburg in December 2013, while the B-side intriguingly starts with a remastered version of Moufang's "Eastman", the opening track from his 1995 debut album Kunststoff. There is less background information about Brunn's two contributions, but they certainly fit into the crafty, bubbly line of analogue house music that he has built his name around, and you can hear the tracks for yourself via the SoundCloud player below.
Wake Up! will release East To West by Move D and Benjamin Brunn in May.
Tracklisting:
A1. Move D – Эрмитаж
A2. Benjamin Brunn – Da Hulk
B1. Move D – Eastman
B2. Benjamin Brunn – For D k