DJ Stingray, Golden Teacher, Kassem Mosse feature on new Soul Jazz release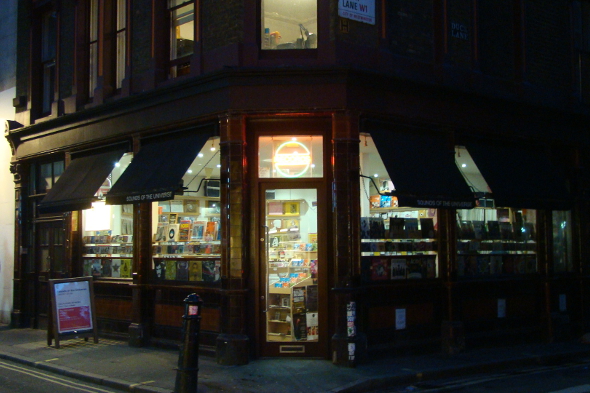 The tireless compilers will release Sounds Of The Universe: Art + Sound 2012-15 next month.
The past three years have seen Soul Jazz develop Art + Sound, a series of 12″ releases available direct from their central London record store Sounds of the Universe (pictured above). Kassem Mosse, Andrés, Hieroglyphic Being and Heatsick are amongst the producers to have contributed to the series, with each of these limited 12″s also featuring especially commissioned artwork from some respected visual artists such as Kutmah, Ski Williams, Bill Hackett and 2Yang. As RA reveal, all the tracks from the series so far will now feature on the lead disc of a forthcoming double CD compilation from Soul Jazz entitled Sounds Of The Universe: Art + Sound 2012-15.
Given that the Art + Sound series was sold exclusively through Sounds Of The Universe, this forthcoming compilation represents the first time the material has been made more widely available. Excitingly, the second disc features a glut of unreleased material from an equally impressive cast of transatlantic talent with US producers Ras G, DJ Stingray, Africans With Mainframes, Seven Davis Jr. and Mike Huckaby rubbing shoulders with Golden Teacher, Capracara, Lord Tusk, and Reginald Omas Mamode IV. Two separate gatefold double vinyl editions are also planned though the exact tracklistings for these has not been revealed yet.
Soul Jazz will release Sounds Of The Universe: Art + Sound 2012-15 on May 25.
Tracklisting:
CD1:
1. Hieroglyphic Being – Shikaakwa
2. Tevo Howard – Summer Romance
3. Kassem Mosse – Staat Aus Glas
4. Andrés – Ribena
5. Blludd Relations – Cold Like The Baron
6. AYBEE – Return To The Underground
7. Heatsick – Snakes & Ladders
8. Tenderlonious – Caramel
CD2:
1. DJ Stingray – Cytokines
2. Mike Huckaby – Circles
3. Seven Davis Jr – Come And Go
4. Golden Teacher – Maladroit
5. Reginald Omas Mamode IV – Rare Love
6. Africans With Mainframes – Vibrations From The Serengeti II
7. Capracara – Hard Ticket To Hawaii
8. Lord Tusk – Average Cats
9. Ras G – Deep Space Nine
10. Ras G – Gloom Steez
11. Ras G – Taste This