Best reissues and archival releases: March
Hip hop mixtapes, experimental industrial cassettes from the UK and Italy, cult Leipzig electro and some classic Warp Records all feature in March's best reissues.
To call PAN cliché might be enough to get this writer fired, but expecting the unexpected from Bill Kouligas's label is something we've grown accustomed to here at Juno Plus. In that sense, then, this release, an ultra rare mixtape from WordSound founder Spectre, is yet another wonderfully wonted record from a label that never stops giving. WordSound, on the other hand, is an independent hip hop label launched by former journalist, author and lyrical beat-maker Skiz Fernando Jr, aka Spectre. His style of instrumentally inclined hip hop is closely linked to the illbient (think DJ Spooky to Mick Harris's Scorn project) and trip hop scenes of the '90s, and his rough and beat down, to industrially charged horror music is, to make a contemporary association, like throwing Cypress Hill in DJ Spider's Bronx studio.
When it was first released back in 1998 in a quantity of 100 copies, the tracklisting for Ruff Kutz was never made publicy available but it's all been revealed on this newly remastered double LP edition for PAN. It's the liner notes from Fernando Jr. that make this reissue all the more interesting, documenting in great detail the selection process for each track and his relationship with the artist. There's also quite a touching introduction from the WordSound boss, revealing his initial suprise at PAN's approach to reissue Ruff Kutz, and a subsequent listen to the mix changed his mind with Fernando Jr. quoted saying, "this collection of tracks, oddities of their age, had matured like a fine wine".
Listen/buy vinyl
As Scott Wilson found out in 2013, the song "A Color" from Tropic Of Cancer's 2011 The Sorrow Of Two Blooms EP was written about Broadcast singer Trish Keenan shortly after she tragically passed away. Camilla Lobo explained, "I had a really hard time with that song in particular because it never felt good enough to say, 'this is how we're feeling' or 'this is how we feel about you' – it just never felt like it was enough for her." Warp Record's release of Broadcast's second album, Haha Sound, comes more than a decade after its original 2003 release and it's arguably the Birmingham group's most acclaimed work, touted by The Guardian in 2007 as one of the 1000 Albums to Listen to Before You Die.
In Juno Plus's case, Haha Sound, and indeed Broadcast, break away from the indie/alternative genre tag and the album finds itself in Leftfield territory. As we see it, this is most likely because of the sped up back-beat and confused synths of "Minim", the free and experimental techno jazz of "Black Umbrellas", to the splashes of space echo in "Oh How I Miss You". Highlights for the Juno Plus editorial, however, are the tribal drummings of "Man Is Not A Bird", the '60s love ballad and psych pop of "Winter Now" and "Pendulum", to the romantic, summer bliss of "Before We Begin". Warp used March as a platform to roll out a whole load of other Broadcast reissues too, including Tender Buttons and the band's debut album The Noise Made By People, and should the melancholic sounds of the group be something new, this is where we suggest you start.
Listen/buy vinyl
Portion Control – I Staggered Mentally (Dark Entries)
"One of my goals is to make these records affordable – I don't want people to pay 400 dollars for a record," Dark Entries founder Josh Cheon told Richard Brophy last year. With the reissue of Portion Control's 1982 album I Staggered Mentally creeping towards a triple-figured second hand sell price online, it will be pleasing to old and new Dark Entries/Portion Control fans that Cheon has again made the rare and unaffordable attainable again. I Staggered Mentally was the first album South London trio Portion Control committed to vinyl and it's said to document John Whybrew, Ian Sharp and Dean Piavani's transition from sample experimentations to becoming major exponents of early, British industrial music – Depeche Mode, Skinny Puppy and Front Line Assembly, Orbital and even fellow Essex pedigree The Prodigy are said to have been influenced by the group.
This isn't the first time the album has been reissued, with Vinyl On Demand – an archival German label with a penchant for releasing colossal box sets of hard to find music –  grouping a mass collection of Portion Control which featured I Staggered Mentally. This Dark Entries edition, however, represents the first time the album has been reissued officially since In Phaze Records's initial release, and should Broken English Club, Silent Servant or Karl O'Connor's post-punky material as Karl and The Curbcrawlers or Sandra Electronics be of interest, check out tracks "Sure Is Kinda Spooky" and "Friends".
Listen/buy vinyl
The more you dig around this release the more is revealed of where it comes from and its relevance to electronic music folklore that's attached to a vibrant but under-explored Leipzig music scene. Lynx is the production alias of Gunnar Heuschkel, borne through Science City, a sub-label of the extensive R.A.N.D. Muzik operation. In 15 years, R.A.N.D. Muzik has become something of a guardian for many Leipzig artists and labels, and others affiliated from abroad, assisting in everything from mastering and pressing, to releasing the music. Lynx's "Call…" – the main purpose behind new label Bau's inauguration – is a track that should sound familiar even if you've never heard it before, it's just got that feeling. In 2000, Lowtec's label, Out To Lunch – which only just relaunched last month after a 10-year hiatus – rereleased the track with a Jan Jelinek remix, an artist familiar to Pole's ~scape label, and it's since become something of a cult classic.
Fifteen years following Lowtec's reissue, "Call…" makes its way to the vinyl format once more with two extra, never before heard additions on the B-side. "Ride High", like "Call…", is a bubbly, dubbed out free flow of German electro that brings to mind E-Gzr's legendary Mellow Mix of XI "MANIA 16" released on Sex Tags's Wania label in 2013. But what gives this reissue that sweet, contemporary edge, while reigniting the Workshop connection, is a edit by Gunnar Wendel, aka Kassem Mosse, which layers a dubby analogue beat underneath the original's soft drums, and will no doubt become a DJs secret weapon for years to come.
Listen/buy vinyl
Daniele Ciullini – Domestic Exile (Collected Works 82-86) (Ecstatic Recordings)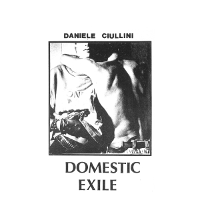 Sam Willis and Alessio Natalizia's Walls project may be coming to an end with the release of new album Urals in May, but there's no doubting the Italian will remain busy. The same year the pair launched the Ecstatic Recordings, Natalizia was commissioned by Strut to help compile Mutazione: Italian Electronic & New Wave Undergound 1980 – 88, a compilation covering the more experimental end of the Italian new wave scene, while in 2012 he was tapped up by the The Guardian to help them better understand Italian electronic music. Walls aside – including their commission to work with the 'sonic-archive' of BBC Radiophonic Workshop founder Daphne Oram – Ecstatic has released music by his other project Not Waving, The Field (as Hands), Richard 'Bronze Teeth' Smith's L/F/D/M pursuit and Pye Corner Audio – and now comes the collected works of Daniele Ciullini.
A founding member of the TRAX collective, a network of artists whose maxim, method of sharing and communicating music and art is regularly credited as pre-dating, or at least mirroring, the modern file sharing techniques of today, sees his music compiled and restored by Natalizia. Ciullini released the one album, Domestic Exile, in 1985 and all eight tracks from it make their way to Ecstatic's Domestic Exile (Collected Works 82-86), along with another eight productions from the early-to-mid-'80s that have naturally been remastered for the vinyl format. It's releases like this that make you realise how deep Italian electronic music actually runs, and if there's anyone you can trust to be your personal guide, it's Natalizia by the way of Ciullini. Bellissimo!
Listen/buy vinyl
James Manning