Separate Mind: Is This Beat New?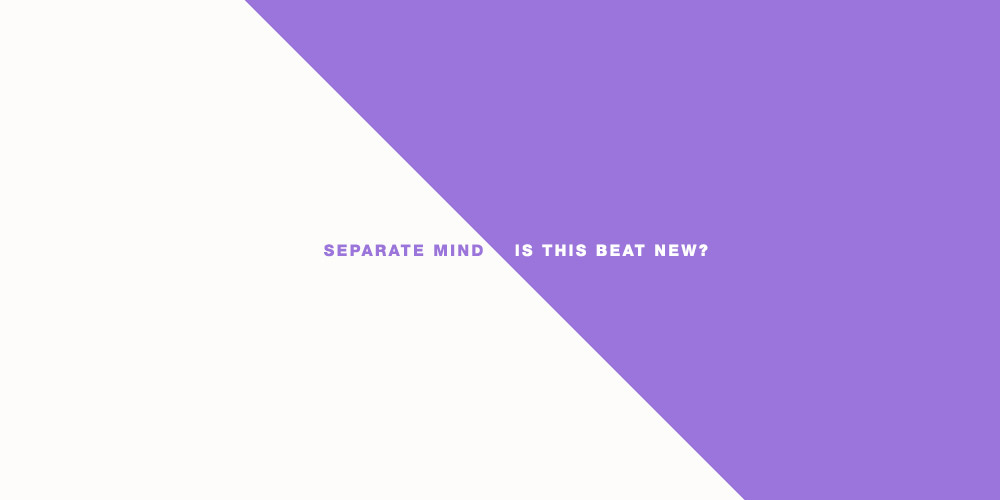 The influence of new beat and EBM on current strains of music is explored as Richard Brophy covers Lena Willikens, Mick Wills, Tsuzing, Drvg Cvltvre and more.
The combination of a few developments informs this latest Separate Mind column. Late last year, the Forbidden Planet label released FP007 by The Mover. Behind that relatively innocuous title was a collection of tracks originally released between 1991 and 1993 on German label Planet Core Productions by Marc Trauner. While the German producer worked under an array of aliases during the '90s, it was The Mover that best captured the ultra-dark, menacing Frankfurt techno sound that was played during that period in The Omen and other German clubs.
This four-track EP serves as a reminder of Trauner's ability to create relentless, pounding techno – as the abrasive "The Emperor Takes Place"  so ably demonstrates –  but more importantly, it shines a light on the searing bass power of the eerie "Waves of Power" and the ultimate Frankfurt track "Nightflight (Nonstop to Kaos)".
Originally released in 1991, its repetitive vocal snatches, chilling strings and oppressive bassline helped provide the ingredients for the earliest iterations of jungle. Apart from Random Noise Generation's "Falling In Dub" or Suburban Knight's "Art of Stalking", tracks like "Kaos" had little in common with US electronic music of the time and shared a musical kinship and background with records coming from that other European '90s hardcore powerhouse – Belgium.
Indeed, if you are looking for a historical context for The Mover, Planet Core Productions, T99's "Anasthasia" or early CJ Bolland and R&S records, it can be found a few years before in the Belgian new beat sound of the late '80s.
Granted, early '90s German and Belgian hardcore techno was usually sped up one and half times from new beat's 110bpm to over 140bpm tempo, but the same underlying elements are still audible in The Mover's tracks –  those slightly disturbing vocal samples, the darkly atmospheric textures, the relentless, murderous bass and, despite the tempo difference, the same kind of rigid, militaristic rhythm.
One of New Beat's leading producers, Ro Maron, has just released a compilation, Collected, on Musique Pour La Danse, and it follows 2013's excellent and exhaustive The Sound of Belgium compilation on La Musique Fair La Force. Both releases shine a light on a type of music from the mid-to-late-'80s that still enjoys strong currency. Barely a week goes by without a new mix appearing online that features tracks like the acid-soaked sassiness of "Something Scary" by Zsa Zsa La Boum, the brilliantly camp "Public Relations" by Public Relations or the quasi-totalitarian stomp of Nitzer Ebb's "Join in the Chant" and Front 242's "Headhunter".
The latest recognition of that sound comes with Dutch label Bio Rhythm re-releasing A Thunder Orchestra's "Shall I Do It?" Like the enduring New Beat or EBM tracks, this 1985 recording by Dirk De Saever has a slightly creepy vocal – in this instance a child repeating the track's title over and over, like the possessed waif in The Poltergeist – an eerie synth intro and then sluggish, tribal drums.
A souped-up version of "Shall I Do It?" appeared at the start of the Mick Wills podcast for Juno Plus last year and it turns out that this was indeed an edit from the German selector himself. Raising the tempo and toughening up the drums, he makes it more palatable for contemporary DJs, but doesn't strip it of its eerie, pre-hardcore synths and spooky female vocal. Look out for two edits from Wills along with the original forthcoming on the Bio Rhythm label too.
It's still an edit of an old track – so are there any modern productions that are inspired and derived from this rich streak of mid-to-late-'80s electronic music?
Lena Willikens's debut release, Phantom Delia, on Cómeme certainly has traces of new beat and EBM. "Mari Ori" sees the Salons Des Amateurs resident fuse crashing Chicago kettle drums with a high-pitched melody line, dense bass licks and ghostly vocal whispers to create an upbeat track. That's as conventional as the release gets; on the flip side, "Howlin Lupus" is a malevolent track that has nothing to do with the storied bluesman. Instead, it features a wolverine shriek integrated into a droning bass and a clattering, rattling rhythm, an unusual sort of EBM-house amalgamation. "Asphalt Kobold" is more robotic, rickety and rigid, but also features heavy bass tones. "Noya Nova" is far darker and less immediate. Electro drums crash with militaristic precision over a murky rhythm that has taken the opposite approach to The Mover – slowing the new beat stomp to a sludgy crawl.
Willikens has also used this record to give vent to the kind of experimental sounds her DJ residency allows her to articulate and the title-track is a sombre soundtrack, while "Nilpferd" sees her veering into a discordant, detuned soundscape and a vocal warns the listener in German that they have gone the wrong way. Despite adding this curious announcement to "Nilpfred", it follows the road less travelled has serves its creator well on this most idiosyncratic debut.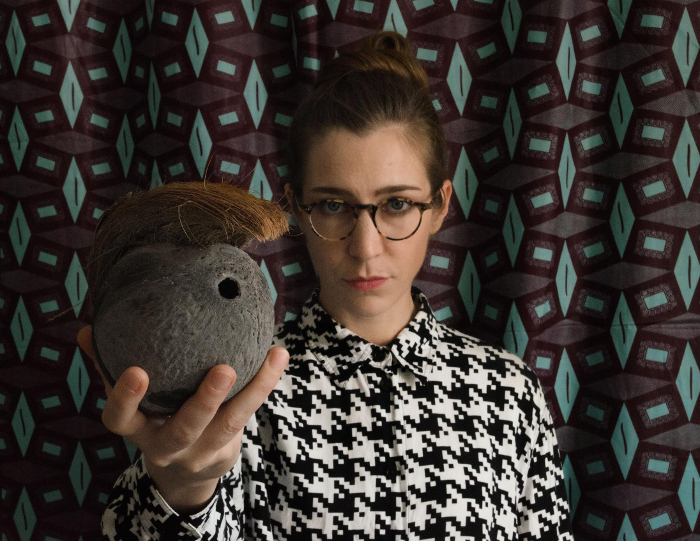 It's not that surprising that a German artist would take inspiration from such distinctly European tropes, but what happens when a producer from another continent takes up these reins? Technology has opened up the possibility for producers from other continents to also follow these paths and last year, the debut release by a producer called Tzusing appeared on L.I.E.S. Unlike much of the output on Ron Morelli's label, A Name Out Of Place Pt 1 reached back to a pre-house and techno time for inspiration. Now Tzusing is back with the second installment and he has honed his sound further.
"I was born in Malaysia, and then grew up in Singapore, Taiwan, Shanghai, and then the US and back to an industrial zone next to Shanghai after college. I'm currently in Shanghai proper and I'm thinking about moving to Taipei sometime in May," he explains, leaving this writer feeling like an inward-looking philistine for only ever living on one continent.
"I wanted to do the band thing but really sucked at guitar and when I heard electronic music I wanted to be a DJ-producer right away, but I didn't actually get decks till I moved to the US when I was around 18," he says of his motivation for making what sounds like a modern version of EBM and industrial.
Despite frequenting clubs in Taiwan and Shanghai, these experiences didn't inspire him and he admits the music in Asian nightclubs "kinda sucked, especially back then during the late-'90s but I didn't really mind." Invariably, these evenings saw Tzusing and his friends wait for the highlight when a DJ would play a track by the Chemical Brothers or The Prodigy.
As he grew older, Tzusing discovered more nuanced sounds, but claims that he was first inspired by modern producers whose work in turn introduced him to older artists.
"I'm more directly influenced by producers making house but which sounds really off and harsh than proper EBM and industrial. Pretty much all of Tadd Mullinix's house, EBM projects and collaborations, The Dirty Criminals, everything on Nation, Bunker and Gesloten Cirkel –  and from these guys I got into Liaisons Dangereuses, CHBB, Cabaret Voltaire and the older stuff. I'm also a huge fan of Ancient Methods and White Car."
It feels like Tzusing has made a more dance floor friendly version of '80s EBM and industrial than the modern producers who introduced him to the sound and A Name Out Of Place PT. II kicks into action with "Four Floors of Whores". Named after a red light district in the Orchard Towers Mall in Singapore, it uses a beefed-up Front 242-style rhythm and punishing kicks as the backdrop for screeching vocals and a claustrophobic, almost queasy bass.
"Frankencense and Myrrh" is similar in sound, but its insistent pulses are augmented by grating, grinding noises and chilling air raid sirens. On the flip, "Khi-Tang" and "O.D.D" relive the hardcore-inspiring synths of new beat and the grimy depths of '80s industrial.
"Khi-Tang" resounds to chilling, atmospheric textures, tortured wails and chiming alarm bell percussion. "O.D.D" meanwhile is full of grinding guitar squalls and acrid 303s, like Ministry trying to cover Zsa Zsa La Boum. Apart from the musical influences, Tzusing is also adamant that technology itself has played a big role in his work.
"Technology is massive – just to have the exposure to this more obscure music in Taiwan and China is largely because of the internet. I dislike how many people in this scene devalue digital files. To people that come from cities without half decent record stores, the internet and digital files are pretty vital," he points out.
It's a valid point and one that is often lost on those who are lucky enough to live and work in a musical hub. Tzusing also feels the internet has been crucial in connecting him to like-minds.
"This type of collaboration feels pretty natural to me. People are drawn together because of similar tastes – their physical location and their national identity is totally irrelevant. I spend too much time on the internet and have been doing so since the late-'90s, so this feels natural," he says. In the past, a producer who lived far from the main hubs was either lucky, "Ken Ishii put out his record on Plus 8 in the early'90s. I don't know how he did it but he did," Tzusing points out, and believes Ishii had to make the decision to move to places where labels were based.
"It's hard to say because it's all about how badly you wanted it – back in the day, if you were crazy enough, I'm sure you would just move to whatever city you need to. I'm sure many people did this," he says.
Nowadays the traffic goes in the opposite direction and Shanghai is on the DJ circuit, with European and American DJs making their way to the city to perform. It was one such visitor, Cititrax artist An-I aka Douglas Lee, who was given the tracks that eventually found their way to Ron Morelli. Now Tzusing is working on a third installment for L.I.E.S and hopes to release an album next year.
At the other side of the world resides Drvg Cvltvre aka Vincent Koreman. The Dutch producer has been especially active over the past year and his fusion of Bunker-style acid, rattling Chicago rhythms and grungy bass has been picked up on underground labels like Pinkman and Shipwrec, but also more mainstream outlets like Permanent Vacation.
Koreman's latest release as Drvg Cvltvre, Telepathic Warfare, is released on the newly minted Cos Mos. It also sees him wear his EBM/new beat influences more openly. The acid coated "Possessed" throbs and pulses to the new beat 115BPM tempo, while "New Earth Army" centres on a ferociously elemental baseline and volley upon volley of doubled up claps.
Were new beat and EBM big inspirations for Koreman?
"When I started DJing I was 15. It was 1987. I played early house and new beat records in a local club and since I'm from the south of Holland we felt the new beat rage from its origin in Belgium pretty well. I only played on Friday, but as soon as we started playing those early classics and bought a strobe light the place was packed," Vincent recalls.
"I love EBM as well, Front 242 and Nitzer Ebb are among the favourites in my record collection. So that has pretty much left its marks on my sound."
As a child of the '80s, Koremann makes no secret about the impact that the music from that period had on his productions. He also explains that the environment he grew up in didn't allow him to become too focused on one particular style.
"In my formative years I had early acid house, new beat, EBM and a shitload of metal and punk records and this left a mark on my sound. I never was someone who saw boundaries between genres, but the small village I lived in before I went to the nearest bigger town (Tilburg) wasn't big enough for specific styles," he explains.
"If you liked loud music, people didn't care if it was metal or punk, so every one who was not 'mainstream' was friends. I started playing in a punk band in 1988 and a black metal band in 1990, and still played house on the Fridays and spent my time messing about with cassette decks trying to make house. I like to think I'm still open like that, absorbing new influences in my music."
It's not just new beat or EBM that feature on Telepathic Warfare. "'We Have Become the Filth of the Universe" is one of the grimiest, grittiest iterations of acid; its shrieking 303s, snare rolls and rattling claps sounding like equal parts Steve Poindexter and Bunker's finest. Vincent insists, however, that his association with Guy Tavares label came about in an unexpected way.
"When I released my first 12″ on Bunker in 1996 I was pretty oblivious to the The Hague scene to be honest," he says. "In Tilburg our local heroes were The Psychic Warriors Ov Gaia, who were related to Psychic TV and Throbbing Gristle. Those guys were into ritualistic tribal techno stuff with blood and semen rituals. It was a very different vibe from the rest of the musical landscape at the time. That look into darkness, or more meta, philosophical outlook on music left a big impression on me.
"One of the PWOG guys ran the dance music part of the local record shop. He's also the one who introduced me to their influences from Chicago, stuff like Paul Johnson and Glenn Underground. That hypnotic effect in their loops and melodies blew me away when I first heard it. I knew what the 303 was very early on and liked that sound, but I didn't really start working with it till 1997, when I made all my tracks with a 606, an 808 and a 303."
With releases due on Omnidisc. Flight Recorder and Pinkman, a cassette release with Ekman on Koreman's New York label Haunted, and an artist album due later this year, expect Koremann and his like-minds to keep the bass heavy and the beats new.
Richard Brophy