Jonathan Krohn: Sonic Sense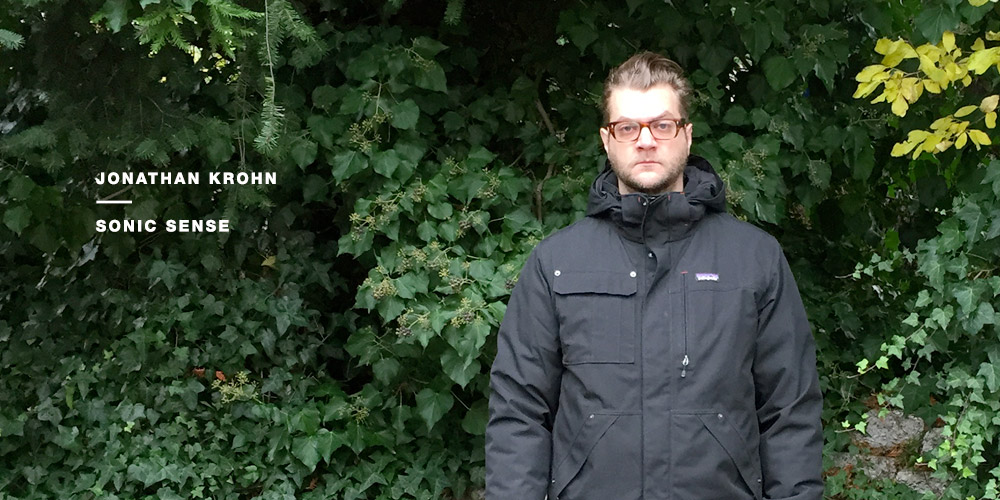 Nic Tuohey tracks down Chicago artist Jonathan Krohn to discuss his work as Stave, the Talker collaboration with Karl Meier and his background in the city's post-rock scene.
Chicago's musical heritage runs deep and is diverse. Its jazz scene was made legendary by figures like Miles Davis, Louis Armstrong and King Oliver, and still lives on today through Johnny Griffin, Ernest Dawkin and Marbin. In the last 20 years Chicago's post-rock movement was popularised by bands like Tortoise and Gastr del Sol; which featured Jim O'Rourke, a now Tokyo-based composer and record producer known for collaborations with bands like Faust and Sonic Youth, and most recently Australian experimental percussionist Oren Ambarchi.
Touch and Go Records is a musical institution for Illinois and as a label has released the music of Butthole Surfers, Big Black and The Jesus Lizard. Kranky, a label launched in 1993 by Bruce Adams and Joel Leoschke, is a force behind experimentally charged music of all varieties, taking in artists like Grouper, Tim Hecker, and modular madman Keith Fullerton Whitman, to Pan•American soundtracks and the digital ambient bliss of Loscil. Furthermore, they've put out indie music by globetrotting bands like Deerhunter and Godspeed You! Black Emperor. And, so famously documented, the windy city spawned house music, however Chicago's legacy to other genres and styles reaches further than what we make think.
"You know it's funny, Chicago," Jonathan Krohn says, "it's a great city for multiple scenes collaborating in interesting ways." Krohn is born and bred in Chicago and he's responsible for some of the more interesting experimental techno to come out of the US of late. With Karl Meier, he forms Talker, a collaboration that's so far released an album and EP on Downwards. Solo-wise, Krohn's latest release, After the Social (replete with a Regis remix), found its way to Shapednoise's Repitch Recordings and it follows up his impressive debut Reform on Filingco Sound System and Trust EP for Ireland's now defunct Trensmat. His first musical forays, however, were part of the well regarded, local post-rock collective, Male.
"Yeah, it's not in operation right now," Krohn says down the line from Chicago. "But it's a loose collective of musicians that I started with my friend Ben (Mjolsness), that I went to university with and it was a two man thing which grew into something larger," Krohn explains. "But it's not something we've been focusing on," he says, "our last performance was probably two years ago in Chicago."
Although Male's experimental art rock garnered respect and a loyal following in Chicago, it seems the collaboration, for the time being, has run its course and Krohn is now pursuing different musical avenues. "I wish it could have got more attention," Krohn says. "There were some interesting moments and it's had an influence on how I write music solo, now," he says. "For Stave or the Talker project I kind of approach both in a structured way, but embrace that kind of improvised feel of the music."
"I like those moments of chaos or unease," Krohn continues. "I'm making music with machines, more than I did with Male, but when I listen to dance oriented stuff, I've always been attracted to elements that aren't always so straight forward," he says, expressing his need to hear something "that'd throw you… unexpected moments."
Krohn conveys a love of '90s hardcore and punk, namely local legend Steve Albini. Known for his music as part of outfits Big Black and Shellac, Albini inadvertently primed Krohn for the harsh and metallic tones he would later seek out in other genres like techno, and later in his own work as a producer.
Referencing Shellac, Krohn says, "Albini's got that real metal on metal, tinny guitar sound, low end bass and tuned drums… to me that sounded like…techno." A large part of the appeal in Albinis's music was repetition, Krohn explains, "in a lot of ways I thought that people who made that music were maybe listening to that kind of stuff too… it just made 'sonic sense'," Krohn feels. "During that time in Chicago (mid-'90s) there were a lot of very rhythmic bands and a lot of them were instrumental, like no vocals," Krohn says. "What I call the Chicago sound is that real deep overdriven kind of bass tone and the real tight drumming and a wiry guitar on top of it – and a really strong rhythm section."
Perhaps the music Krohn makes that's closest to the Chicagoan metal rhythms he's talking about is his work in Talker. It's a project that's as heavy hitting as anything Dominick Fernow has released as Vatican Shadow, which in part comes from Karl Meier, a producer and permanent fixture of Chicago's techno scene that's largely recognised for his Born-Against 12" as Kalon released on Sandwell District in 2010 (featuring legendary techno production "Man is the Superior Animal"). Naturally I was curious to find out how Krohn came to work with someone so well regarded in Chicago.
"Karl's been a long-time friend," he explains. The two grew up in the same suburb about 35 miles west of Chicago and says Meier is "the brother or guy that was turning us onto music." Krohn recounts Meier as the one that would drop into his basement when he and his friends were listening to music saying something like: "you gotta check this out."
"I remember seeing all those early Designer Republic covers on Warp Records and hearing the music, and the music made sense to the design," Krohn says of the records Meier pushed under his nose. Using the artwork of Autechre's Tri Repetae as an example, Krohn explains, "it's like a gold fucking… y'know the whole thing is like one colour, right? And then you listen to it and it's like, future music."
"With the Reform stuff, Karl was someone I was bouncing ideas off, I would have tracks and be like, 'what do you think?' and he would offer suggestions," Krohn says. That Reform record piqued Meier's interest in collaborating, and as Krohn explains, "we were fortunate because another friend of ours, Israel Vines, a Midwest staple that lives in LA who runs the label Borrowed Language, is another person I'd send tracks to because both he and Karl worked at Gramophone, which is like 'the' store." With Krohn the more classically trained musician and Meier a DJ with almost two decades experience behind the decks, I asked how the division of labour is split between the two when it comes to making music as Talker.
"I don't DJ," Krohn says, "I couldn't mix at a club." Karl, on the other hand, Krohn explains, 'is' a DJ. "He has a good ear for how to structure the tracks and knows how to move forward," Krohn adds, calling the studio dynamic "very democratic." Taking into account Samuel Kerridge's production hand featured on "Meniscus" from Talker's debut album Hari, how does Krohn feel about being associated with a new wave of industrial techno popularised by a generation of artists directly influenced by labels like Downwards and Counterbalance?
"I didn't really set out to make one style or another," Krohn says, "this is just what made sense." Krohn highest profile release to date is the After The Social EP for Shapednoise's aforementioned Repitch Recordings. "Nino (Shapednoise), he's a really nice, laidback dude and his production is stellar; the sound design that he comes up with is just insane," Krohn says. Shapednoise was pretty much open to anything from Stave, Krohn explains, but he did ask for something a little more "straight ahead". It was Shapednoise who floated the idea of a Regis remix, with Krohn requesting one from the Downwards boss over email which received the response: "totally, I'll do one."
Moving forward, things are already in motion for Stave and Talker this year. A recent gig at New York club Bunker with Regis (following a performance at Berlin's Contort) and upcoming performances in May on the US west coast will help spread Stave's industrial sound, while Talker remixes are said to be on the way for spring. "We're very open planners," Krohn says, "we don't have A&R." Despite the success of his and Meier's music, and the legacy of labels like Relief Records, not to mention other long time legends affiliated with the city such as Green Velvet and Jeff Mills (who moved there in the late '90s), Chicago, he believes, will always be a house music city.
"There's a couple of people doing interesting things," Krohn says. "But as a DJ or a performer, again nothing against Chicago, but, it's just the nature of the beast. You'd find yourself a little more available for performances in New York or Los Angeles." Meier, however, is a DJ who's played at Smart Bar, an integral part of the city's club scene, so I asked if the venue has the same impact on him as it does with many other locals.
"It's a great place and they did a kind of revamp recently," Krohn says. "Regis was just here, so it was the first time I'd been back there to hear it, but yeah man, it's a great old classic, y'know, it's right below the Metro which is another institution of rock clubs here, and it's the same owner and he puts a lot into it."
"Jeff Derringer programs Smart Bar's Oktave series and he's got Regis to do this residency of sorts," Krohn explains. "And The Black Madonna, she's been doing a great job, so yeah it's a really great place," he says. "The sound can't be beat in the city of Chicago, it's really a room to play and hear that kind of (industrial/techno) stuff."
"That's the thing about the city," Krohn continues, "you can perform with like minded, different people than what you would normally do in other cities." Chicago, Krohn adds, "is a nice, open minded musician city."
Interview by Nic Tuohey