Oli Warwick assesses the 2015 edition of Bloc. that took place at the festival's spiritual home of Minehead.
For some reason Bloc. Weekend always seems to be adept at courting at least a dash of controversy, from their rapid departure from Butlins in Minehead in 2011 through the tumultuous attempt at a full-scale extravaganza in London in 2012, and now on to their return to Somerset for a more grass roots approach to their event programming. As the dust settles from a largely triumphant return to form for 2015, there are some unwelcome gremlins rearing their heads as well. Largely, this is down to reports of heavy-handed security treatment bordering on illegal and a few sound issues.
Amongst 5,000 punters and accompanying artists and crew, there is always going to be a propensity for drama around a weekend of little sleep, loud music and all the trappings that go with it, and so the British festival has always existed in a flux somewhere between authoritarian restrictions and a communal instinct for hedonism. Occasionally, the balancing act fails and tips too far one way or the other. A vital part of the escapist experience is leaving behind all reminders of day-to-day life and the rules that must be abided by, whether it be in work, walking down the street, at home, wherever, and there's no doubt that festival attendees have been left shaken up by their ordeals at Bloc. You can find an ever-growing list of security staff misdemeanors over at the Bloc. 2015 Facebook page. The problem is such occurrences threaten the very nature of festivals, not to mention dwarfing the purpose and life-affirming positives of such events.
From a personal perspective, the weekend was an absolute breeze from arrival to departure with a staggering amount of quality music in an unbeatable setting accompanied by an eager and endearing crowd of switched on music lovers. Bloc. may be something of an alternative choice, but its roots in unpretentious rave attitude have built up a crowd that know better than to take serious music too seriously. The location engenders a certain air of grown ups being big kids for the weekend; when you can bump into Egyptian Lover by the slot machines or watch Hodge and Pev battle it out on a dancing arcade game, and it's hard not to have an inane grin on your face most of the time.
The scale of Bloc., from line-up to site size, it was inevitable that the Friday night would feel like something of a hill to climb. In the spine-tingling thrill of six stages bursting with talent, it was hard to lock in to a DJ set before curiosity would drag you back out of the room to check something else. When Objekt (pictured below) delivered a set focused on trackier selections, compared to previous times I've seen him play, it left the mind wandering as to what was occurring elsewhere. Another issue affecting my attention span on the opening night were the sound systems, with the Carhartt stage notably lacking a certain punch. As such sets from Call Super and Hodge, while delivered well, failed to captivate a strong crowd and I left the room feeling a little half-hearted. Equally, the lofty stage felt at odds with the spirit of the music, that is until the Body Hammer residents took over for a four hour session through until 10am. With no other stages running, and that woozy atmosphere I call 'festival head' slowly guiding people away from their real lives, it felt like the party had finally galvanised.
Vessel provided one of the first jaw dropping experiences of the weekend by pulsing out a live set at 4pm on the Saturday afternoon. His sinewy, lurid amalgamation of techno, coldwave and industrial laid waste to any cobwebs from the night before, climaxing in a propulsive version of "Red Sex" that set taste buds tingling for a night of more focused musical engagement. Moritz Von Oswald Trio equally delivered a captivating performance that no-one else can come close to imitating, with Tony Allen's exquisite drumming sitting comfortably in the mix alongside the gentle dub techno pulse of Von Oswald and Loderbauer.
A lighter brand of electronic identity could be found from Egyptian Lover, whose crowd-pleasing antics included two renditions of "8-oh-motherfuckin-8" as well as such timeless west coast classics as "Freak-A-Holic" and "Egypt, Egypt". Continuing this heart-warming start to the night, the Pub bore witness to a truly unique sight; Second Storey collaborating with his dad (under the ambiguous Storey 'n' Dad moniker). As well being a truly moving sign of father-son bonding, musically it was an exotic blend of dextrous electro and techno drum patterns matched by swirling, psychedelic keys with a jammed-out feel.
Helena Hauff (pictured above) kicked off proceedings for the second night of the Carhartt stage with techno machinations that slowly opened up into her more trademark industrial and new beat style, while later on Millie & Andrea laid waste to the room with their muscular fusion of hardcore tropes and modern ingenuity. Last minute line-up changes left things somewhat chaotic during the London Modular showcase in the more intimate Jak Bloc arena. Fortunately Richard Devine was in action as I walked in, and his performance was utterly magnificent. With a style famed for intricate sound design and making full use of digital capabilities, it was staggering that Devine was able to elicit such a cerebral, ever-morphing and downright slamming concoction from his modular machines.
Speaking afterwards, he commented that it was one of the first outings for his modular performance and completely improvised. His description of the sound as "more raw than usual" also seemed to fall short. Steevio took to the controls straight afterwards, warming up his own tower of modular equipment in his dexterous, deep techno style, but at the midway point the lure of Autechre was too much to resist and so the Centre Stage drew us in. As ever, Sean Booth and Rob Brown proved that electronic music can reach beyond convention and still be funk as a cascade of confused sounds pinged about the crowd in the dark and cavernous mainroom. From there Jeff Mills took the controls, handling the by now well-seasoned energy of his audience with an unrelenting but equally inviting serving of Motor City authority. By the time the lights came up after a classically Millsian 909 magic show, The Wizard had no doubt gained a few new fans as well as satisfying the old ones.
In a cheeky echo of the first round of revelry, Joe Hart slipped on his World Unknown guise with Andy Blake and started digging in for the late hours crowd, but there were other concerns to attend to from who tomorrows secret guest would be (everyone was sure it would be Aphex Twin) to how many activities could be completed before the music started. An ominous experience in Laser Quest, a whip around the go-kart track and a tumble down some truly impressive slides proved to be enough, with only the restorative power of home made Ratatouille on hand to get weekend-worn limbs warmed up for the final assault.
There was a welcome simplicity to the musical options that graced the last night, from the premier league Ostgut Ton techno on the main stage, to a jungle throwdown in Red while I Love Acid had control of Jak. Rather than stressing about specific details of the line-up, it was much more appealing to move around based on what vibe felt right at the time.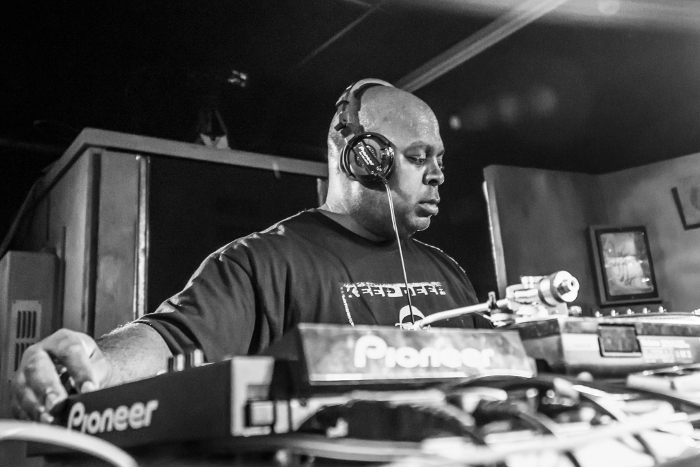 It was straight into the jungle for me, catching the latter moments of Source Direct and then plunging into a masterclass of old and new from Doc Scott and Randall. The earlier stages of the session pleasingly didn't lean too heavily on the classics. Meanwhile those Aphex rumours fizzled out in I Love Acid, with a surprise Acid Dimension Controller set and some upfront electro funk from Ben Sims satisfying those expecting something very different. In the Pub, DJ Bone (pictured above) was rounding off his Turf tour with a slick blend of funk-fuelled techno with a deeper strain of Detroit tackle that sat neatly between mellow Sunday tones and a necessary thrust of energy.
Back in the Acid hoedown, Luke Vibert delivered a particularly targeted set, but come the final hour of revelry it was the jungle that felt the most appealing as Dillinja tore the place apart with a truly vintage set of amen-wrecking rollers, MC GQ toasting the occasion in fine style. It was the kind of workout to really test the mind and body, ignoring every aching muscle and instead plunging down for whatever reserves of adrenaline might be available to keep bouncing at 170 bpm.
By the time the misty Monday morning rolled around with people scrapping themselves up for the trek home, it felt like there had been no shortage of momentous experiences at this year's Bloc. Within that lies a mixed message about the security dramas, popping decks, line-up changes and a whole host of silliness. After all, the setting surely encourages some degree of childishness, which is a close cousin of any form of escapism, but it definitely didn't feel like a weekend that failed to leave a mark on anyone present.
Maybe even the yellow-coated security ogres took something away from the experience, although it's debatable that it would have been a positive. There are certainly a few lessons to be learned for next year, but most importantly it feels unthinkable to not consider a next year. With the sheer quality of performances and the passionate crowd, Bloc. has once again proved itself to be an essential representative of the electronic music underbelly. That's a vital role which we should never be without.
Oli Warwick
Crowd shot courtesy of Jake Davis
All other photography courtesy of Daddy's Got Sweets