New Mexico by Oppenheimer Analysis set for reissue

Minimal Wave will grant the UK duo's album a double LP edition as part of the label's 10 year celebrations.
Veronica Vasicka's Minimal Wave operation launched back in 2005 with a self-titled four-track EP of reissued archival material by Oppenheimer Analysis, a London duo formed of Andy Oppenheimer and Martin Lloyd. Forned in 1982, Oppenheimer Analysis traded in a crisp style of synth music heavily inspired by post-World War II propaganda, the politics and aesthetics of the Cold War, and the social impact of the atomic bomb. Andy Oppenheimer's day job as a counter-terrorist consultant no doubt feeds into the concepts of their music too. If you are in any way invested in the label you should be fully aware of the band, whose work also featured in the Minimal Waves Tapes compilation issued in conjunction with Stones Throw back in 2010.
Given that the band effectively launched Minimal Wave it seems wholly appropriate that the label will celebrate 10 years of uncovering archival gems with a double vinyl collection of early Oppenheimer Analysis material. New Mexico consists of OA classics like "The Devil's Dancers" and "Radiance" and was originally sold as a 12-track demo tape at the band's gigs. The edition on Minimal Wave has been newly remastered with the initial pressing arriving, naturally, on black and white nuclear themed vinyl – you can see images at the label's website. The reissue is presented in honour of founding member Martin Lloyd who sadly passed away last December due to liver failure.
Minimal Wave will release New Mexico by Oppenheimer Analysis on May 16.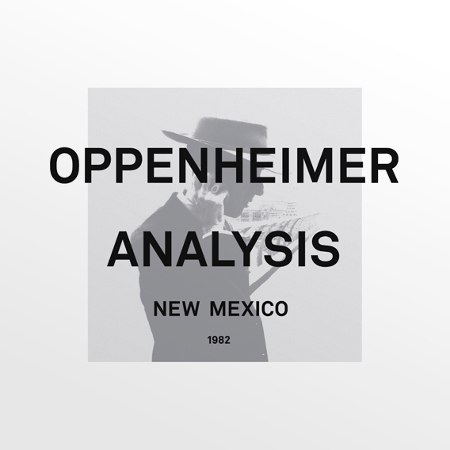 Tracklisting:
1. The Devil's Dancers
2. Radiance
3. Martyr
4. Cold War
5. Don't Be Seen With Me
6. Modern Wonder
7. Subterranean Desires
8. Scorpions
09. New Mexico
10. Behind The Shades
11. Men In White Coats
12. You Won't Forget Me