Black Zone Myth Chant – Mane Thecel Phares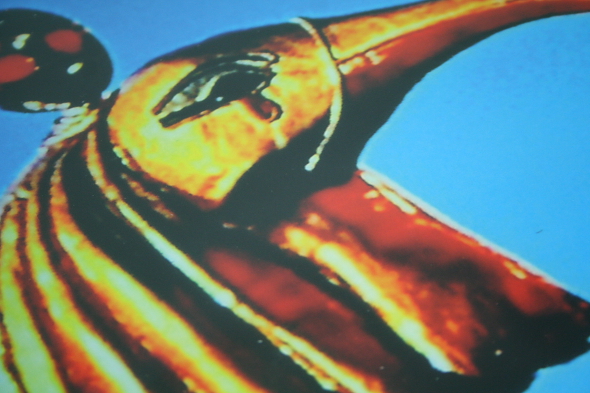 There's always been something oddly unsettling about the work of French experimentalist High Wolf. The prolific producer's work under that alias – a mixture of exotic, Indian-influenced psychedelia, drone, ambience and experimental oddities – is often more hypnotic than claustrophobic, but it's rarely less than fearlessly unusual. Even so, it's positively cheery compared to his 2011 debut under the Black Zone Myth Chant moniker, Straight Cassette.
Initially released as an ultra-limited tape and later reissued on vinyl last year by Laitdbac, Straight Cassette saw him apply his unique vision to the world of experimental hip-hop beat making. Of course, it wasn't anything like hip-hop in the standard sense, with dusty, wonky MPC rhythms lost amongst an overbearing wall-of-sound that took in sludgy electronics, smacked-out spoken word vocals, pitched-down tablas, hissing textures and out-there effects. Apparently recorded in three days, it came on like some kind of feverish audio nightmare, with occasional bursts of contented musical bliss punctuating the unsettling, skin-crawling mood. For all its' eccentricities, it was something of a lo-fi masterpiece.
Some four years on from that startling debut, High Wolf returns to the Black Zone Myth Chant project once again, this time for an outing on Editions Gravats. The basic premise remains the same – screwed beat science, sludgy, voice-of-your-worst-nightmares vocals, exotic, hashish-influenced melodies and fizzing, analogue electronics – but the results are pleasingly different. For starters, it sounds a lot more considered. Where Straight Cassette was unmistakably the product of drowsy, possibly frustrated late night sessions and a desire to get out of his comfort zone, Mane Thecel Phares feels like the result of a longer gestation period. It's nowhere near as claustrophobic, either, and the album's 10 tracks boast a cleaner, shinier finish.
There are different musical touchstones, too – the meandering, dark world MPC jazz of African Sciences, the big studio finish of contemporary Flying Lotus, the polyrhythms of Africa, the marimba melodies of Latin America, the busted computer madness of Autechre and the high-octane dancefloor rush of footwork. None of these things dominate, but they seemingly hurl themselves from the speakers, catching the ear and emphasizing the arresting peculiarity of the whole thing.
In some ways, this broader musical palette is the making of Mane Thecel Phares. Certainly, it's an album that impresses from the off, but arguably requires repeat listens to fully comprehend. Even then, you're likely to sit open-jawed throughout. This writer has listened to it countless times, but is still struggling to find adequate words to describe to throbbing, clanking, bass-heavy insanity of "First Contact", and the intergalactic crawl of "Orbit Slut", which seems to be the aural equivalent of being dragged through a pit of Martian dust while feeling the after-effects of a particularly nasty acid trip.
Of course, it's the album's thrillingly avant-garde nature and eccentric attitude that are it's most alluring features, alongside a gaggle of standout highlights. These include the lopsided dancefloor swing, 8-bit electronics and warped bassline of "Two Stars, No Cross", the sprawling synthesizers and drowsy beats of "If God Is Not Here", and "He Evil", the best record Shabazz Palaces has yet to make.
Matt Anniss
Tracklisting:
1. Belshazzar
2. In The Arms Of The Parcae
3. Orbit Slut
4. Two Stars, No Cross
5. He Evil
6. First Contact
7. Pass Over Into Nothing
8. If God Is Not Here