Delia Gonzalez returns with new solo album for DFA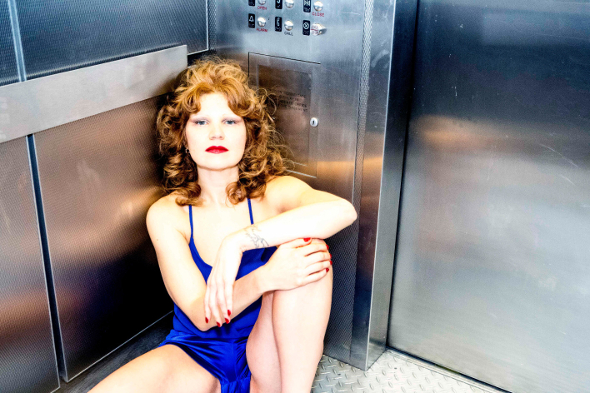 In Remembrance will arrive next month and pairs her piano compositions with reworks from Bryce Hackford.

If you were reared on the musical output of New York's DFA Records you should be eminently familiar with the work of Delia Gonzalez, whose collaborations with Gavin Russom as Black Leotard Front and under their given names belong in the canon of the label's finest work. While Russom has remained engaged in music projects to this day, Gonzalez has veered off the radar after a move to Berlin and re-immersion in the world of fine art. It is here where the genesis of In Rememberance, a debut album from Delia Gonzales, and a surprise return to DFA Records, takes root.
Due for release next month, the album originates from a multimedia project by Gonzalez encompassing a short film, choreographed ballet and a solo piano score. It debuted as a solo performance entitled In Rememberance that Gonzalez gave at the Galleria Fonti in Naples, Italy, in 2010 which was expanded for subsequent exhibition commissions in Cologne and New York. The latter performance, at the Clocktower Gallery in 2013, featured a live electronic adaptation by emergent local artists Bryce Hackford and Alice Cohen.
Hackford now features on the upcoming In Rememberance, contributing four remixes to match the original compositions from Gonzalez, which it must be said are quite distinct from the heavy arpeggiated stylings of her work with Gavin Russom. Indeed, a DFA press release states Gonzalez found inspiration for In Rememberance from a Henry Miller text as well as a theory from noted spiritual teacher George Gurdjieff which states, "to play scales is to become more in tune with your inner self."
Staying true to the project's multimedia origins, DFA will issue this album replete with DVD featuring the four original 16mm ballet films. The below video for "IV" should give you an idea of what to expect from the forthcoming album.
DFA Records will release In Rememberance by Delia Gonzalez on April 28.
Tracklisting:
1. I
2. II
3. III
4. IV
5. Remix I
6. Remix II
7. Remix III
8. Remix IV