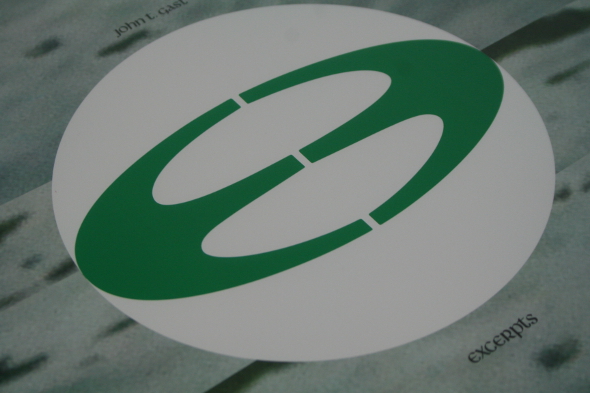 John T. Gast has forged a career from being illusive. He may have previously worked with former Hype Williams pair Dean Blunt and Inga Copeland, co-producing their Black Is Beautiful album, and released records under the Henry Moan and S. Bronze aliases, but we know little more about John T. Gast. There's not enough out there to create a watertight hypothesis about his influences, aims and working methods.
To be perfectly honest, he's partly cast as a shadowy character due to the obscurity of his releases. Much of Gast's work has been self-released on cassettes or CDRs, and his exemplary 12" for Men Scryfa, the decidedly bleak and industrial-tinged Exile, quickly became a collector's item. In fact, he's probably best known within the wider electronic community for his brilliantly bizarre, evocative and typically shadowy 2014 mixtape for Blowing Up The Workshop. Skewed, unusual, trippy and hard to define, it was one of the more remarkable instalments of the series to date. It proved beyond doubt that Gast is a singular-minded talent.
His communications with the outside world are often cryptic, at best. When asked to provide information to accompany the Blowing Up The Workshop mixtape, he emailed over a rather creepy two-line description,"Poor lil Tommy who lost his way. False summits everywhere". Predictably, he's done the same on this potentially breakout album for Planet Mu. Instead of a press release, he asked Planet Mu to send out another cryptic, poetic verse. "The majority recorded early 2014 in SW England. A particularly fierce winter. Woman reasserting power. Man fighting in the dark. The Cold War continues". It reads a little like a deliberately obtuse teaser for a dystopian, independent movie, shot in stark black and white, with a plot that makes little or no sense. So far, so John T. Gast.
The movie comparison is perhaps an apt one, because Excerpts feels a little like a soundtrack to an imaginary film. It begins, like all good films, with an atmospheric scene-setter; the bleak, claustrophobic ambience of "Shanti-Ties"is all windswept chords and clandestine samples. "Infection", the track which follows, feels a little like a title sequence – a six-minute trawl through deep snow accompanied by slow-motion acid, coldwave synthesizer melodies and hissing, otherworldly percussion. The album concludes with a fittingly dystopian closing scene too, the murky but strangely hopeful "Torch", whose becalmed chords and wonky electronics are accompanied by sampled birdsong, and the kind of yearning melodies that suggest a heartbreaking, poignant and potentially grim conclusion.
Of course, all this may be coincidental. Gast, though, has always been a producer who does 'atmospheric' well. He tends not to stick rigidly to one genre, instead relying on his sense of the macabre and a fearless devotion to the mood-altering power of music. That can be heard fully on Excerpts, whose 11 tracks share a weary sense of time and place, but take in an impressive list of styles (think wonk-hop, tipsy house, jazz-tinged post trip-hop, modern classical and organic IDM, for starters). In the wrong hands, this would sound contrived and come with more than a whiff of pretentiousness. Gast, though, is a masterful producer, and Excerpts is a fine album. Like an imaginary narrative, it ebbs and flows suggestively, building an aural story around recurring themes, atmospheric signifiers and Gast's own paranoid visions.
Matt Anniss
Tracklisting:
1. Shanti-ites
2. Infection
3. Congress
4. £
5. Ceremony
6. Green
7. White Noise/Dys
8. Claim Your Limbs
9. Sedna
10. White Noise/Reprise
11. Torch