Akai announces Advance keyboard line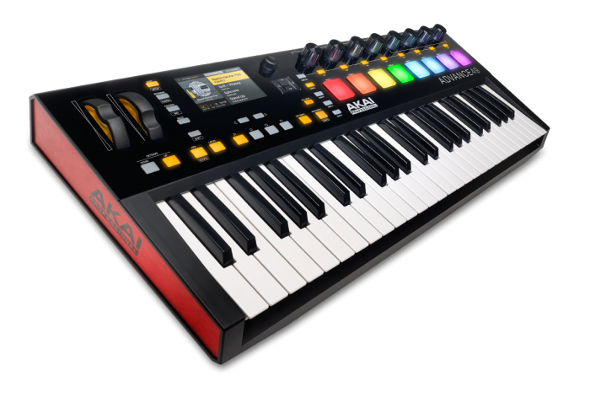 Akai's new range of MIDI keyboards land in the spring complete with full-color display, MPC pads and a new software application to control VSTi libraries.
Although many will bemoan the discontinuation of the proper hardware MPC sampler in favour of controllers, Akai has nonetheless managed to build an impressively varied range of MIDI keyboards. The latest line to be announced is the Advance, which sits at the top of Akai's MIDI keyboard offering with a high-resolution full-color 4.3-inch display and a multitude of control, including eight MPC drum pads, eight variable control knobs, rubberised pitch and modulation wheels and a semi-weighted velocity-sensitive keyboard with aftertouch.
The Advance line also introduces a new application called Virtual Instrument Player, which functions as a library and browser for almost any VSTi-compatible plug-in, automatically mapping parameters to the keyboard's controls. The VIP application functions with or without a DAW, and even allows the creation of custom setlists, enabling quick switching of plug-ins during performance without needing to browse a computer. While this kind of feature is already available in Native Instruments' Komplete Kontrol line of keyboards, for those not using the Komplete software range, the Advance could turn out to be a much more attractive option.
The Advance will come in 25, 49 and 61-key versions, and Akai promise it will arrive this spring. There's no word on pricing yet, but the Advance's functions can be previewed in the video below.