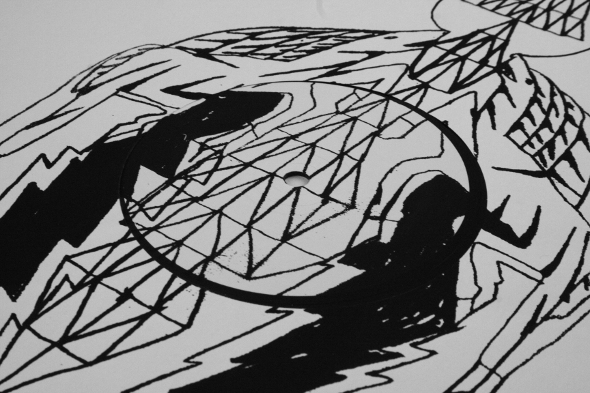 Speaking about his production techniques in this writer's Separate Mind column for Juno Plus back in July, Gavin Russom said: "I like to let all the wild spirits come through. But also balance that with structure, composition and storytelling…. often a really good techno track stands out to me because of the sounds themselves and the background noises, And this is a very cool idea that sets techno apart from more conventional music." Russom was true to his word and on that debut Entropy Trax release; "Enthroned" drew on dub and disco techniques, using a pulsing, hypnotic groove as a backdrop for a morphing spectrum of abstract sounds.
It made for one of the finest releases of 2014 – can he live up to this high watermark for the second release? The answer is a resounding yes. The title track on the second release opts for a different musical sound to "Enthroned", but uses similar techniques and is just as impressive. Based on a lithe, squelchy rhythm that pulses with the groove of Italo but is shot through with trippy 303s, Russom adds in dense, dubbed out drums and austere-sounding synths that gradually get frostier and frostier, ending up sounding more indistinct as the arrangement progresses but without losing their impact. As Russom explains in the accompanying press notes, his intention for "Telemetry" was to build up "layers around the central sequence that grow in impact as the track unfolds" and he has achieved this aim.
That said, the title track can't compare to the flip side track, "The Beneficent, the Merciful". Taking its title from a phrase that is said at the start of many Islamic prayers, Russom's connection to this culture is through his mother, who grew up in the Middle East. Consequently, Russom studied Islam and was inspired by experiences to choose this name. Clocking in at almost ten minutes, there are none of the hackneyed Middle Eastern samples – like a call to prayer – that electronic music producers are prone to draw on.
Instead, it begins with what sounds like clipped guitar notes before Russom introduces rich, mournful keys that play out so hypnotically the listener forgets there is no kick drum. That element is introduced after three minutes and provides a framework for the producer to introduce other layers, including a tripped out acid line, what could be a hushed voice and cloudy synths. It's a masterful composition and again Russom makes most of his peers look like shoddy amateurs.
Richard Brophy
Tracklisting:
A1. Telemetry
B1. The Beneficent, The Merciful