O B Ignitt – Let It Do What It Does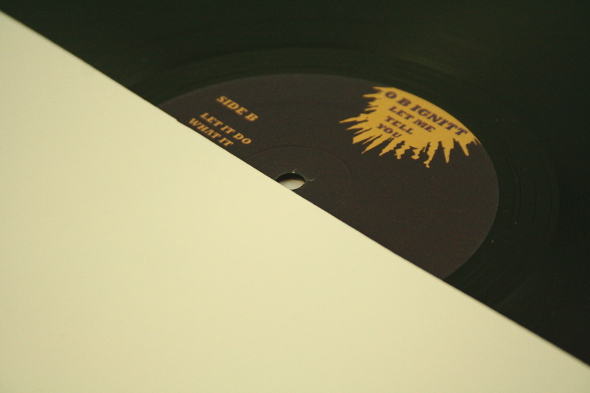 Push It. There's a moment midway through "My Last Reese Cup" that sounds like Salt N' Pepa's most recognisable hit is trying – and failing – to escape a salty death at the hands of O B Ignitt's sampler. This moment passes almost as soon as it arrives, which is not surprising given the sheer amount of ideas thrown into the mixer by Ignitt here. "My Last Reese Cup" is a worthy A-side to this second release from Ignitt's low key OBONIT Records, and the sort of production that will stop you in your tracks.
Ignitt's material on FXHE was memorable for a sense of stargazing wonderment, augmented by an undercurrent of humour displayed mostly in the track titles. From the off it's clear Ignitt is fully embracing the notion of fun with "My Last Reese Cup", dipping into the odd samples and abused breakbeats of the late '80s and early '90s. Think "Let The Music Play", think early Nu Groove, think Information Society – the kid in me even had flashbacks to "Good Vibrations" by Marky Mark listening to this.
There may be little real innovation to "My Last Reese Cup", but like last year's certified amen jam "The Zoo" from Beautiful Swimmers, this is a track that's much more than a mere pastiche. It all feels a lot more genuine and possibly borne out of fond music memory. It also works because there's a clear rhythmic narrative throughout; "My Last Reese Cup" doesn't stand still but constantly turns down interesting sonic avenues long before the crunching drum that may well be a Salt N Pepa sample makes its presence felt. It continues to do so for the remainder of its seven-odd minutes; put simply it's one of those tracks you love to slam in a mix.
OB Ignitt's old street racing friend Omar S makes a welcome appearance with a remix of "Let It Do What It Does", an as-yet unreleased O B Ignitt track that features a beastly bassline which needs to be experienced loud. Anyone familiar with the FXHE way will know Alex 'Omar' Smith has few qualms with dishing out remixes on his own label before anyone gets to hear the original. This does make it a bit difficult to know who exactly to applaud for the grin-inducing array of almost drunken piano lines that appear out of nowhere. If you have the raw piano in Theo Parrish's '99 classic "Overyohead" singed in your memory like this writer does, you will love how the instrument is implemented here.
Tony Poland
Tracklisting:
A1. My Last Reese Cup
B1. Let It Do What It Does (Omar S Remix)