Diagonal signs off 2014 with Prostitutes and Powell records

The label will round out a banner year with new releases from its lanky founder and its Cleveland correspondent. 

Fresh from adding the "psycho-glam swagger" of Swedish troupe Skull Defekts to the Diagonal discography with the newly issued Street Metal EP, Oscar Powell and Jaime Williams have outlined the final Diagonal releases of a most impressive year. As FACT reveals, Diagonal has coaxed Stabudown man James Donadio into committing more Prostitutes material to the label following last year's Shatter And Lose. Due imminently, Ecstasy, Crashing Beats and Fantasy brandishes a title suggesting Donadio is a Simple Minds fan, and is the final release of an impressive year for the producer. In addition to his Petit Cochon album for Spectrum Spools, Donadio has graced Avian offshoot Mira with the two-part Truncheon Cadence as well as releasing on Glasgow label Night School.
In addition to the Prostitutes record, Diagonal will issue a 12″ from Powell that finds material from his recent Club Music record reworked by both Ancient Methods and Cabaret Voltaire figurehead Richard H. Kirk. Regular listeners of the fairly chaotic Melon Magic show on NTS should be eminently familiar with these remixes, which Powell has been roadtesting extensively. Diagonal have also pulled together all the previously released Powell 12″s for a double CD compilation entitled 11-14 which will arrive at the same time as the aforementioned records.
Diagonal will release Ecstasy, Crashing Beats and Fantasy by Prostitutes on December 1 with both the Club Music Remixes 12″ and 11-14 Double CD following on December 8.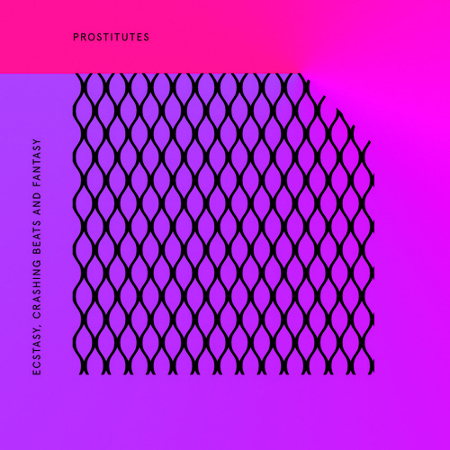 Ecstasy, Crashing Beats and Fantasy Tracklisting:
A1. Crawl In From Broadway
A2. Dollars To DMs
B1. Lovers Run Camp Africa
B2. Side Effects Of Living
Club Music Remixes Tracklisting:
A1. Club Music (Ancient Methods 'Körpersäure91' Remix)
A2. Club Music (Ancient Methods 'Pogo Im Säurebad' Remix)
B1. So We Went Electric (Richard H Kirk 'Main Mix')
B2. So We Went Electric (Richard H Kirk 'Dub Mix')
11-14 Tracklisting:
Disc One
1. A Band
2. Search
3. Wharton Tiers On Drums
4. Beat
5. No U Turn
6. Rider
7. 09
8. Grand Street
9. The Ongoing Significance Of Steel & Flesh
Disc Two
1. Acid
2. So We Went Electric
3. Robotics
4. Have It
5. Fizz
6. Nude
7. Oh No New York
8. Maniac (feat. Russell Haswell)
9. Body Music