The Durian Brothers – Das Macht Modern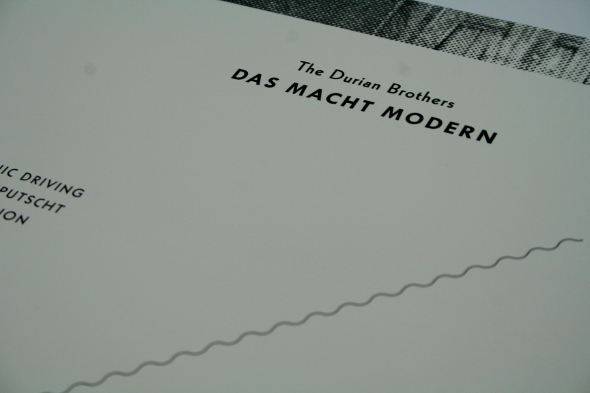 It's no bad thing when an artist or group has a little more to their creative manifesto than, 'I just make stuff that sounds cool to me'. No-one gets off on the sound of anyone getting overly pretentious about their own work (perhaps apart from those guilty of it), but a little concept can set interesting boundaries for the music-making process to push up against, whatever the idea might be. In the case of The Durian Brothers, a trio of Düsseldorf artists who are not in fact related, their hook is customized, prepared turntables used as instruments.
These devices only form part of the musical story for the group, but of course such a unique concern will in turn yield a fresh approach, and there's something undeniably fresh about the earthy music the group have already yielded to Diskant Records. It's no surprise when you consider that Stefan Schwander is amongst their number, he of Harmonious Thelonious, Repeat Orchestra and so very many other distinctive, forward-thinking projects. It's also no surprise to learn that the group formed out of the haze of the increasingly noted Dusseldorf venue Salon Des Amateurs, which has already given rise to such hand-played rootsy magnificence as Wolf Müller amongst much other fine contemporary music.
Now the trio presents a mini LP for Kontra that should serve as a fine introduction for many to the curious sound world The Durian Brothers inhabit, where even the electronic elements sound wooden and the rhythms rarely sit still for long. "Psychic Driving" is a catchy opener that represents their shapelier, beat-defined side, snaking to life on a warm but mysterious configuration of low, tom-like percussion and growing with the thrill of a live band locked in a jam. You can positively sense the energy that must have reverberated in the room as the track rises and falls, not least with the swell of fuzzy tone that sounds like it may well be one of those turntable-generated sounds. There's a lot of detail and debris knocking around in the mix, played out with plenty of dubby delay feedback and matching up with the sound of organic instrumentation to great effect. The tribal, spiritual end result is simply magnificent.
"Weggeputscht" finds the trio heading off into edgier territory as the rhythm falls into a cyclical pulse that follows in the great lineage of Riley, Glass, kosmische and onwards to techno. There's something about the eyes-closed mantra of the bass guitar notes and lip-smacking percussion that gets back to the core of such musical principles, all the while sounding wonderfully ramshackle and hand played. "Secession" meanwhile is a more overtly electronic track with its tricky overlaying of pulses and throbs in a hexadecimal configuration, coming on like Autechre jamming on a more rudimentary set up than their usual custom crafted obelisks of algorhythms.
"Oni Baba" towers over the release with its presence as a huge tumble of ethnic percussion meets with distant found sounds. This pounding message sticks in a loop for quite some time, but then when it lifts it's greeted by the calm of open space, and a gorgeous sweep of cello comes in to join the throwdown. "Offenporig" is less heavy, using a multitude of layers of chimes and trickles to create a cascading effect that sounds of the old world even as it darts into the new. By way of a bookend, "Die Eishelligen" joins "Psychic Driving" in being one of the more measured, tangible tracks, although that by no means makes it a typical experience. In amongst the traditional sounds come flurries of raw bleeps and mysterious ambient pads in a finely balanced juxtaposition.
It's a neat finish to a record that leaves you feeling quite dumbfounded at the richness of ideas, the surprise of the approach, the sheer natural craft at work in making these pieces. Much like Schwander's Harmonious Thelonious output, it's a remarkably evocative sound that transports you to somewhere not of this earth even if it is very natural sounding, and it simply begs the question of when we can go back into the outer realm of The Durian trio and hear more of this music for the first time.
Oli Warwick
Trackslisting:
A1. Psychic Driving
A2. Weggeputscht
A3. Secession
B1. Oni Baba
B2. Offenporig
B3. Die Eisheiligen