Geena – On The Top Of A Deep Hearted Fern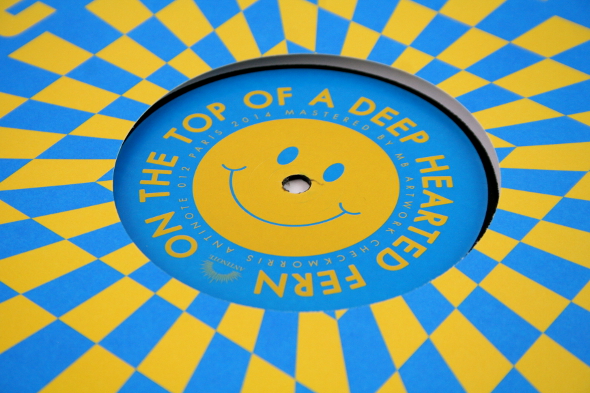 There's a lot to admire about Quentin Vandewalle's Antinote label, not least his steadfast refusal to pander to DJs. That's not to say Antinote records can't be played in clubs – far from it, in fact. It's just that the majority of the label's dancefloor successes have come from records that eschew the tried-and-tested in favour of more left-of-centre thrills, like the wonky tribal rhythms of Albinos' bizarre but brilliant Ritual House series, or the scratchy techno experiments of Iueke's archival Tape 12″s. These aren't records for DJs, but rather records DJs can play: imaginative electronic music to dance to, rather than out and out "dance music".
Thus far, Vandewalle has arguably signed one producer whose dancefloor focus is total. His 2013 capture of Parisian DJ/producer Geena – real name Nicholas Molina – following a single, so-so contribution to the WT DJ Muscle series seemed a little odd at the time, despite the Antinote boss's description of his music as "DJ friendly". 12 months and two EPs later, it makes perfect sense. Molina's music is not complex, and he makes no attempt to hide his love of early Chicago house and the intoxicating throb of acid. Yet his first two EPS – Surowych Utworow and Mental DJ's Land – were quietly impressive. The latter was particularly good, and featured a mix of tasty box jams, gentle acid jackers and earthy deep house cuts. There were tough basslines, drifting electronics, trippy samples and a hissing, recorded-to-tape feel.
This third EP continues in a similar vein, with Molina peppering raw, distorted, Chicago-influenced grooves – all thumping kicks, fizzing cymbals and crunchy machine handclaps – with all manner of tipsy, intoxicated electronics. The effect is at times disarming; certainly, there's something weirdly unsettling about hearing new age style synthesized pan pipes melodies on top of the sort of groove you'd normally find on a L.I.E.S release or classic Rush Hour reissue. That's exactly what "Niagara Galleries" provides, and it's deliciously odd.
This combination of thumping, jacking drums and picturesque melodies can also be found on opener "Gamma Sector", whose subtle but intense 303 lines, booming bass and razor sharp drums are in sharp contrast to Molina's dreamy chords, cut-up seagull samples and bleep-addled melodies. Again, it's a combination that sounds ear pleasing on first listen, but becomes more dystopian on each successive play. Molina also lets loose properly – arguably for the first time in his career –  on "I Gotta Wear Shades". Built around a pounding, techno-style rhythm – all distorted kicks and Detroit style cymbals – but operating at a house tempo, it's an impressive concoction. It seems almost unfeasibly tough, yet there's something strangely attractive about the trippy vocal samples, off-kilter loops and nightmarish, new age-gone-bad riffs. It's more hypnotic than frightening, but – again – it's still fairly odd.
The EP's final missive, "Lunar Substance", is in some ways the most lightweight of all four tracks. It is, though, the most obviously picturesque – a calming slice of heady ear candy that combines distant-sounding drums with enveloping chords, clarinet style melodies and just the right hint of eyes-wide-shut Balearica. Given the trippy intensity found elsewhere across On The Top Of A Deep Hearted Fern, it's something of a surprise conclusion. It's certainly an impressive one.
Matt Anniss                                                                                  
Tracklisting:
A1. I Gotta Wear Shades
A2. Niagara Galeries
B1. Gamma Sector
B2. Lunar Substance